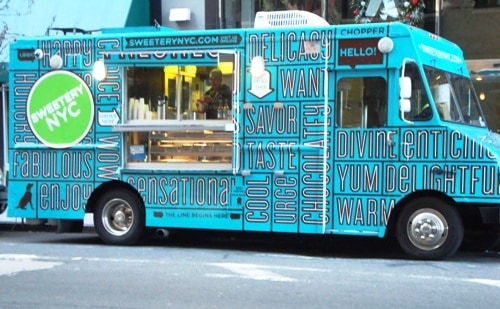 It's been a busy week, so let's get right to it.  Enjoy some great New York Street Food from the vendors on the right and the trucks below.
52nd St between 6th & 7th Ave looks like a great block today, with both Mexicue and Wafel & Dinges, but there's plenty more.  Just check below.
SweeteryNYC Good morning Hudson St. Sweetery is on location @ King St. Try our coffee, if u don't like it, keep it & your money too, we r that confidant. Baking shortly will b our new Snickdoodle, peanut butter, & our so very very chocolate cookie, Macarellas 2.
CalexicoCart
TGIF & sunny 🙂 Both carts are out. Ground Lamb topped with garlic crema, cilantro & onion is the special on Prince & Wooster