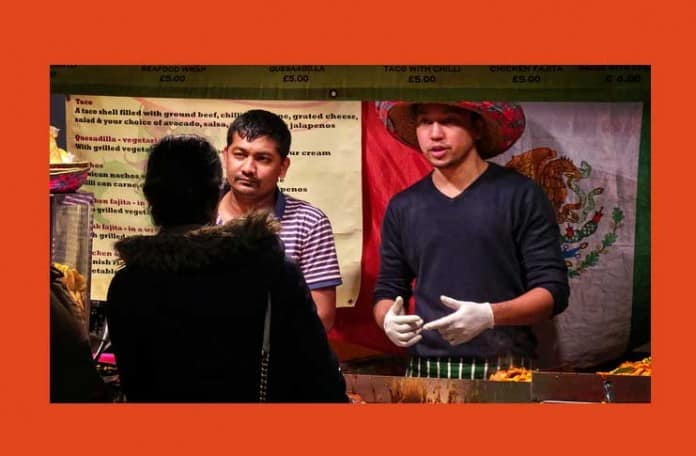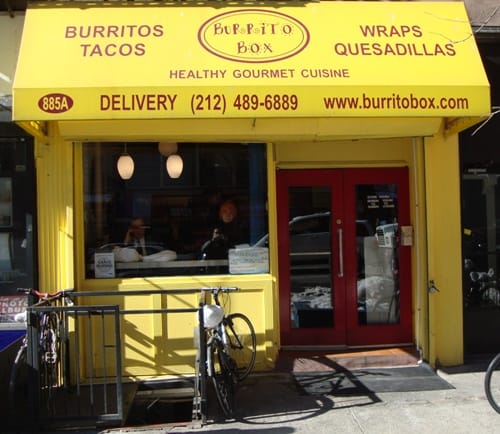 It was a crazy morning at work and I didn't have much time for lunch, so I walked over to Burrito Box at 885A Ninth Ave (between 57th & 58th St).  They are a storefront with only a few stools at 2 counters, but it does a booming takeout business – perfect for our Honorary Street Food category.
I previously had a really good chicken burrito and steak tacos from Burrito Box.  Today I wanted to try one of those big, crunchy taco salad bowls, but I ordered a tostada salad by mistake.  Today's Lunch is a chicken ranchero tostada salad ($8.75 incl tax) from Burrito Box.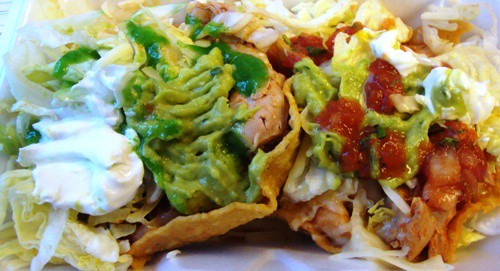 Chicken ranchero is stewed dark meat chicken, and it was put into two shallow 6″ tortilla shells with beans, cheese, lettuce and tomato, and they also included small containers of guacamole, sour cream, and green and red hot sauce.  I put some guacamole and sour cream on each tostada, then put green hot sauce on one and red hot sauce on the other.  Time for lunch!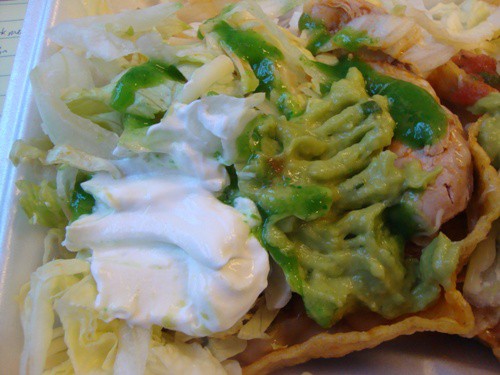 I started with the green hot sauce, which was extremely hot!  Definitely one of the spicier hot sauces around.  There were big chunks of stewed chicken, which was soft and moist and very tasty.
Under the chicken, guac, sour cream and lettuce was a mix of beans and cheese that was really good, but under the beans and cheese, the tostada shell got a bit soft and mushy.  That's why I wanted a taco salad shell – but it was my own fault for misordering.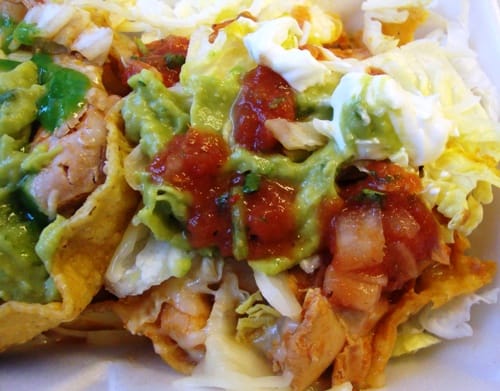 The tostada salad with the red hot sauce wasn't nearly as spicy as the green sauce, and the tomato-based salsa went very well with the other ingredients.  I asked for no tomato in the salad, so a little red salsa was just right.
Today's Lunch was good, but the tostada shell got too soft for my taste.  All the other ingredients were excellent, so next time I go to Burrito Box and order a taco salad, it should be what I want.  Sometimes we just have to learn from our mistakes.