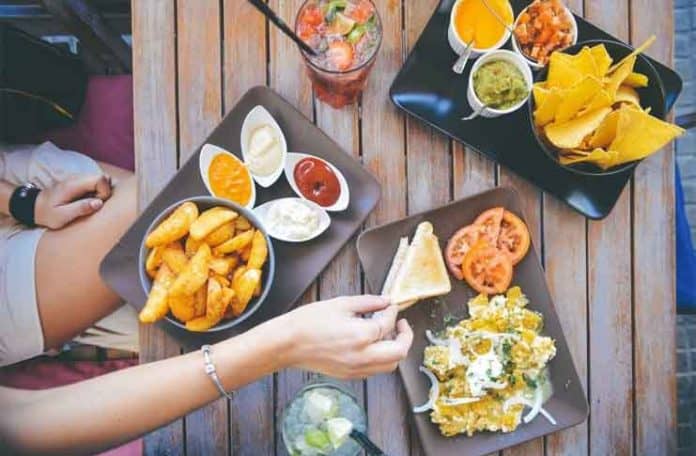 Mexican food has some great healthy options if you want to keep slim and trim. I had the pleasure to experience this during my last 7-day trip to Glendale California. As you can probably imagine, as a writer for NewYorkStreetFood.com, I ate out every day, at least twice.
One of the venues I visited was Frida Americana Mexican restaurant in Glendale, where one can look forward to a healthy Mexican cuisine fine-tuned to an art. Authentic Mexican dishes are served there in a happy and lively atmosphere that would be excellent for anyones taste buds. With a healthy twist to the dishes, I was assured my waistline wasn't taking a beating!
Here are five ways to eat healthy Mexican food whether at Frida Americana in Glendale or any other Mexican restaurant.
Grilled Sweet Potato Nachos
There is really no wrong way to make nachos, but we can't get enough of this plant-topped version. Sweet potatoes, black beans, and corn mean these are packed with fiber, and there's both crumbled cojito and gooey cheese sauce on top.
Say Yes to a taco salad
Any Mexican food catering service in Glendale would serve tacos which I love. Now, if you are wondering how tacos can contain your weight, trade your tacos for a nutritious taco salad. When you do this you will be avoiding the fried shell, cheese, and croutons that add extra fat and calories to the salad. In place of the tacos, the taco salad will be a wholesome meal of fiber, potassium, and Vitamin A.
Grilled Shrimp Salad
How about a grilled shrimp salad? This is something any Mexican cuisine in Glendale could serve up, even if it doesn't feature on the menu. From the veggies in the Grilled Shrimp Salad you will get healthy nutrients like fiber and vitamins. The grilled shrimp will get you the protein and healthy omega-3 fatty acids that your body needs. You can add the dressing but if you don't want to augment the calories, watch how much dressing you add. Best to go with a light balsamic dressing on the side. It's delicious.
Nutritious side dishes
Beans are an excellent choice for a healthy side dish. They are a good source of fiber and aid in digestion. You can even trade the refried beans which is frequently made with lard for pinto beans which are an excellent source of protein, complex carbohydrates and iron, or black beans and rice. Spanish rice is also a yummy and healthy option. It's cooked with tomatoes and pepper which is full of nutrients and Vitamin C.
Less sauce intake
During my trip, I attended a friend's wedding. The event had 5-star healthy food. What I learned? Rather than choosing globs of full-fat sour cream and layers of cheesy dips at a Mexican food catering service in Glendale, opt for vegetables, salsa, pico de gallo, cilantro and jalapeno peppers which are all healthy choices. Tomato salsa is a low-fat, low-calorie option rich in antioxidants, potassium and Vitamin C.
Do-it-yourself meal
Most favorite Mexican restaurants in Glendale give their patrons the opportunity to create their own low-calorie nutritious meal. You can choose what ingredients go into your meal, making it easier (and more fun!) to control the amount of carbs, calories and fat you consume.
Happy Healthy Dining!