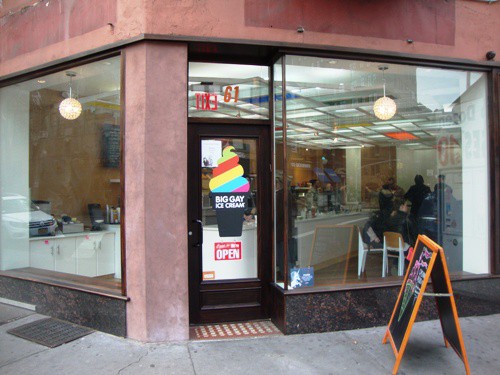 That would be the Big Gay Ice Cream retail empire, who just opened their 2nd store at 61 Grove St (corner of 7th Ave South) in the West Village.
After starting out with an ice cream truck several years ago near Union Square, the two-time Vendy Award finalist opened a store in the summer of 2011 in the East Village. The new location is within shouting distance of the birthplace of the gay rights movement, the Stonewall Inn.
The Big Gay Ice Cream store is still a work-in-progress, with much of the signage still to come. Doug promises that one of the windows will be outrageous. We're guessing unicorns, but who knows what they'll be doing. We can only imagine. The fabricator is located in Red Hook, so you can understand why there have been delays.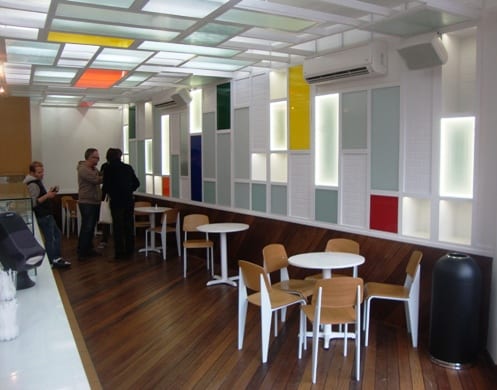 The 2nd Big Gay Ice Cream store is considerably larger than the 1st, with much more room inside the store, plus seating for about 10 people.
The ice cream is vanilla, chocolate or twist soft-serve, but what makes Big Gay Ice Cream such a success is their creative toppings and sauces.
Spicy chocolate, Maker's Mark® bourbon butterscotch, ginger syrup with or without curry powder, and flavored balsamics are just some of the toppings and sauces.
If you love milkshakes, the Big Gay Ice Cream Store is the place to be. You can get vanilla, chocolate or black & white every day, but there is also a special flavor every day. Chocolate peanut butter on Tuesday, chai on Wednesday, horchata on Saturday, and Thursday is the "Wild Card". Who knows what that will be from week to week?
Sodas and floats are great too. They have Mexican Coca-Cola and Sprecher's root beer, orange and cream soda for sale, or you can make any into a float.
While the kinks are still being worked out, once everything is up and running smoothly, Doug told us the store hours will be from 12pm-12am daily.
All the menus are written on chalkboards, so you never know when there will be something new and exciting. These guys think outside the box. (Did we really just say that?)
Congratulations to Doug and Bryan, our new Soft Serve Overlords, on their new store.