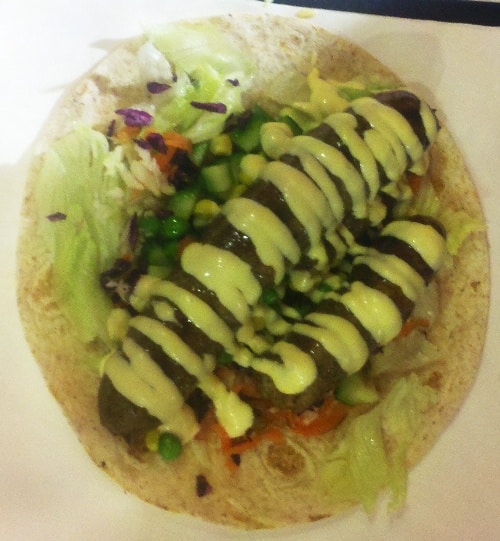 While there are a number of Jamaican street vendors in New York, we have not seen jerk sausage before. We love any type of meat in tube form, and watching it being grilled, the jerk sausage at Mama's Jerk Station was calling our name.
When that happens, you have to listen. The jerk sausage wrap cost £5 (about $7.50).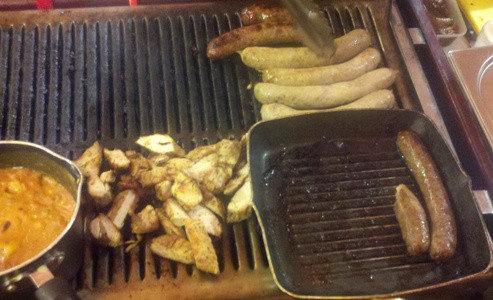 As the sausage finished grilling, they took out a large wrap and asked what we wanted inside. Everything except tomatoes for us.
Once the fixings were set, the sausage was placed on top, which she brushed with homemade jerk sauce that looked great. After that was a creamy tropical mayo made from pineapple and other tropical fruits..
Mama's Jerk wrapped it up and handed it over. This was a substantial sandwich, with 1½ large, thick sausages and a bunch of different veggies inside.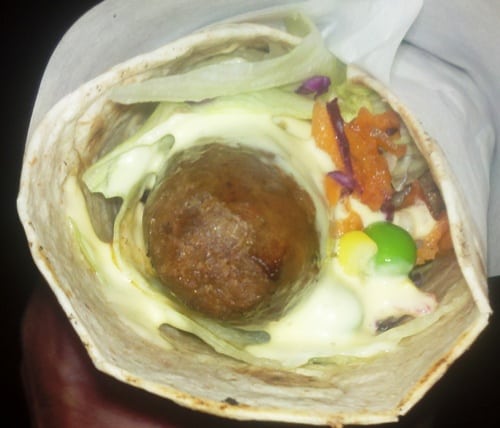 The jerk sausage was coarsely-groundpork, like the Italian sausage we know and love, but with Jamaican seasonings. The sausage by itself was somewhat spicy, and with the homemade jerk sauce, it got fiery real quick.
The fixings included shredded lettuce, cabbage, corn and peas, which were all "al dente", giving the wrap some crunch and several different flavors and textures.
The tropical mayo was a wonderful addition to the wrap. It was creamy and fruity, with mainly a pineapple vibe, but not entirely. It was an excellent condiment for the jerk sausage wrap.
Mama's Jerk Station has a website here, they are on twitter here, and their facebook is here. We highly recommend the jerk sausage wrap, although there were a number of other dishes available, such as Mama's wings.