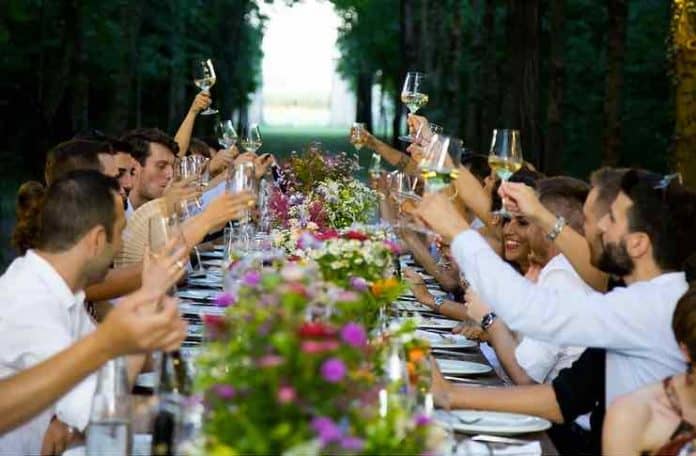 Let us all collectively agree that the best, most memorable parties are those that end up outside. For a truly entertaining and stress-free outdoor party hosting experience, you need to strive to keep your guests and pests from buzzing inside your ear. As long as you keep the revelers satiated and entertained, then you can certainly look forward to a successful bash. 
The best backyard party should ideally incorporate fun outdoor activities for both grownups and kids as well as some clever outdoor décor ideas. What's more, you need to supply your guests with plenty of food, drinks in abundance, functional furnishings (with plenty of available seating space), and sufficient outdoor lighting. To pull it off successfully, it may initially seem like a mammoth task, but most times, you'll only need to plan these parties in summer or spring, which makes the hassle worth every moment.
When it comes to prepping the outdoor space, consider tackling everything from the replacement of bulbs for your outdoor lights (ensures there is sufficient lighting) to cleaning your outdoor cushions. Once you are done with the heavy lifting at the onset of the season, you'll only be left with a little refreshing to do. Whether you have a backyard, courtyard, or terrace, you can be sure that it will remain in great shape throughout the entire season. Note that with every bash you host, the job of hosting backyard parties often gets much easier and less stressful over time. With the first one, you are more likely to experience numerous challenges, but with a bit of planning and proper execution, you can easily host an outdoor bash in celebration of a birthday, graduation, or other toast-worthy events you can think of.
Let's cut to the chase and find out what it takes to host a successful outdoor party like a pro. If you have never had the opportunity to host an outdoor party and you desire to have the most memorable experience, keep reading. Below we share with you tricks and tips to make your party hosting live up to professional standards with minimal stress.
1. Check the Weather Conditions
When you need to plan a get-together, any hints of fickle weather will only make things a little tricky for you, especially considering you'll be planning to have an outdoor bash. Thankfully, there are three ways to go about it; host the party in your backyard, but have a backup plan that involves moving indoors in case of anything; make the event open for both indoors and outdoors; or host it entirely outdoors with proper shelter provided for the revelers just in case the weather takes a turn for the worse. 
2. Send the Invitations
When it comes to the invitations, you must consider two things as you spread the word. These include:
When the revelers will be eating:

This saves you the hassle of re-firing your grill or preparing meals afresh for the latecomers.

Party Attire: Everyone will be wondering what attire to wear for the occasion and women will certainly want to know whether they'll be wearing sundresses or tank tops. For this reason, give your guests an idea of the party vibe: carry your swimsuits' or ear your flip-flops; we will flip burgers!'. You can even give them more specific requests, for example, telling the gals to bring tankini swimsuits. These are two-piece bathing suits that have a tank-top-like top.

a tankini is essentially a two-piece bathing suit that has a tank-top-like top. This means that the bathing suit top extends below the breast area. The result is a swimsuit top that has extended coverage below the breast. Tankinis come in all shapes and styles (we'll dive into that in a minute), but the one thing they have in common is they provide extra coverage. 
3. Lighting
Assuming you're planning to have a party that stretches into the night, lighting becomes an incredibly important aspect to create a feel and ambiance you desire. Nothing is as worse than was your guests sitting in the backyard under a set of bright spotlights. Similarly, eating meals in the dark is a difficult feat that you wouldn't want your guests to undergo. One of the best ways to go about it is by providing candlelight. Just make sure there is lots of it!
There's something magical and relaxing about sitting outside in the garden while enjoying dinner with guests with candlelight flickering in virtually every location. You don't necessarily have to set up the candles at the table. The hurricane vases and lanterns will also come in handy if you need to light up the pathway leading to the main door. You may also use lanterns to highlight some special areas. For a warmer glow, consider LED lights. You can apply your creativity and do something out of the norm that will make the outdoors more appealing through the proper usage of lighting fixtures.
4. Catering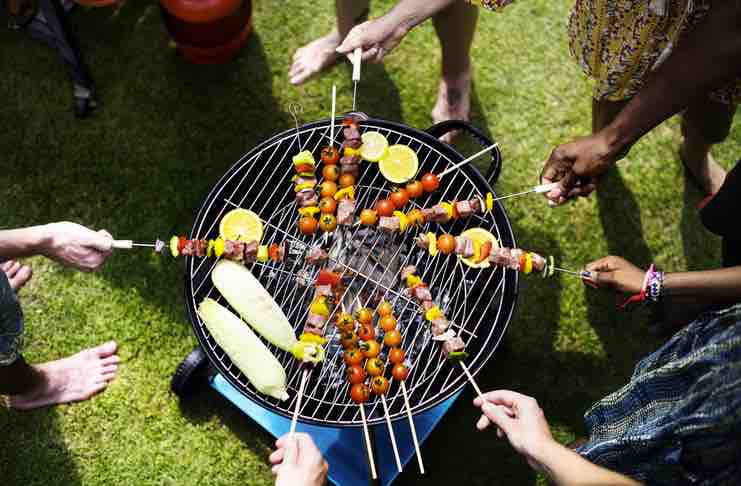 Keep it simple and exciting. BBQ is a choice that works all the time. All you require for a good BBQ is marinating your meats and proper grilling. Get a few men to do this for you. Snuck up on foods like nachos, bread, and small bites, as these are easy to put together.
Pizza is also a win for parties. You can always count on any type of pizza for your bashes. Whether you have a regular grill or an outdoor pizza oven, you can decide to treat your guests to handheld cheesy goodness.
If you plan to have a buffet, you can reorganize it. Place salsa and chips, salads and veggies near the beginning, then end with the more costly food items such as fruits and meats. This helps by stretching out your spread, especially if you consider that most revelers tend to fill their plates before they reach the end of the serving point.
And of course – you can always go for cool food truck catering. 
5. Provide Easier To Grab Utensils
Consider wrapping up your cutlery in napkins and tie them up with pretty ribbons if you feel crafty. The bunches of cutlery will look polished and your guests will find them easier to hold as they fill up their party platters at the buffet.
6. Use Containers for Holding Drinks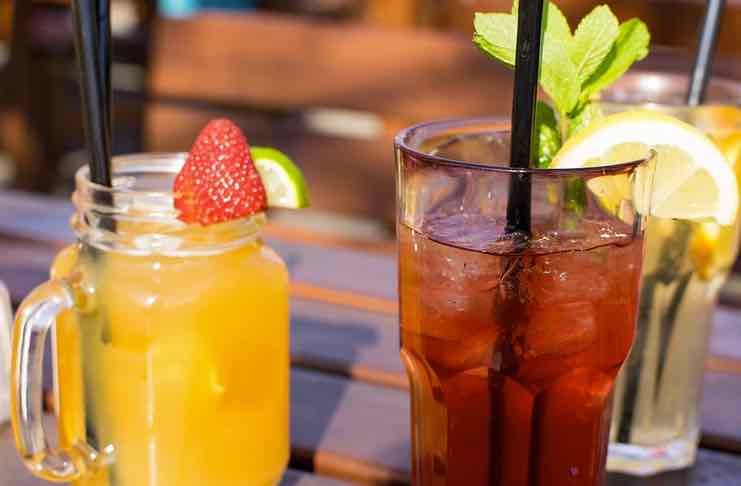 Galvanized bins, old enameled buckets, clean flower pots, wire baskets, troughs, and more come in handy if you need creative stand-ins for the ice bucket or cooler. Just make sure your containers are watertight before you add ice. Consider adding a liner of plastic if it isn't watertight. To reduce the amount of traffic around the bar area, add mini drink stations at different points of the party.
7. Serve Frozen Desserts more Promptly
If you would like to end your bash by providing your guests with a cold treat, then you need to do everything possible to prevent the desserts from melting while serving every scoop. This trick works all the time: Pre-scoop ice cream treats into smaller bowls or containers, place them carefully on a cookie sheet, and then put them away in your freezer. You can remove them only when you are ready to serve. This is particularly useful when kids are more likely to clamor for the treats all at once.
8. The Music
When it comes to the music, bear the following in mind:
Avoid the temptation to crank up the speakers: If you decide to blare music, none of your guests will want to stay anywhere near the speakers. The best way to set up your music equipment is by having four speakers or more spread out in the outdoor space. Make sure the music is playing at a low volume. If you plan to

play music from a boom box

or Bluetooth device, place the music system above the ear level to prevent it from blasting at the guests directly. What's more, you can turn the system to face your house and turn up the volume, as doing so allows the sound to spread out in a better way.

Classical music does the trick; Michael Jackson, Stevie Wonder, the Beatles, the Rolling Stones, and other similar artists played songs that most people are more familiar with. Keep the music upbeat and play a mix that incorporates the newer tunes as well to accommodate everyone. 
III.  Plan for at least five hours: Most parties do not last longer than five hours, but if any of the revelers realizes the music playlist is beginning to start over at the sixth hour, then they probably need to imbibe some more.
9. Provide Enough Seats
What happens in the event that you only have six patio chairs and 30 guests? It is important that you assess the furniture in your house. The easiest way to go about it is by using your dining chairs, along with poufs and drum stools you might have in your home. If you prefer to keep things casual, spread some nice-looking quilts and let everyone gather around in a picnic-style fashion. 
Renting furniture is yet another cheaper option you might want to explore, especially if you consider folding chairs that cost as low as $1 a piece to rent (you can also rent a bigger grill, speakers, coolers, and tableware as well). Many vendors also drop off furniture and pick up, meaning you only have to worry about rounding up guests and creating an environment with a good vibe and cheer.
10. Decorating With Fresh Flowers
Fresh flowers in the outdoor environment have a big impact on the space and party setting. Therefore, consider adding this element to help provide decoration. The florists from Violets-Florist.com suggest that if you wish to get the most from your flowers, it is a good idea that you stick to one or two of your favorite colors. By doing so, you'll quickly discover that it is much easier to arrange them artfully while making it look virtually effortless.
When it comes to the container, you can bring out your creative side. For instance, if you have some favorite pitchers, traditional glass vase or other containers, you can use them to beautify the party space. If you need a superb alternative to cut flowers, then pot flowers and a combination of herbs will work wonders. These will ensure your garden has a pleasant feel while adding to the element of color.
11. Provide Entertainment for the Kids As Well
If you have some fun diversions for the children, then you can be sure that parents will relax and party along as they enjoy their sangria. When it comes to entertainment for the kids, you might want to consider a game of blowing bubbles, beach balls, Slip n' Slide, and more. You may also consider purchasing some inexpensive disposable cameras for the little ones and let them take on the role of event photographers. If the kids need a more creative activity, then you may set some crayons on a craft-paper-covered table. With these, they can doodle on paper or the tablecloth as they wait for the food to be ready.
12. Keep Mosquitoes at Bay
Don't let the bugs ruin your summer fun. You can actually repel mosquitoes by doing the following:
Remove all standing water: Mosquitoes tend to breed in standing water. Therefore, the week before you host your bash, empty rain gutters, drain the kiddie pool, and rainwater that collects in the bottom of flower pots.

Use fans: mosquitoes are generally weak flyers, meaning even if fans are set at the lowest setting, they can create airflow to ward off the annoying mosquitoes. However, this can only work best in smaller areas such as a deck (where you can install 2-4 box fans around the revelers. It is a good idea to get a tabletop fan installed to keep flying insects away from the salads. 
13. In The Hot Summers, You Can Make It Easier For Your Guests to Cool Down
In summer, temperatures soar, particularly high; however, you can employ some creative ways to help your guests cool down in the hot summer afternoon in the following ways:
Provide handheld fans

: You can place some classic accordion fans or raffia fans in baskets. With these, your guests can keep cool while enjoying good music, food, and company in the hot summer afternoon.

Ice-cold compresses: Buy a huge pack of washcloths from a nearby store, fold or roll them up using a rubber band, and toss them in a cooler or in ice water. Your guests can grab these when it gets extremely hot. The most effective cooling points include the wrists and the neck. 
So there you have it. With these simple tips, you can easily make any outdoor bash an interesting and exciting experience for you and your guests. I hope the tips give you some inspiration to add a few special touches to the planning and execution, thus enabling you to transform the next get-together you host in your backyard from an ordinary party into an extraordinary one.