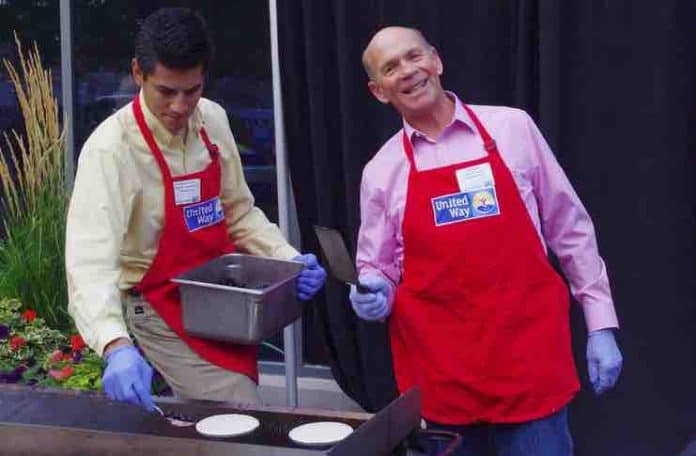 From crisp veggies to juicy steaks, the list of things you can start cooking on a griddle is endless.
Versatile and suitable for not only savory foods but also for desserts, a griddle is fast becoming a must-have kitchen item. Made from cast-iron, these cooking surfaces distribute heat evenly, without the risk of food undercooking due to uneven heat dispersion.
What is a griddle?
A griddle is usually made out of cast iron. Griddles typically come with one smooth flat side or a ridged side. Some (like the one at Uno Casa) have both! You can flip them over, depending on what side you need, for your recipe.
Griddles sit right on top of your stovetop, grill, or campfire. They retain heat and evenly disperse it across the surface.
The ridged side leaves gorgeous grill lines in steaks, veggies, or even fruits. Most griddles have grease slopes, so grease doesn't drip off the sides and onto your stove. The ridged side of the griddle makes draining fat and grease from your foods a lot easier as it can drip between the ridges. 
As you can already understand, cooking on a griddle is a must-try for anyone who loves to play in the kitchen.
Nothing beats off the griddle meals!
If trying something new is what you live for, try these on the grill recipes to kick start your day or wrap up a week.
Cooking on a Griddle: Blueberry Pancakes (vegan, gluten-free)
These tasty pancakes are the perfect healthy breakfast treat, suitable for all dietary needs.
Ingredients
:
1 cup gluten-free flour blend (Or regular if you can eat wheat)

1.5 tsp baking powder

1 to 2 tbsp sweetener – agave, maple syrup, or xylitol

1 cup of milk – swap out for plant-based if you are dairy-free

1 tbsp coconut oil

1 tsp vanilla essence

1 tbsp flaxseeds (ground) + 3tbsp water mixed in a dish, leave to stand for 10 minutes*

*Swap the flaxseeds and water for 1 large egg if you eat eggs

0.5 – 1 cup blueberries

Additional coconut oil for frying
Method
Mix all dry ingredients and the sweetener into a bowl until well combined. Make sure you sieve your flour and dry ingredients! In another bowl, combine the milk, coconut oil, and the flax 'egg', whisking to ensure all the ingredients are combined.
Slowly pouring your wet ingredients into the dry mixture, mix until all is combined, try not to overmix. You do not need to beat this batter; simply fold until the ingredients are combined. Gently fold in your blueberries.
Rest the batter for 5-8 minutes. Prep your flat griddle on medium heat, drizzle coconut oil over the surface. Pour a scoop of batter onto the griddle; pouring the batter into a jug might make it easier to run onto the griddle.
Cook the pancakes for 2-3 minutes until you see bubbles forming. Don't flip it too soon! Let the edges look slightly cooked before flipping. Once flipped, cook for one minute!
Repeat until all your batter is done. Adjust the amount of batter you want to your preferred size pancake. Serve with syrup, whipped cream, or simply with a pat of melted butter.
Hash browns with bacon pieces
Try these savory delights, with your breakfast spread or on their own!
Ingredients: 
2 medium potatoes, grated

Half a medium finely chopped onion

A quarter cup all-purpose flour (gluten-free all-purpose blend will work as well)

1 large egg

Oil for frying

Spices and herbs to taste

Half cup of cooked bacon bits

Chopped spring onions to garnish
Method
:
Place your shredded potatoes in a sieve and rinse them with cold water until the water runs clear. Squeeze and drain the water out of them. Add in onion, flour, egg, and spices. Mix until all the ingredients are well combined.
Heat the flat side of your griddle, drizzle oil over the top of the griddle on high heat. Use an ice cream scoop to put your potato mixture onto the griddle, flattening them slightly once they are on the grill. This will ensure they are all the same size.
Lower the heat to medium/high. Cook until the bottom is browned. Flip it over and brown for another 5 minutes. Once cooked, remove from the grill, blot dry on paper towels, and serve with a sprinkle of spring onions and sour cream.
Sweetcorn fritters (gluten-free, vegan)
These are fantastic as a snack, a breakfast treat, or a sneaky midnight snack if you can't sleep!
Ingredients:
3/4 cup of all-purpose gluten-free flour (for best results, 1/2 cup all-purpose gluten-free flour and 1/4 cup of cornflour)

1 tsp baking powder

1 tsp Himalayan pink salt

Half a cup of unsweetened plant-based milk

1 cup of corn frozen/canned

1 chopped spring onion

Oil for frying

Cracked pepper to taste
Method
:
In a large mixing bowl, sieve your flour, baking powder, salt, and pepper. Whisk together the dry ingredients and the milk; if the batter looks too dry and stiff, add a dash of extra milk in. Fold in the corn. Set the batter to one side for 2 minutes.
While you rest your batter, heat your griddle to medium/high heat. Drizzle with oil. Scoop out large spoons of batter onto the griddle. If the batter is too risen, flatten lightly with the back of an oiled spoon.
Grill the fritters until golden brown; it should take about 2 -3 minutes per side. Flip your fritters over and cook the other side until golden and crispy.
Prep a plate with paper towels, place cooked fritters onto the paper towel to drain excess grease. Serve with a tasty ranch dip.
Stuffed French toast
Forget your traditional grilled cheese sandwiches. Stuffed cheesy French toast is here to stay.
Ingredients
:
1 cup shredded cheese

4 medium eggs, beaten

2 tbsp milk

salt and pepper to taste

6 slices of sourdough bread

1/2 sliced onion

Butter

Oil for frying
Method
:
On a preheated griddle, ridged surface up, drizzle with oil and onions, carmelize the onions. While the onions are frying, butter one side of each bread slice. Evenly divide the cheese onto three slices of bread. Gently pat-down.
Beat the eggs together in a mixing bowl, and add milk. Season with salt and pepper to taste. The mixture should be well incorporated. You can add garlic or other herbs to the mix if you want to kick it up a notch.
Once your onions are caramelized, place them onto the cheese, sprinkle with salt and pepper to taste. Close the sandwich with a slice of bread. Press down firmly without completely squashing the bread.
Pour your egg mixture into a baking dish, carefully lower your sandwich into the mix to coat, turning it over to coat both sides. Lifting the sandwich, place it onto an oiled grill. Cook for 3-4 minutes. You'll know this side is done when it's golden brown. Flip it over, and grill the other side. Serve with a side of fries, a salad, or a drizzle of maple syrup.
Simply grilled
Whether you are a breakfast foodie or a purveyor of delicious main meals, a griddle is here to make your kitchen life saucier and tastier.