If you are looking forward to cooking easy food items in no time, then all you need is an air fryer. An air fryer is a small countertop convention for deep frying without dipping the food into the oil. This makes the air fryer a multipurpose food-making machine, as many dishes are cooked by deep frying.
The same food which takes an hour and more to cook in other means can be cooked in a few minutes in an air fryer, and it takes less energy as well, which is definitely a plus. Thus, all the tasty food items you can cook in the air fryer are what we will discuss in this article.

1. Roasted Garlic
Everybody loves the tangy garlic flavor that instantly elevates a lot of dishes. Garlic, especially in Indian cuisine, plays a vital role and is an inseparable ingredient of most Indian dishes.
Hence, if you are looking for a more sustainable and cost-effective method of enjoying its exotic flavors, you will find a solution in an air fryer. It is much more energy efficient to fry a garlic bulb in a concentrated area of an air fryer. However, heating a whole oven for a small item is a waste of energy, and doing this repeatedly can also damage the oven.
2. Burgers and patties
Burgers, patties, and other fast-food items cook slowly, retaining their flavors. Making homemade fast food is easy but finding proper utensils to cook them is tricky. Hence, if you want to make fast food at home, then cooking in an air fryer must be your primary choice.
Air fryers get hot quickly, so there is no need to preheat as you do with a regular grill or oven; this is good for saving time while cooking. So, if you are making a burger at home, assemble all the ingredients and put them on your air fryer, place everything entirely at once, and in just 10-15minutes, your burger will be ready to eat. Having trouble cleaning your air fryer? Check out our short guide on how to clean an Air Fryer.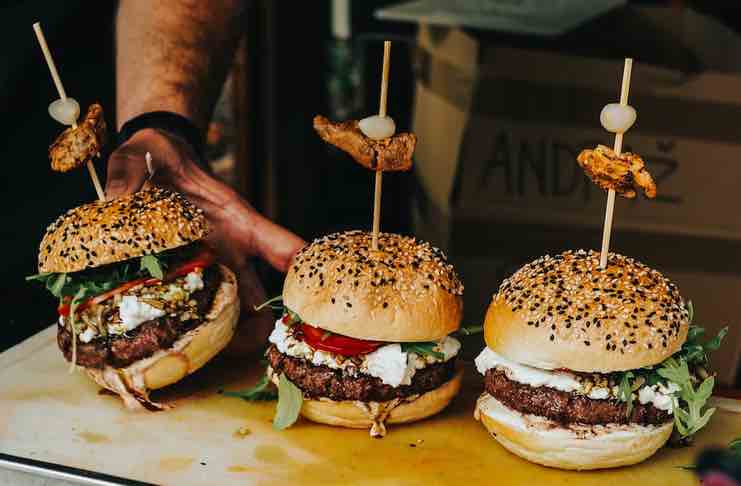 3. Single-serve desserts

Many a time, you crave a dessert that is simple to make. If you love to cook and eat desserts often, then an air fryer is all you need. However, According to Jugo feed, cooking desserts for the first time in a fryer can be tricky, so before starting, check for all dos and don'ts of cooking dessert in a fryer.
Besides, this air fryer is the best for single-serving dessert that is desserts that are only for you. You can eat tasty dessert in a few minutes or an hour without needing to preheat; this saves energy and effort. The best desserts you can make in an air fryer are apple puddings and cookies. Thus, without waiting for long, you get your delicious dessert on your plate in a few minutes.
4. French Fries
French fries hold another level of craziness, as they are the most over-rated fast food. They are everyone's favorite because they are easy to cook and delicious to eat. Usually, frying pans are used for cooking fires which takes a lot of time, oil, and energy, and your drive to eat fries might get away due to so much waiting. 
But now you can have an air fryer to get the fastest serving of fries. Homemade fries are crispy and delicious when made in a fryer with fewer calories than deep-fat frying. All you have to do is cut the fries, place them one by one in the air fryer, and air fry them for 12-15 minutes, tossing them halfway through. 
You can also check the cooking process to see whether your fries are ready or need more time by simply pulling the tray out to look. Moreover, a healthier way of eating fires is making them with sweet potato and seasoning them with a bit of paprika, pepper, and salt for extra taste.
Watch this clip for some tips on cooking homemade french fries in an Air Fryer:
5. Reheating leftover foods
Throwing and wasting leftover food items is not good. The air fryer makes sure that you don't waste any of your food items. An air fryer reheats the food and makes it fresh and crispy to eat again. For example, pizza, burger, or chicken are some food items that you can reheat in the air fryer and enjoy the meal for a second time. 
However, you can't reheat your food in the oven because the microwave tends to soften the layers of your food, whereas the air fryer keeps the food nice and crisp. Thus, wrap your leftover food in aluminum foil and place it well in the air fryer and wait for a few minutes, and you are ready to enjoy your favorite meal for the second time.
6. Bacon
A mouthwatering bacon is one that is crispy and juicy, and an air fryer is the best appliance to cook it perfectly. Place the bacon in a single layer in the basket before cooking at a high temperature for 5-7 minutes, the bacon gets beautifully brown and crispy. 
Moreover, you can cook bacon in a fraction of the time by placing the layers in a row. This will save you time, and you will get crispier and healthier bacon on your plate.
7. Crispy roast potato
Nothing is more pleasing than a plate of crispy potatoes. Potatoes are those favorite food item that never fails to amaze you. Parboil the potatoes and allow them to dry out. Add them one by one in an air fryer and wait for a few minutes, open and check the fryer rack to see whether the potatoes are ready to eat.
At last, sprinkle some salt and black pepper to add the final essence to it. Enjoy your Sundays with this simple-to-make recipe, which is easy and tasty.
Conclusion
The benefits of an air fryer are endless if you are a real foodie. An air fryer is considered hundred times best than an oven or a grill. This is because an air fryer takes comparatively less amount of energy and time to cook food.
Especially, when you talk about fast food then nothing can beat the timing of the air fryer. Moreover, apart from salty and tangy foods, you can also make delicious desserts as well in the air fryer, and that too in no time. In this way, you get a pack of benefits in a single sir fryer machine.