Summer is approaching, and hopefully things will normalize soon, so we can slowly get back to enjoying life. Planning our summer family barbecues is part of it. Smokers can be a fantastic addition to the garden BBQ setup and for anyone who loves cooking outdoors. Here are all the important things to consider when shopping for a smoker.
1. Insulation and Seals
Insulation and seals play an essential role in ensuring stable temperatures and the ability to manage the amount of smoke in/from the same.  The ideal smoker should, therefore, be tightly sealed to facilitate this. While most cheap units will probably leak smoke, heat, or both, it would be advisable to inspect the unit, and especially the thickness of the metal, seals, insulation, well as welds before making an order. Although a leaky smoker may still be able to produce good food, you can't always be sure about the quality (they are less predictable). 
2. Durability, Materials, And Workmanship
The type of material used, and the level of workmanship on the same, determines the quality of the product/smoker, and so is its durability.  The metal used should also be thick enough to prevent warping and handle all types of weather comfortably. The welds too need to be done well to provide a seamless seal. You also need to be wary of units with sharp edges as well. Other factors to consider when it comes to quality include hinges, latches, wheels, and legs. The legs, in particular, need to be strong enough to hold the weight of the smoker. Stainless steel might seem like an excellent option for smokers. It, however, is a grease, dust, dirt, and rain spots magnet. The only downside of stainless-steel smokers is that they have reduced heat retention and are expensive. 
3. Thermometer
The quality of the smoker needs to be of the highest quality possible. Some smokers will even require two thermometers, which of course depends on the size and shape of the smoker. Barrel-shaped smokers, for example, should have two thermostats, both at the grade level for the best results. Many of the companies that manufacture smokers will use a standard or low-quality thermometer in their units, one of the reasons you should have a backup plan. That said, you might want to invest in suitable and reliable digital thermometers for your smoker. Error-rates in these is much lower than the regular ones. 
4. Even-Heat Distribution
Heat distribution matters a lot, especially if looking for an even cook. That said, you need to check to ensure the smoker can maintain a constant temperature inside the unit. You don't want one end to be a lot hotter than the other. Some of the best units in the market will have even-heat distribution on either side, as well as both the top, and the bottom of the smoker. 
5. Temperature Range
A unit capable of dropping down to 100°F (for smoking cheese) and reach highs of around 450°F (for your turkey) would be recommended. 
6. Dampers
Dampers help control the amount of heat in the unit by cutting or increasing oxygen supply to the fire (charcoal and wood cookers).  Identify a smoker with these installed in place for easy temperature control.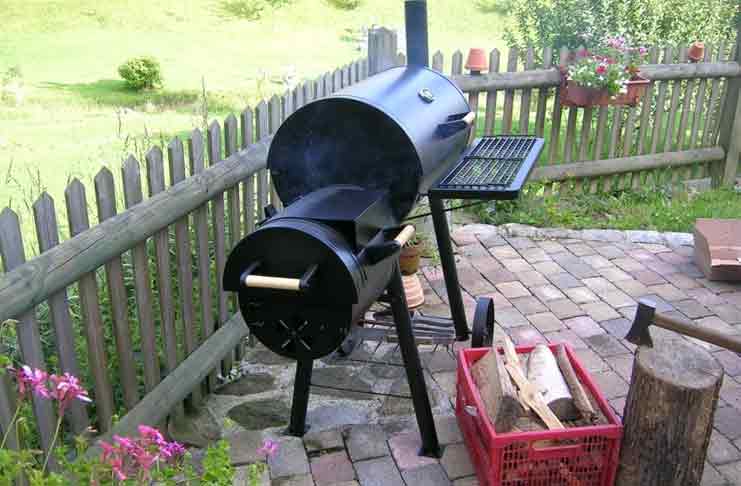 7. Accessories
Some smokers will come with a few accessories (either free or at an extra cost). Check to see if the preferred one comes with tool hooks, rib hooks, a cover, or even a cookbook. You might also want to buy a cold-smoking baffle too. 
8. Warranty and Support
Check to see if the manufacturer/dealer offers a warranty or service guarantee for their units. Look out for their customer support service, email, or phone number, just in case you need verification or help. Experts recommend shopping for these with a reputable dealer or brand to avoid disappointments. 
9. Safety
Is the unit child or pet safe? Does it have electrical parts, and are they safe in the snow or rain? Handles too do matter here. Check to see if they are wooden or coiled stainless handles. The latter is considered the best for this application. 
10. Access
How easy is it to add fuel to the charcoal or wood burner/smoker? It would be best if the smoker provided easy access for these, and especially when using pellets, chunks and chips for smoke. The unit should also provide easy access to the loading area. Front-loading and cabinet-style smokers give better access to the grills and shelves. They also are much safe to use when hot as compared to top loading smokers. 
11. Capacity
The smoker's size is, of course, dependent on how you intend to use it, and the volume.  If all you need is a smoker to serve a small family of 4, then a small bullet unit will do the job correctly. You, however, will require a larger capacity one if looking to throw a huge party, or for commercial purposes. 
12. Footprint
This is generally dependent on the capacity of the unit, as well as where it will be used. A small bullet-shaped smoker can measure around 3' by 3', hence can be used in a balcony comfortably. Larger ones, such as an offset pit can take three times that therefore need a larger working area. You also need to consider its footprint, size, and ventilation. 
13. Width
You might also want to check the width of the smoker, and particularly the slabs. Although some slabs can stretch as wide as 16", narrower ones may make it hard to place full-sized ribs on. This also means you will be forced to chop the ribs into half, resulting in overcooked sides. Should the slabs/shelves be rectangular or square, consider measuring its diagonal size. 
14. Internal Size/Height
The ideal smoker should provide ample space for a full-size turkey to fit well. The recommended space here is about 1', which is tall enough for large-sized turkeys. 
15. Wheels
Smokers can be particularly heavy and could take two adults to move one around.  That said, you might want to go for one with wheels on it. Wheels make it easy to move the unit easily singlehandedly.  The wheels need to be strong and large enough to roll smoothly even on a rough surface. 
16. Grill
A grill is a welcome feature for a smoker. Some smokers will have a rack that can be used to grill whatever you want. This is why many people choose a grill and smoker combo. This is, of course, made possible by removing the water pan.  Some will even make it possible to move the meat closer, or farther away from the heat, for an even cook. 
17. Movable Shelves
Movable shelves make it possible to adjust the unit's interior configuration. Not all smokers, however, come with this feature, which is why you should check them out before making an order. Removable shelves make cleaning the unit much easier too.
18. Adaptability
Is it possible to check the meat, add water, wood, or fuel, to the unit without losing too much heat? While peeking at the meat is discouraged, there are times when you simply can't avoid lifting the lid. A good oven will, however, make it possible to add fuel, wood, or water without affecting the internal temperature/humidity/environment of the same. Cabinets and bullets do not, or may not, have this feature, which is why you might be stuck with larger smokers for this. 
19. Water Pan
Most smokers (e.g. bullets) have a pan directly above the heat source.  This means you can add beer, wine, water, or even herbs to the pan to help regulate the temperature in the unit, as well as prevent your meat from drying. The pan also helps catch drippings from the meat, and especially the marinates and fat. You could use such drippings to make a sauce, hence a more delicious meal. 
20. Drip Pan
As mentioned before, fats and other fluids will drip from your meats and food in the smoker. While the water pan may come in handy in collecting these fluids, a good smoker will have a drip pan to collect them. These allow for easy disposal of the same, and especially if you don't intend to use them. 
21. Cleaning
Hygiene is paramount wherever you prepare your meals on. That said, the inside of the unit should be kept clean at all times, and especially before putting your meals in it. While the exterior of the smoker might not be a bother, the interior is one of the reasons it should be easy to clean.  You will want to clean off the drippings, seasonings, and fats that splatter or drip off. Left unchecked, these could become breeding grounds for bacteria, fungi, and other microbes. Although cranking the temperature will kill these microbes, you certainly don't want to place your priced meats on a dirty surface, do you? 
A good smoker should be easy to clean. Although some of the parts can be cleaned in a dishwasher, some may require you to use a brush and hose to wash down the dirt. It is for this reason you should inspect several units before picking one. Anything that isn't easy to clean or wash should be avoided at all costs.
22. Storage and Work Surfaces
A good cooker will come with enough work surface and even storage for your essentials. Let's face it; you will want somewhere to put/place your cutting boards, sauces, mitts, and other tools. The more the smoker can provide, the easier your job will be. Some of the best units out there also come with storage cabinets and bis for your tongs, wood, and lids. These are a welcome addition too.
Enjoyed this post? Add a comment!
If you're looking for a great sauce for your BBQ delights – read this post. And if restaurants in NYC start to open soon, check out these 10 best grill restaurants in NYC, of our choice of course 🙂