There is a term in Japanese, "Kuidaore" which roughly means "to ruin yourself with the extravagance of food". While I can't think of a more appealing and enjoyable way to ruin myself, Toriko NY, located in New York's Greenwich Village demonstrates why the Japanese decided that they needed a short-hand term to explain the sensation of reveling in the finest cuisine has to offer.
Toriko NY is the lone US branch of a group of popular Japanese yakitori restaurants that have expanded to 12 location in Japan since 2011. It is also, in my experience, an elegant and refined venue in which to engage in an unrestrained episode of chicken and ramen "kuidaore".
If that's a bit extreme for you, Toriko's recently debuted lunch menu items also make it an ideal location for business lunches, casual meals, or a to a very reasonably priced "treat-yo-self" lunch.
For the uninitiated, Yakitori are grilled chicken skewers. Chicken often gets a wrap as the boring meat option. I feel this reputation is partially deserved because in America unless you are frying it or putting it through a hi-tech 24-hour brining process, Chicken IS often boring, dry, and unseasoned.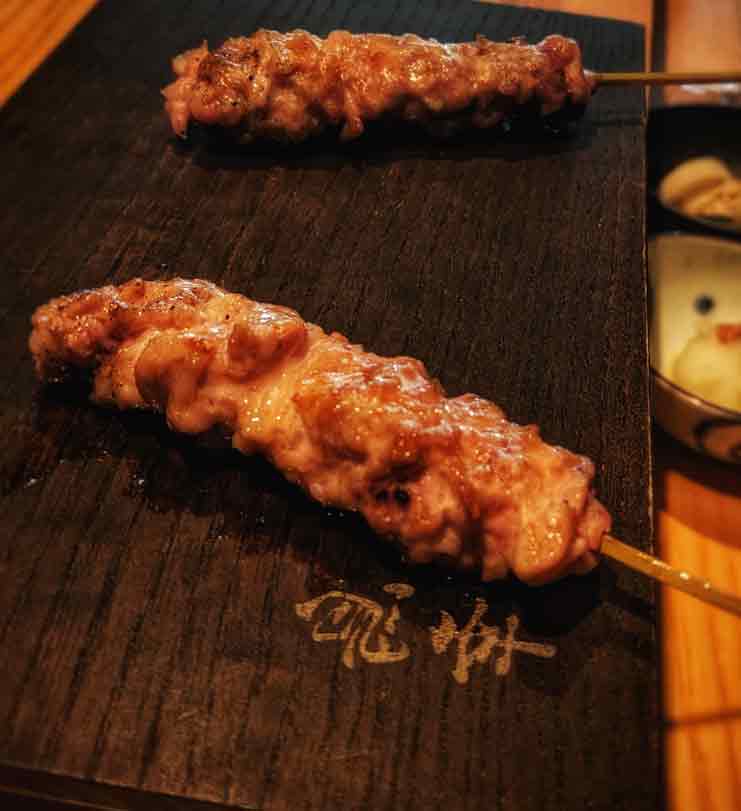 At Toriko NY, you won't find dry bland chicken. Instead, you will find cuts of chicken you know, expertly cooked and seasoned in ways you have never imagined, as well as cuts of chicken that you have never eaten or even thought about eating, also cooked and seasoned to perfection. Toriko prides itself on offering premium yakitori, meaning they butcher everything, in-house, daily, they use every part of the chicken, and they utilize a unique seasoning method highlighting the four different types of Yakitori sauce and the three different types of salt. The result is savory heaven.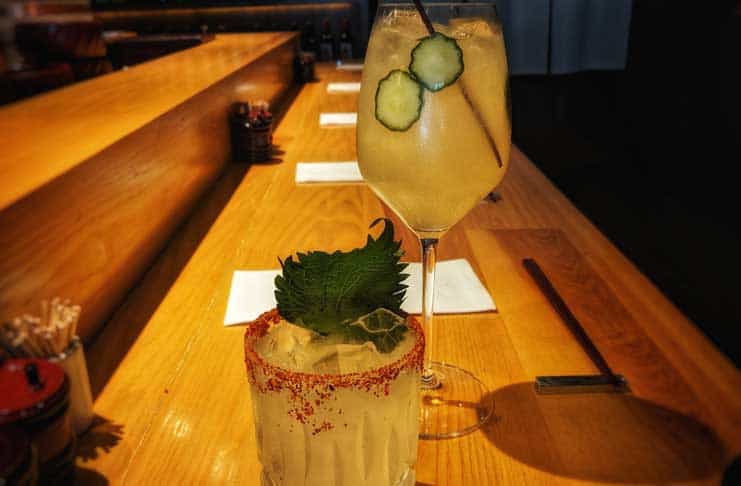 This knowledge in hand, my dining companion and I ordered the Yakitori course. We also decided to try the Black Garlic Paitan Ramen, which is one of the new lunch offerings. The other new lunch additions are a Wonton Shio Ramen King Solomon Don and the Shirashi Don–which is five types of sashimi over sushi rice is and definitely going to be my order at my next visit.
Chef Manabu Asanuma (previously of MIFUNE) expertly prepared each of our dishes and I honestly can't come up with even a single complaint about any piece of food he put in front of us. The presentation of each dish maximized its appeal and the variety of flavors between each skewer was engrossing. The chicken bone broth soup was the perfect amuse-bouche to activate the taste buds. The Momo (chicken thigh) was served with real wasabi, not the nostril invading horseradish alternative that I consume on a weekly basis. The Seseri (neck) was easily my favorite as it was the most tender and was practically dripping with sauce. Torkio even passed my white meat chicken test—in that I actually enjoyed the Dakimi (chicken breast) skewer which was amply moist while also having a delightful orange citrus seasoning. The hearty Tsukune (chicken meatball) was a brilliant bookend to the course.
I also must mention the innovative cocktail offerings. While yakitori probably goes best with a crisp cool Japanese lager, the cocktail list included a Shochu Sour- which I had, and I must say the refreshing citrus flavor was a nice compliment to our meal. My companion tried the Not a Mule, which was as described, and also had an excellent balance of ginger beer, rum, and passion fruit. Additionally, Toriko boasts a robust and extensive wine list which is curated by a sommelier to superbly pair with their Yakitori offering.
Finally, as a bit of a ramen connoisseur, I was somewhat hesitant about ordering ramen at a Yakitori restaurant. This was silly of me. Just because a restaurant does one type of dish well does not preclude them from making another type of dish just as brilliant. Skill does in fact translate sometimes. In this instance, I would put Toriko's Ramen against any other of the New York ramen institutions I have visited. No, you won't have chefs sweating through their colorful bandanas as they violently shake excess water out of noodles or use canoe oars to stir giant size pots of broth right in front of you, but the Black Garlic Paitan ramen was as solid a bowl of ramen as you'll get at any of those establishments. The noodles were outstandingly prepared, and the broth had the right subtle notes of garlic that made it delicious but not overwhelming.
I don't necessarily recommend ordering both a ramen dish AND the Yakitori course; really each one on their own is plenty enough. However, if you're set on having the true Japanese "kuidaore" experience, I can attest that ordering both is a good start. Either way, Toriko's new lunch menu offers the opportunity for a rich afternoon dining experience and is a great venue to enjoy a delicious meal while connecting with client, coworkers, or friends.
Ted Reilly lives and eats in New York City and can count the number of times he's said "no" to ice cream on one hand. As a teenager in the Midwest, his daily lunch diet consisted of mall pizza and/or Burger King. His passion for food developed as a college student in New Orleans where he regularly attended crawfish boils and sought out the best jambalaya. Since then he's been an avid consumer of okanomiyaki, 回锅肉, and [anything] curry. He loves traveling but knows that you can find any dish you want somewhere in Queens.