If you know us a little bit, you will already know that we are great lovers of Italian cuisine. In every city we travel to, one of our priorities is to taste some of its typical dishes. We think it's an essential part of a trip, and we love it!
We once lived in Bergamo, and when it came to food, we were very lucky! From one side, Bergamo is not among the best ski resorts in Italy, but its traditional Italian dishes are among the tastiest, and we have many recipes from that time, that make our mouths drool.
However, today we are going to focus on the gastronomies of other places in Italy, as we tell you which cities we have visited that have conquered our hearts for their excellent gastronomy. For us, they are the gastronomic capitals of Italy!
1. Bari
Before organizing our trip through Puglia in 16 days, we already knew that this region offers several dishes to try that are to die for. Its capital, Bari, is one of the gastronomic capitals of Italy and one of the best cities where to taste the rich food of Southern Italy.
The star dish of the city is undoubtedly the orecchiette alle cime di rapa, a type of pasta accompanied by a vegetable similar to broccoli, with an intense and slightly bitter flavor. 
The most curious thing about this dish is that you can see this type of ear-shaped pasta being made directly in the little streets of the old part of the city. You can't miss the locals working with great skill the orecchiette, it has become a real tourist attraction in Bari!
Watch this video to get a glimpse of what this dish is all about:
During our trip to Bari, we had the opportunity to try other very peculiar dishes such as tiella. The recipe unites three ingredients in the same dish that we have rarely seen together: rice, potato, and mussels. It is super typical of this area and highly recommended to try!
What made us fall in love with Bari's gastronomy is undoubtedly its street food. Mark well in your agenda these three names: popizze, scagliozze, and focaccia. The first two you will find mostly in street-food kiosks. 
Popizze is small balls of fried dough prepared on the spot, and you can choose either the savory or the sweet version – both are delicious! The scagliozze are small portions of fried polenta, highly recommended to eat during an aperitif.
The focaccia is somewhat different from the one prepared in the Liguria area, since it is made with durum wheat semolina and potato, and on top of it, rich local tomatoes are added.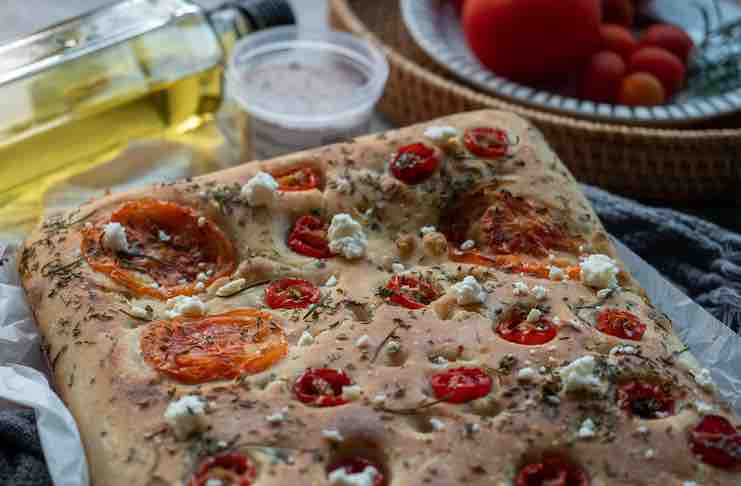 2. Perugia
Perugia is a great unknown in Italy, and if we can give you some advice, go to know it as soon as you can! In addition to its postcard-perfect corners, it is a city that will conquer anyone's palate. The traditional dishes of Perugia, and the entire Umbria region, are characterized by strong and genuine flavors.
A tasty plate of cold meats and cheeses with a good glass of wine is the best way to start a meal in the capital of Umbria.
Among the first courses, we highlight without a doubt the potato gnocchi with goose ragout sauce and the strangozzi with black truffle, the local type of pasta accompanied by this precious product of the area. It has a very strong and particular smell and taste, so it is a must-try!
To end a gastronomic experience in Perugia there is nothing better than eating some Baci Perugina, a melting chocolate bonbon filled with hazelnut cream. It is so good, it is now sold all over the world!
Here's a bit about the Baci Perugina:
3. Naples
Naples…one of the cities where we ate the best in Italy, and also where we got the fattest! Neapolitan cuisine is famous for being very tasty, but at the same time, for not being suitable for dieters. 
If you don't have this kind of problem, you can start your gastronomic route in the city with one of the most famous Italian dishes in the world, pizza. This delicacy was first created in this city, and even today, Naples is still the capital of this dish.
Notice, we went in to eat at the best pizzeria in town, Da Sorbillo, before noon, to avoid the very long queue that forms outside the restaurant. But my friends, it was worth it, it was the best pizza of our life! While you're at it, try also the fried pizza, a tasty variation of pizza that is made only in Naples.
The capital of Campania is also a paradise for those with a sweet tooth, as it can offer a wide selection of typical sweets. There are so many that there is even a free city tour of Neapolitan desserts! Among them, the most typical to try are undoubtedly the Neapolitan pastiera, the sfogliatella, and the babà. You're going to go back home rolling, but very satisfied.
4. Milan
As a great metropolis, Milan deserves a place on our list both for offering the best of Italian cuisine and for having the best international restaurants in the country. Is that not enough?
If you visit Milan you can take an exciting journey through the intense flavors of Lombardy's cuisine. In our opinion, the best dishes are those served during the autumn and winter seasons, ideal to warm up the body during the coldest days.
An example? The famous cassoulet, a spoon dish that is a real eminence in Milan, or a boiling polenta accompanied by any kind of meat. Mother of God what a delight!
On the other hand, if you are a lover of first courses, you can savor for example the famous risotto alla Milanese.
As we said before, when you have already tasted several dishes of the local food, your gastronomic tour of the city will not be over! The best Chinese, Japanese, Brazilian, Peruvian, Lebanese, and many more restaurants are waiting for you!
5. Turin
Turin is another of Italy's gastronomic capitals and one of the first cities that came to mind when writing our article.
The reason is that the typical food of Turin is very complete and has practically everything.
We tried several dishes and in our opinion, a perfect menu to discover the gastronomy of the capital of Piedmont would be the following:
Starter: Vitello tonnato, which is made up of slices of veal on which a tasty tuna-flavored cream is spread.
First course: agnolotti, a delicious pasta filled exclusively with meat.
Second course: If you are a carnivore like me, one of the best dishes you can taste in Italy is undoubtedly brasato al Barolo. It is a very tender type of meat that is cooked for hours in a vegetable broth and Barolo, an excellent local wine. The most common accompaniments are polenta or baked potatoes.
Dessert: if you have a sweet tooth, you can't miss the famous Turin chocolates, the Gianduiotti. Alternatively, the Baci di dama cookies are also a delight!
Finally, Turin seems to us an ideal Italian gastronomic destination also because in its area are produced some of the best wines in the world such as Barolo, Barbaresco or Dolcetto d'Alba.
6. Bologna
Bologna is the cradle of good Italian food, as some of its most famous dishes were born in this city. We wanted to visit this city both to admire its beautiful historic center and to go on a finger-licking gastronomic tour.
The must-try dish you have to try in Bologna is undoubtedly the lasagna since only here you can taste the authentic recipe of this internationally famous Italian dish.
If you love pasta, you are in the right place. There is nothing more typical in Bologna than eating a good plate of tagliatelle with ragu Bolognese, or on the coldest days of the year, warming up with a hot soup full of tortellini.
When we visit Bologna, we need to grab a quick bite to see all the wonderful sights of the city in time, so we head to the Mercato di Mezzo, a place where you can snack or buy the delicacies of Bologna's gastronomy – highly recommended! Alternatively, a good mortadella sandwich is another perfect plan for a quick and typical bite to eat in the city.
7. Vicenza
Vicenza appealed to us both for its beautiful historic center and its delicious local food. What impressed us is that not being an overly touristy city, the restaurants in this Veneto city offer very authentic food, with genuine and local ingredients. 
And best of all, they do it without making you pay a fortune! Just for what we have just told you, we believe that Vicenza already deserves a place among the best places to eat in Italy.
We would also like to add that we tried three dishes that are simply out of this world, which we describe below:
Cicchetti: To start, order some Cicchetti, that is, a plate of tapas prepared with a bread base and with different toppings. Mostly local products are used, such as fish or sausages.
Bigoli with anchovy and onion sauce: Before going to Vicenza we did not know about this dish, and we can say that it has been the real surprise of our trip. The bigoli is the typical type of pasta of the city, similar to spaghetti. At Osteria Veneto's restaurant, they prepare it with a sauce of anchovies and onions that is very tasty, and simply delicious!
Baccalà alla Vicentina: The king of Vicenza's typical food that drives us crazy! It is a cod dish cooked in a very particular way, which makes this fish a very soft and creamy meal. It is usually accompanied by a rich polenta, and the combination of the two is so good that it has earned a place in our top 10 favorite Italian dishes.
8. Palermo
If you're traveling to southern Italy, you need to know that Palermo is a city where the food is great. Its cuisine has some of the best dishes in the whole of Sicily, and unlike other cities, Palermo stands out for its incredible street food. 
We couldn't start talking about the gastronomy of the Sicilian capital without mentioning arancini, one of the island's most famous products.
This street food is a fried rice ball, whose filling can be filled with different ingredients, such as cheese, ham, or ragù. They are simply from another galaxy!
Another food you can't miss is the sfincione, which is nothing more and nothing less than a mix between a focaccia and a pizza. We were very curious to taste it, and the truth is that we were not disappointed at all!
Finally, a culinary visit to Palermo cannot be considered complete without tasting one of the most delicious Italian desserts, the cannoli. We complied and tasted a real Palermitan cannolo in one of the best pastry shops in town, Pasticceria Matranga. Precisely, we chose one with ricotta and chocolate filling – needless to say, it was love at first sight!
Conclusion
How did you like the cities we have chosen as gastronomic capitals of Italy? Did you feel like trying the typical food of some of them? Would you add some more places? Don't be shy, take a look at the map of Italy, and tell us in the comments!
If you found our article interesting and useful, subscribe to our free newsletter, and you will be able to discover much more about Italian gastronomy and tourist attractions.
Want to read more of our latest posts? Learn how important is food texture and how it affects your happiness.