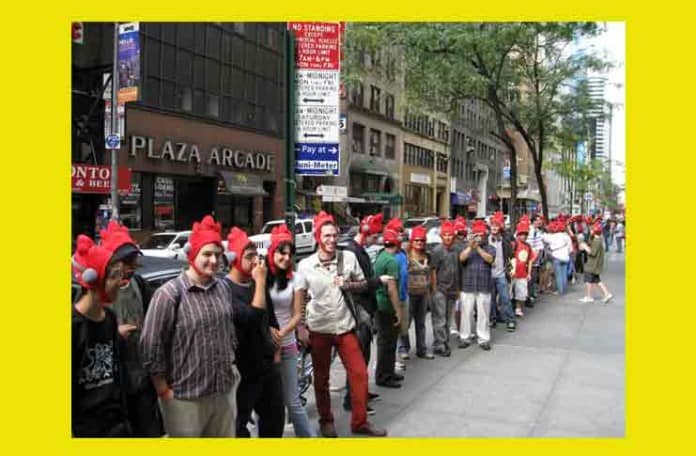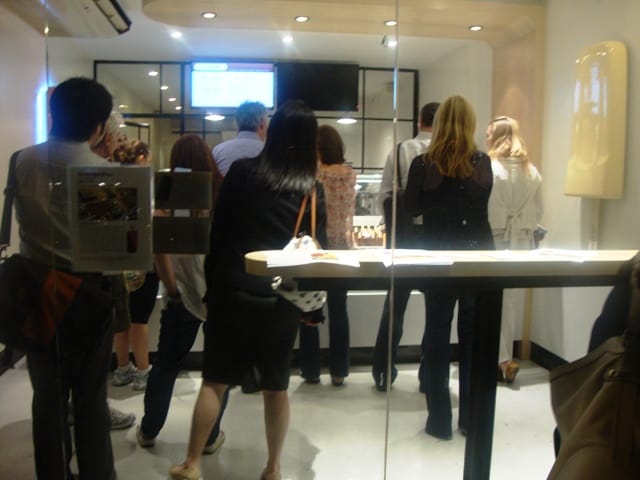 I walked by Popbar on my way home last night from the West 4th St station in the Village, told my wife about it, and we went out for dessert immediately after dinner.  It looked that good!
Popbar opened on May 5th at 5 Carmine St (just off 6th Ave) in the former Beard Papa space.  It's the American franchise of Stick House, based in Turin, Italy.
When you walk into the store, which has a giant ice pop hanging on the wall (see picture above), there are around a dozen flavors to choose from including orange, pineapple, mango, melon, coconut, chocolate, coffee, mixed berry and a few others.
Once you pick gelato, sorbetto or yogurt, you can then choose one or more of the following toppings (or not, it's not mandatory): almonds, hazelnuts, pistachios, shredded coconut, granola, coffee grains, biscotti crumbles or brownie chunks.
After choosing a topping, you can choose a dip of dark chocolate, milk chocolate or white chocolate – or more than one.  Their t-shirts say "We double dip!"  We chose a melon pop and a coffee pop, both dipped in dark chocolate (is there any other type for chocolate lovers?)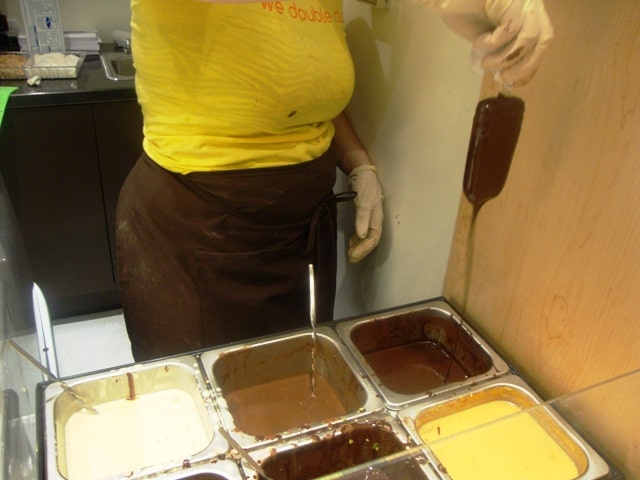 The coffee pop tasted very much like espresso, without much, if any, sugar.  If you're a hardcore coffee or espresso lover, this one's for you. It even gave you that "itchiness" you sometimes get on the back of your throat from really good espresso.
The melon was a little mellow at first for the dark chocolate, but once I got about halfway down the bar, the melon flavor became more pronounced.  We talked about how the mango, mixed berry, pineapple or coconut would probably stand up better to dark chocolate.
For the health-conscious, they use only natural ingredients with no preservatives, artificial flavors, artificial colors or high-fructose corn syrup.  The bars are all gluten-free (but not all the toppings), they use only hormone-free milk and according to their literature, the sorbetto is vegan friendly.
If you're in the Village, we highly recommend Popbar.  It's the perfect street dessert.