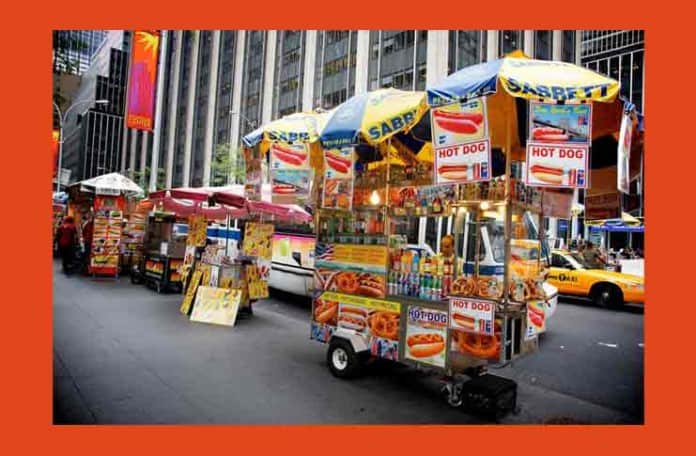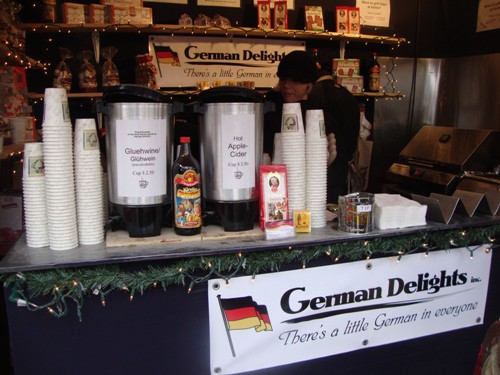 I've been enjoying the food stalls at the Columbus Circle Holiday Market over the past few weeks.  The ham biscuit from Pies 'N' Thighs was awesome, and the braised beef sandwich from Fatty Crew was pretty interesting too.  The next thing I wanted to try were the wurst from German Delights.
Today's Lunch is two different types of wurst – bratwurst ($5.50) and kase krainer ($6.50), a bratwurst with Swiss cheese in the middle.  This was probably more food than I needed for lunch, but I love wurst, and after seeing them both on the grill, I wanted to try one of each.
They offered onions or sauerkraut for $1 extra, but I just put mustard on each and had them wrapped up to go.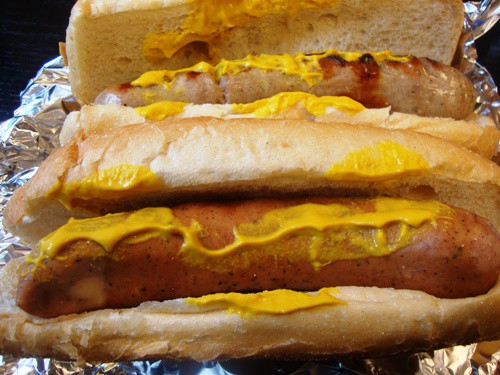 I tried the regular bratwurst first (top), and it was pretty tasty.  It was thick with a slight fennel flavor and quite enjoyable.  The roll was soft, but sturdy enough to handle the big, grilled wurst.
The kase krainer was darker and a bit spicier.  It was somewhat peppery, and the cheese in the middle had a creamy consistency on some bites.  Even though the kase krainer was $1 more, I thought it was worth the extra money.  It was better spiced, and the cheese was a great addition.  It didn't really taste tangy like Swiss cheese – it tasted more like American cheese, but it was still yummy.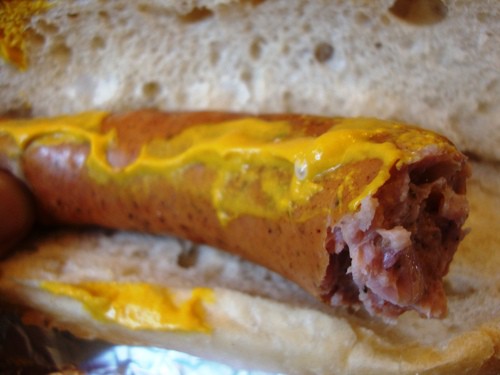 This is the last week for the Columbus Circle Holiday Market, but there's still one more lunch stand I want to try – Cascabel Taqueria.  I'll try to get there tomorrow so you still have a few days to try it before they close at the end of the week.