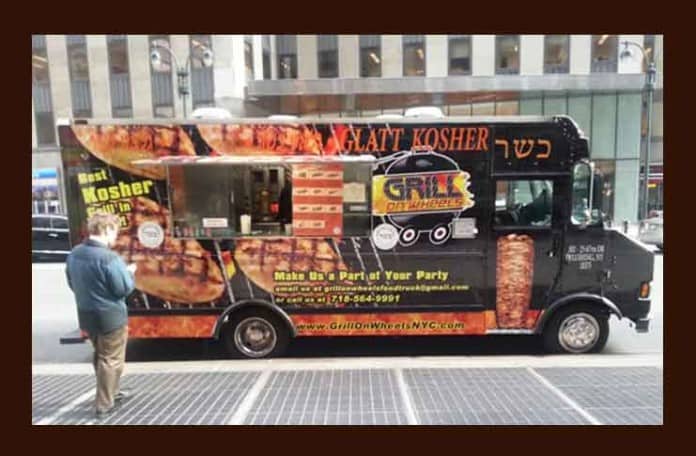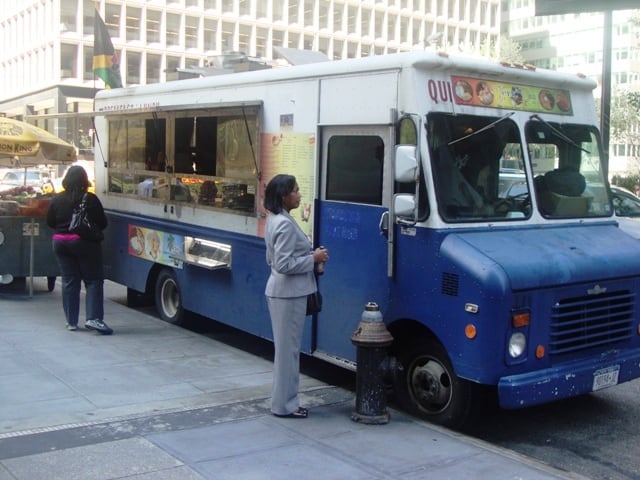 Another cold, sunny day today. Warm up with some great New York Street Food from the vendors on the right and the trucks below.
Most, but not all of the vendors are working this week.  Check the Mobile Munchies twitter feed for the latest info, since Korilla already had to move a block over from where they expected to be.
KorillaBBQ
Running late today, we'll it you later this week FiDi. Headed to Midtown East. Got our spot jacked, we'll be at 54th & Lexington today. @
Chefsamirtruck
hit us up. Misplaced our pre-order phone, pls send pre-orders to 3d@korillabbq.com.
UncleGussys
Well well another Monday, but the good news for most it's a short week;) Soup of the day ,Yankee bean made by mom with a touch of love.
Comme Ci, Comme Ça
is on 55th St @ Lex today! Soupe du jour: Split Pea Puree $3; Sweet Monday: Tiramisu $3
CupcakeStop
Good morning CupcakStoppers! We're parked on 52nd and Lexington today with a delicious menu waiting for you!Visit us at 70 Greenwich too!
TaimMobile
Good morning midtown!!! Today we are on 46th btw 5th and 6th!!!
waffletruck
Happy Monday! The truck is on 62 & Broadway til all day. Also C to the A to the R to the T to the S! CARTS! The Goesting is on 40 btwn 7 & 8. The Vedette is on 60 & 5. YAY Carts!! Do a physical representation of 1 of the 12 days of X-Mas for 1 free dinges.
EddiesPizzaNY
Open on 18th and 5th until 3pm. Call ahead your order. 917-439-7522. No Dinner Tonight.
fritesnmeats
Lunch today @ 52nd b/t 6th & 7th av preorder 9172929226. Burger of the week THE WILD THANG (grassfed angus patty with fried onion rings cheddar cheese & applewood smoked bacon with chipotle ketchup)
RickshawTruck
Yo Monday People! We have one truck out today at Time Life: 50th bet 6av +7av. DUMBO we will see you after the holiday!
schnitzeltruck
Morning peeps. Today is Hudson and King sts. Ain't nothin but a schnitzel party!! From 11:30-2:00. Don't wait in the cold. Call 347-772-7341
SweeteryNYC
Sweetery is on Hudson & King until 3:45p then off to 9th Av & 59th St 4:15-7:30p
CalexicoCart Today's special is Chorizo: fresh ground pork sausage topped with diced onions, cilantro and salsa verde. Enjoy!
quickstopkosher
Lunch is ready vegtable soup of the day cheese /potato blintzes ,swiss,tuna sandwiches ,falafel.& 9″pizza pie's
cupcakecrewnyc
Good Morning Nyc-The Crew will be closed today as we are all in the kitchen preparing Holiday orders for our truck..Back to the block soon!
joyridetruck
Joyride is closed for the Holidays. We will return to the streets, Tues, January 4th 2011.
Hoboken/Jersey City
TheTacoTruck It's Munchie Monday at TTT, so come get an order of tacos, chips and salsa and an agua fresca for $7. Eat More Tacos! We now deliver east of Marin Blvd in JC from 11:30-2:30, Monday-Friday. Eat More Tacos, Jersey City;). Our special today is Carnitas Flautas served with lettuce, queso fresco, crema, and both salsa verde and Jalisco.