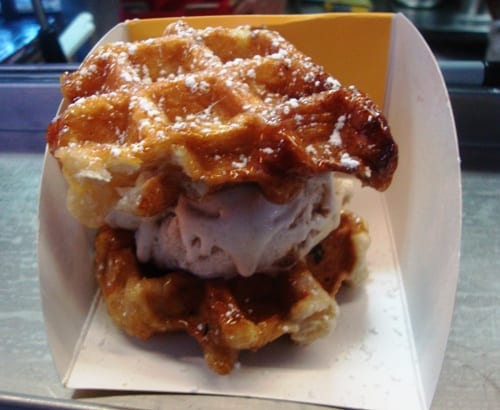 Ice cream sandwiches are getting a lot of attention these days. Two ice cream sandwich vendors, Coolhaus and Melt Bakery, were just nominated as finalists in the Best Dessert category of the 2012 Vendy Awards, and a past Best Dessert Winner just came out with their own version.
Wafels & Dinges, who won Best Dessert at the 2009 Vendy Awards, recently unveiled De Verdekke.
De Verdekke is an ice cream sandwich made with 2 mini Liege wafels on the top and bottom. Good choice using Liege wafels instead of Brussels wafels. Liege wafels are denser than Brussels wafels, which is important when you have a big scoop of ice cream in the middle on a hot day.
As for ice cream, you currently have a choice of either vanilla or spekuloos. Personally, we would like to see a dark chocolate option added, but spekuloos of damn good.
Which brings us to what De Verdekke Wafel means. Verdekke is a Flemish expression meaning "damn good", so De Verdekke Wafel is the damn good wafel. We couldn't agree more.
De Verdekke Wafel is available at all Wafels & Dinges trucks and carts for $5. This is a fabulous dessert. Just make sure you have plenty of napkins before you start.
Thanks to Dan (below left) at the Columbus Circle cart for giving us the inside scoop (ouch!) on De Verdekke Wafel.
Don't forget to check out our guide to buying your own ice cream and food truck.