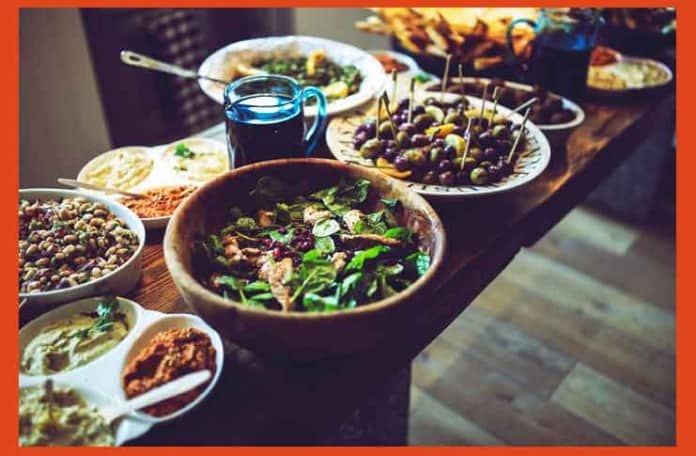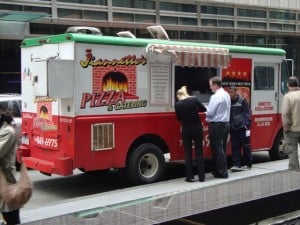 Today's Lunch is stuffed shells from Jianetto's Pizza & Catering truck on 47th St between Park and Madison Ave.  They also have a truck downtown at Wall St and Front St.  I've heard some good things about Jianetto's, and based on that, put them on the NYSF Mobile Munchies twitter feed.  Today it was time to try them out.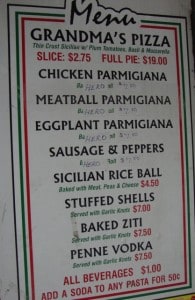 It was fairly busy at the truck, with a few people ordering and a few people waiting around for their food.  I really wasn't in the mood for pizza, and was originally going to have a sausage and peppers hero, but changed my mind at the last minute to stuffed shells ($7), one of my all-time faves.
It took around 10 minutes to get my lunch, and in that time, there was a steady flow of people ordering food, mostly pizza.  Their pizza is square, with mostly sauce and fresh basil.  It's not one of the cheese-heavy pizza's we're used to, but they obviously had a regular following of people who like their pizza.  In fact, one Park Ave suit came up and ordered 3 corner slices of pizza ($2.75 each).  I'll try their pizza another day.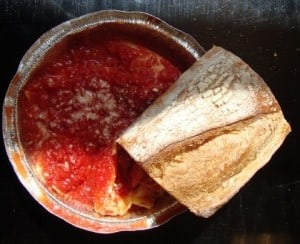 They must have been out of garlic knots because when I got back to the office, there was a very nice looking and smelling platter of stuffed shells with a big hunk of fresh Italian bread that was crusty on the outside and soft in the middle, perfect for dipping in the chunky tomato sauce.  Southern Italian food is all about the red sauce, and I really enjoyed theirs.  It was slightly sweet, chunky with tomatoes, and clean and fresh tasting.
There were also 5 large stuffed shells under the sauce, with some parmesan cheese sprinkled on top.  I was a little disappointed there was no mozzarella cheese on top, but that would have made it a much heavier lunch.  It was already fairly heavy.  The ricotta cheese inside the shells had a deeper and more intense flavor than the ricotta that I'm used to, and it was very good.  There was also a little chopped Italian parsley in the ricotta cheese stuffing.
Today's Lunch from Jianetto's was a 9.5 out of 10.  I really enjoyed their stuffed shells, which were as good as you get at the Italian pizzerias around town.  It might not stand up to a really high-end Italian restaurant, but it was certainly one of the better stuffed shells platters that I've had for $7.