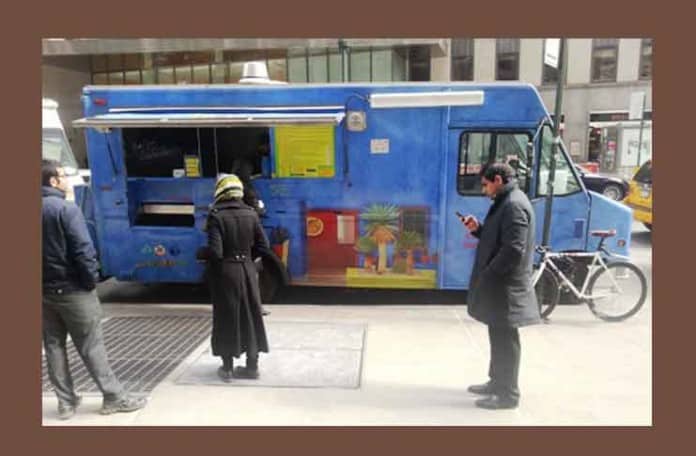 A bit chilly this morning.  How about some fresh, hot street food to warm you up.
fritesnmeats – Its nippy but we're here to warm up our little corner of Tribeca. Get some Burger Love today! Greenwich & Chambers. Preorders 917.292.9226
schnitzeltruck – Dumbo are you ready for some schnitz?? We miss you guys.. Hopefully it won't rain.. We know you need that schnitz.. 11:30 come and get it
waffletruck – Wafels for 8th Ave & 56th (some people are so spoiled!) till 4pm. Tell us about the most obnoxious thing you did as a kid = 1 free dinges.
StreetSweets – Day II of Mini Macarella Madness buy 1 get 1 free. St Sweets is on 50th St just west of 6Av baking all morning.
VLAIC – Panda @ 6th & 22nd 7am-10am, then 5th & 23rd 10am-6pm, Kangaroo @ 5th & 15th all day long…..ask for the Barista's Choice!
CupcakeStop – Broadway and Spring w/ Red Velvet, Funfetti, Cappuccino, Chocolate Oreo and Green Apple Martini!! Remember, a #FF for us today gets you a free mini this weekend if you present your phone as proof at the truck!
RickshawTruck – Cloudy Friday not keeping down this truck! Midtown West 45th + 6th Ave and also serving at Meatpacking/Chelsea on 9th Ave bet 16th + 17th
CalexicoCart – Friday! Yes! Both carts are out today but with different specials. Roasted Pineapple Pork on Broome St and Spicy Ground Beef on Wooster St
1 new tweet.
nyccravings – Super windy on Hudson & King… Who is coming? Ready by 11:30!
New Jersey Food Trucks
thekrave – Schedule: 3/26 Happy Friday! – Lunch #1: 12:00-2:00, Hudson & Essex, Inside Liberty Towers Gourmet Lunch #2:… http://tumblr.com/xl17unton
TheTacoTruck – Lunch in Hoboken today @ Sinatra Dr & 1st St from 11:30-2:30. Call ahead 201.577.4214 http://fb.me/uAaFAL2X
2 new tweets.
laspicetruck – lunch JC hudson and york 11:45-2:00 gourmet sliders, today chorizo and black bean slider; dessert guanaja creme and praline cake
As Always, check the pink Mobile Munchies twitter feed on our homepage for the most up-to-date location information.