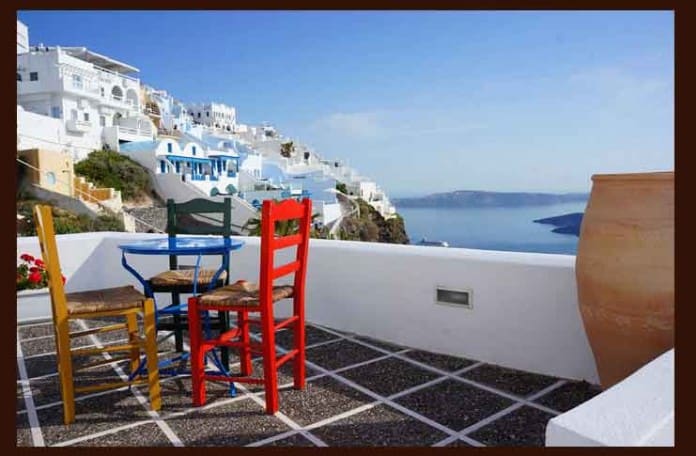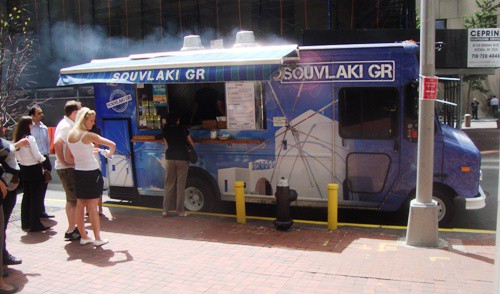 I had to make a rare foray down to the Financial District, which made it a perfect time to catch up with Souvlaki GR for Today's Lunch.
Ever since they started parking daily in FiDi, my visits to the Souvlaki GR truck have been scarce, although I have made it to their restaurant on the Lower East Side a couple of times for dinner.
Since it's been a while, I wanted to try a variety pack, so I got a pork souvlaki ($4), a beefteki ($4.50) and a chicken stick ($1.75).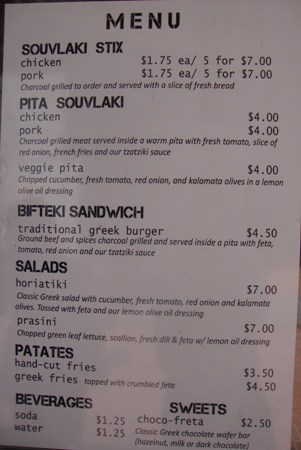 There were only a few people in front of me, so I didn't have to wait more than 10 minutes from arrival to walking away with lunch.
I opened up the bag and started with the chicken stick, which came with a cup of tzaziki sauce and a pita triangle.  It was well grilled, with a nice char on one end, but it wasn't dried out. The chicken stick also had some herbs on it like thyme and oregano, which added some depth to the flavor.
After one bite plain, I dipped the chicken stick into the cup of tzaziki sauce and was a very happy camper.  The tzaziki was a thick and creamy yogurt sauce with a garlicky disposition, which went great with the grilled chicken.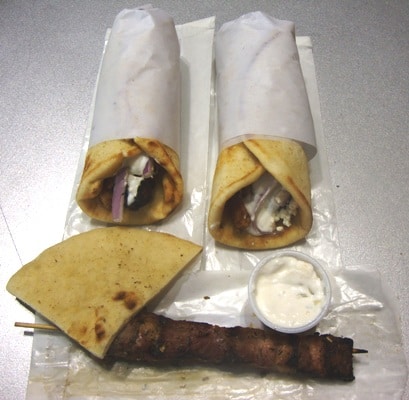 Next up was the pork souvlaki, which came on pita bread, but this was a much fluffier bread than the thin triangle that came with the chicken stick.  It all came together wonderfully, with pieces of grilled pork, tzaziki sauce, a couple of fries, a few pieces of red onion, and some crumbled feta.  You can also get tomato, but I didn't.  This was delicious, and I enjoyed every bite.
I save the beefteki for last, which was a long oval patty of spiced, ground beef with the same toppings and on the same bread as the pork souvlaki.  The beefteki is softer than the pork or chicken souvlaki, and the potato taste from the fries was a little more pronounced on the beefteki sandwich than on the pork souvlaki.
It's easy to see how Souvlaki GR won the Rookie of the Year Vendy Award last year.  Their ingredients are top notch – from the soft, pillowy pita bread to the grilled meat to the tzaziki sauce.
I wouldn't be at all surprised if Souvlaki GR was nominated in the main Vendy category this year.  The food is certainly good enough, but since they park in the same place every day, it may be tough to get more vote than trucks that hit different neighborhoods each day.  We'll see soon enough.