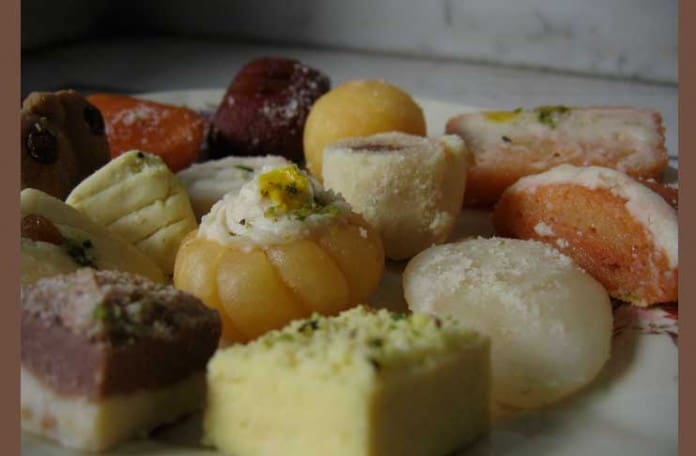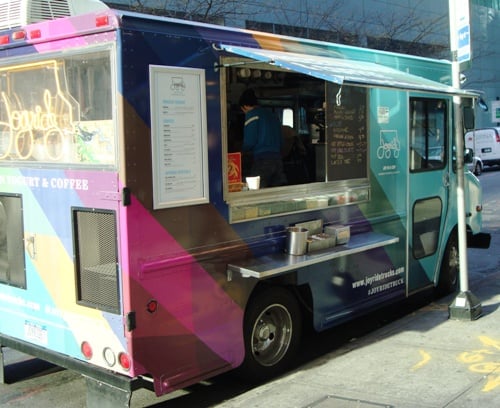 I hadn't been to Joyride yet because I don't eat breakfast, and I don't usually have dessert with lunch – but they recently started serving croissants and quiches from Ceci Cela, so I wanted to give them a try – and it was their last day open for the year.  I didn't have time to write this up for lunch yesterday, but was able to put this together last night to post for Today's Lunch.
I wasn't familiar with Ceci Cela until Serious Eats named their croissant as the Best in New York.  Even though I was getting a quiche for lunch, you would expect a bakery that makes the best croissant in New York to make at least a decent quiche.  Guess I'll find out soon enough.
Today's Lunch from Joyride is a quiche lorraine ($4.50), but since a quiche isn't usually enough to fill me up for lunch, I also got a rare lunch dessert – a small "buzzed" frozen yogurt with a bunch of toppings ($4).  Click through to find out how they were.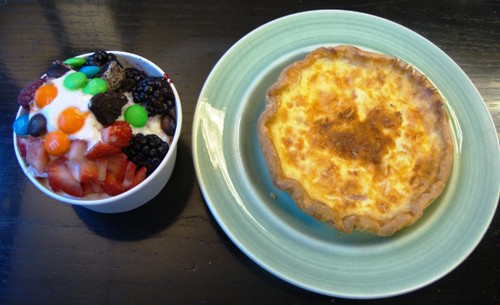 The quiche lorraine seemed a little on the small side when I took it out of the bag, but the richness of the quiche and butteriness of the crust made sure this was not as small as it first seemed.  Even though it was rich, the quiche wasn't heavy – it was actually fairly light.
The ham inside was plentiful, and it was chunks of baked ham rather than thin slices of ham.  I nearly always like chunks of meat better than thin slices, and this ham was tasty too.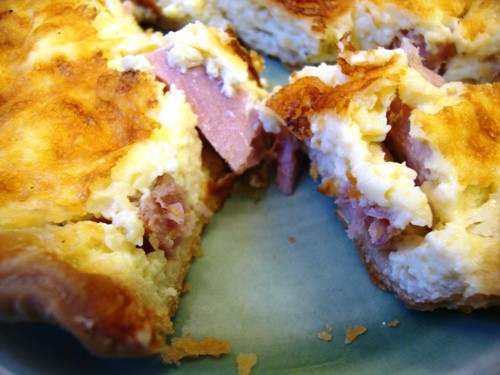 As I said, the crust was nice and buttery, flaky, and delicious.  Crust is often my favorite part of any type of baked goodies, and this was no exception.  Not a huge surprise given the acclaim Ceci Cela receives for their croissants.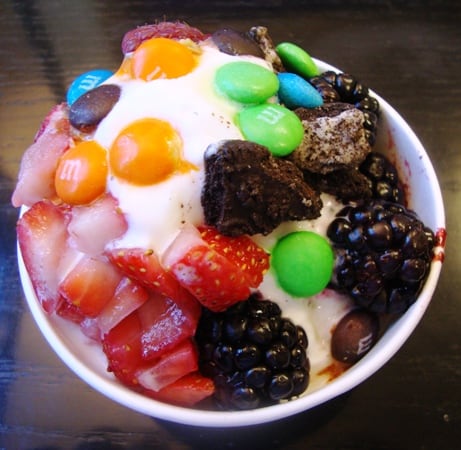 Dessert was a small "buzzed" froyo, which is the same flavor as their regular yogurt that is made with real Greek yogurt.  The price includes all the toppings you want.  This cup held a lot of toppings, and she was still able to get a lid on it.
The topping choices are 4 types of berries (black, straw, rasp and blue) and numerous dessert toppings such as crushed Oreos, M&M's, chocolate chips, shredded coconut and several others.  I chose blackberries, raspberries, crushed Oreos and M&M's, and she mistakenly put strawberries on as well.
With all the toppings, each bite had plenty of "stuff" in it – either fruity or sweet.  I was a little surprised the yogurt itself was not as creamy as expected – in fact it was even a little icy.  It tasted great with all the toppings, and having fruit and sweet toppings made each bite different.  The large blackberries were especially delicious, as were the Oreos.
As far as the "buzzed" part of dessert, it did give me a little lift after lunch, and I kept tasting the blackberries in my mind for a while afterwards.
Today's Lunch was an 8 out of 10.  It was a bit of a different lunch than I usually have, and I enjoyed the variety, as well as the quality of the food.