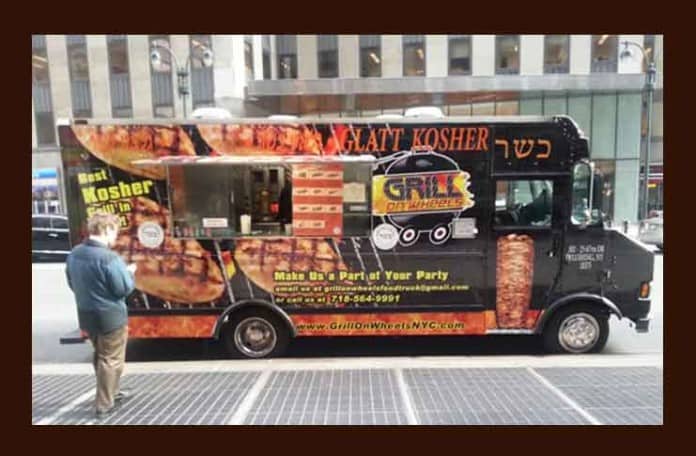 Brothers Express (18th St & 6th Ave)
Baby it's cold outside. What a great title for a song!
Many of the vendors have hot soup, and of course hot food, to warm your insides.  You can also call in orders ahead of time at many of the vendors to reduce your waiting time outside.
And make sure to check the Mobile Munchies twitter feed before heading out, in case anyone had to move at the last minute.
fritesnmeats
Hey soho peeps, lunch today @ Hudson & king st. Burger of the week A-O TRUFFLE BURGER grassfed angus patty with gruyere cheese sautéed portobello mushrooms & truffle aioli. We also have some of our favorite homemade lentil soup to warm u up & homemade jumbo walnut chocolate chip cookies for dessert. preorder 9172929226
#
mobilesecret
UncleGussys
KALIMERA, Goodmorning BRRRRRRRRRRRRR. No worries, mom made a delicious fassolada soup, (Greek style white bean soup). Looking to stay Healthy for the new year Come n c us :))
lobstertruckny
Red Hook Lobster Oh Baby, it's cold outside, meet us on 47 & Lex today so we can battle this bone chill with hot lobster, hot soups & hot mac n cheese!
EddiesPizzaNY
lunch today on 46th btwn 5th/6th. We have a creamy tomato soup w/fresh basil and homemade herb croutons. Call ahead your order 917-439-7522
CoolhausNY
First hump day of 2012! Come visit Joel on board in Flatiron around 25th & Park for some hot cocoa w/ a scoop of ice cream IN it! 11am-5pm
bigdsgrub
Morning SoHo! Come grab lunch with us at 375 Hudson Street. We have a Hot n' Sour Kimchi soup to keep you WARM!!
OurHerosTruck
Good morning everyone we are serving breakfast here on wall st and water st come and enjoy a hot coco or coffee bacon egg and cheese
SweeteryNYC
Good morning "chilly" Hudson/King St. Sweetery is on location until 3:30 to warm your tummies and your hearts too.
ETRAVAGANZA
G.morning! Man its cold!! The best way to beat the cold by calling us for xpress pick up! #917 6570987 don't miss out on your fav breakfast!
NowEatThisTruck
Look out everyone, the Truck is located at 1166 6th Ave. & 46th St. today!
NEW JERSEY
TwoPitasInAPod
Wednesday. Newark lunch. Hoboken dinner. We are also planning to do a reality TV show on reality TV shows. That's next week.
TheTacoTruck
We're back for lunch, Newark! Parked at Washington Park until 2pm;) Call ahead 201.577.4214.