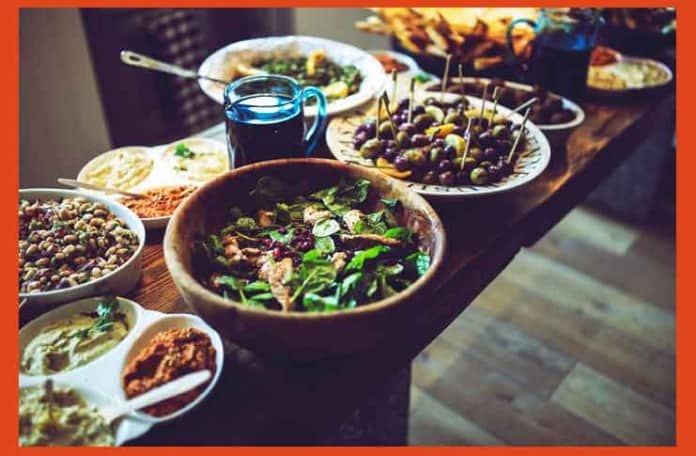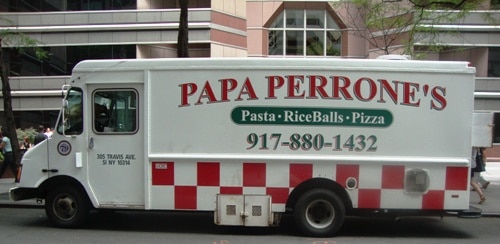 It's been a while since I had lunch at Papa Perrone's truck.   John has been parking on 55th St between Park & Madison for the past 4 years, but today he had some unwelcome company from the Crisp Falafel truck.  John told me the owner of the building he parks in front of is fine with one food truck on the block, but when there's more than one, it can lead to both getting kicked off, which has happened in the past.  This is a big enough city that two trucks don't need to park on the same block, especially when one has been cultivating a following there for the past 4 years.  There is an honor code on the street, and some of the newer trucks are not following it.
Anyway, on to the food.  Papa Perrone's is known for Sicilian riceballs (ground beef, vegetarian, chicken parm, three cheese, buffalo chicken), but their menu is always rotating with different Italian specialties.  Click here to see the menu I had to choose from.
For Today's Lunch, John had panelle ($6), which is a chickpea fritter on a seeded roll, topped with ricotta cheese & sprinkled with parmigiana reggiano cheese.  It's all then put into the pizza oven and toasted.
Sounds great, right?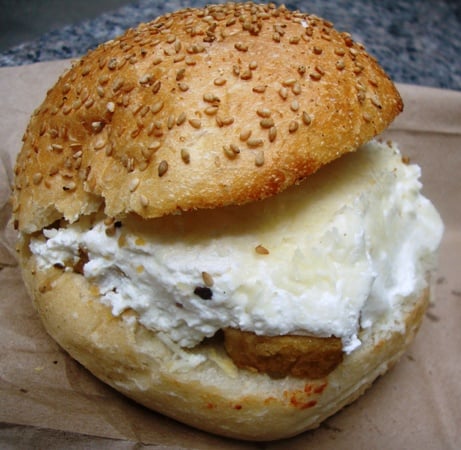 This sandwich was loaded with so much ricotta cheese, I could barely see the chickpea fritter underneath.  After doing a little digging, I found a rectangular breaded fritter that was approximately the same consistency as firm tofu.  It provided a solid base for the sandwich, but the real star of the show was the ricotta cheese.
This ricotta cheese was definitely lighter and creamier than the kind you get in the store.  It got a little messy biting into a big roll with so much ricotta cheese, but it was certainly enjoyable.
The creaminess of the ricotta cheese was cut a bit by the grated parmigiana reggiano cheese sprinkled on top, whose sharpness provided a nice counterpoint to the ricotta cheese.
Today's Lunch was really tasty.  Papa Perrone's keeps serving up delicious Italian specialties like panelle and Sicilian riceballs.  Next time I want to try a buffalo chicken riceball!