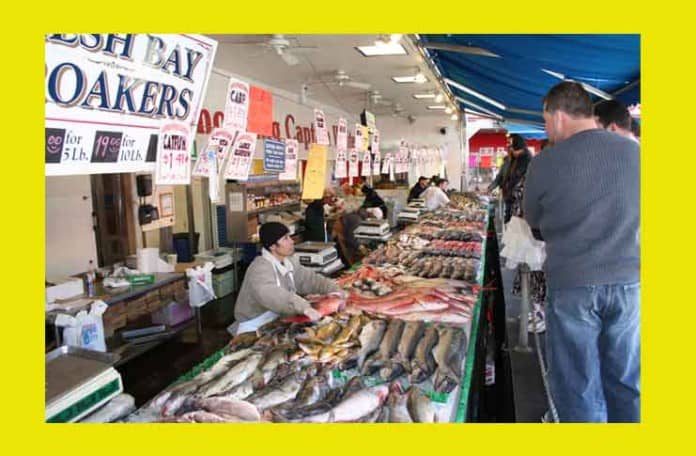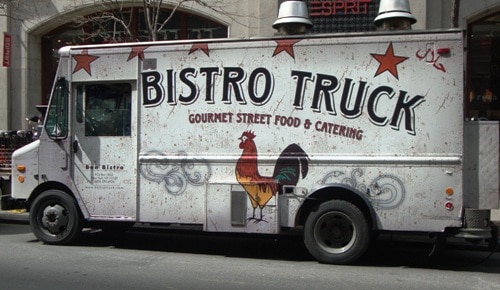 I've been to Bistro Truck fairly regularly over the past few months for a couple of reasons: Yassir keeps coming up with new daily specials that I want to try, and the food is reliably delicious.
There was another new menu item that I've seen a couple of times, but this is the first chance I've had to try it.  Today's Lunch is an Old Bay Fish Sandwich ($10) from Bistro Truck.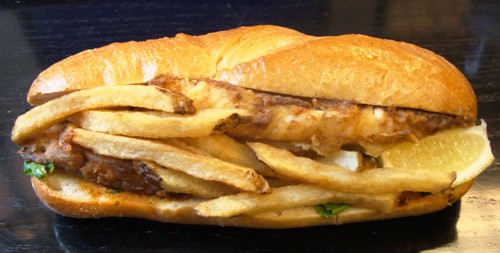 I really like fish sandwiches, but something about this sandwich was different – oh yeah – it had french fries on it.
This seems to be how they do it in the Mediterranean region, with french fries popping up on sandwiches within the past year or so from both Souvlaki GR (Greek) and Bistro Truck (Moroccan).  They aren't from the Mediterranean area, but Feed Your Hole has recently been putting fries on burgers and hot dogs too.
The Old Bay Fish Sandwich had two large pieces of lightly breaded fish that were deep fried.  They were put on a hero-sized roll along with lettuce, harissa mayo and a bunch of fries.  There was also a wedge of lemon provided that I squeezed on.
The fish was moist and flaky, and with 2 fillets on the bun, it was flavorful too. The harissa mayo was a nice condiment, although it was not real spicy, like some harissa can be.  The mayo seems to have brought down the heat level of the harissa.
I'm still not sure if I'm a fan of french fries on a hero.  Between the bread and fries, sandwiches can get a bit dry, but as long as there's enough moisture on the sandwich, the fries do add some flavor.
Today's Lunch was another tasty lunch from Bistro Truck.  Yassir told me the Old Bay Fish sandwich may get added to the regular menu.  He also said he will be changing the menu soon, and has been toying with different ideas.  If the new items are as good as the old items, we'll be there!