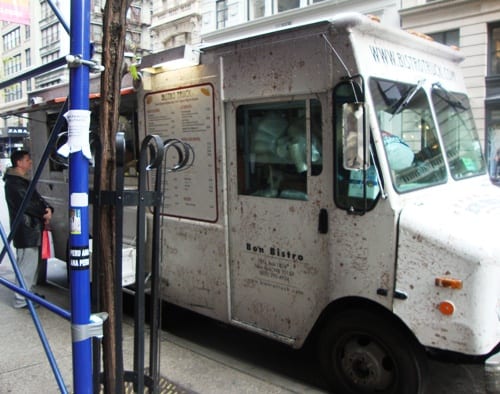 It's a good thing food trucks know how to tweet.  How else would I have found out that Bistro Truck had Moroccan chicken pastilla today.
When I hear about something wrapped in phyllo dough, it always get my attention – and when there are chicken, eggs and almonds involved, my antenna really goes up.  Today's Lunch is chicken pastilla ($10) from Bistro Truck, a 2010 Vendy Award finalist.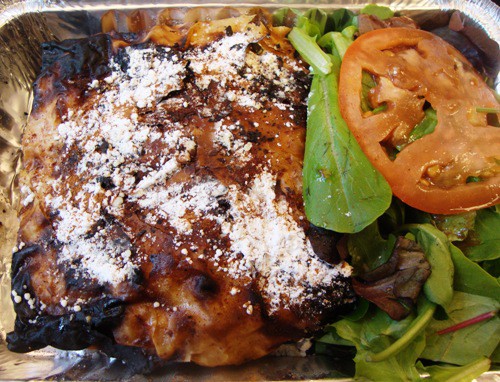 As Yassir told me, Moroccan chicken pastilla is 3 layers of food inside a phyllo dough shell.  On the bottom is braised, shredded chicken…on top of the chicken are eggs poached in chicken jus…on top of the eggs are ground roasted almonds.  All this inside a phyllo dough shell that's topped with confectioner's sugar.  Wow!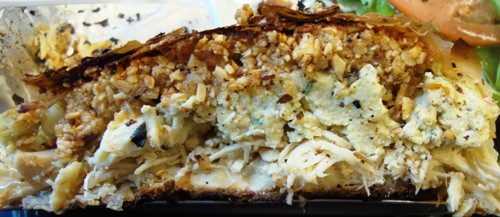 The chicken appeared to be mainly white meat chicken that was braised and shredded.  It went great with the ground almonds and eggs on top of it.  Then to top it off was the baked, thin, flaky phyllo dough.
It was too thick to eat in one bite, so some bites had chicken, egg and nuts, and some bites had nuts, eggs and confectioner's sugar.  These latter bites had a quasi-dessert quality.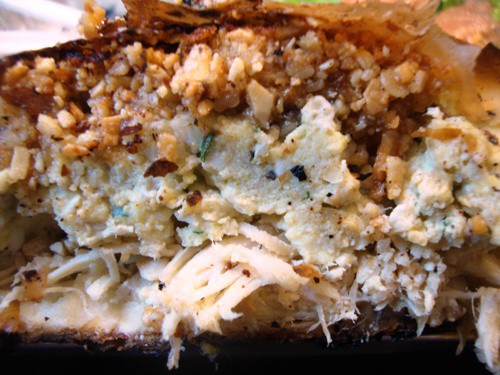 Yassir has really outdone himself with this dish.  Today's Lunch is a solid 9 out of 10.   This was a complex and tasty lunch.
Were there any downsides?  Well, I would have liked some golden raisins in there too, but I'm not the chef.  Moroccan chicken pastilla is not cheap at $10, but the quality of this lunch is better than you get in many restaurants.
I would recommend keeping an eye out for this Bistro Truck daily special in the future.  It's worth hunting down.  With specials such as this, it's easy to see another Vendy Award nomination in their future.