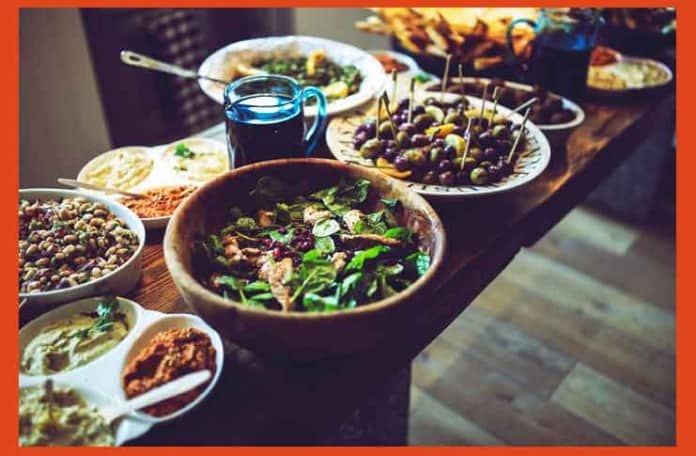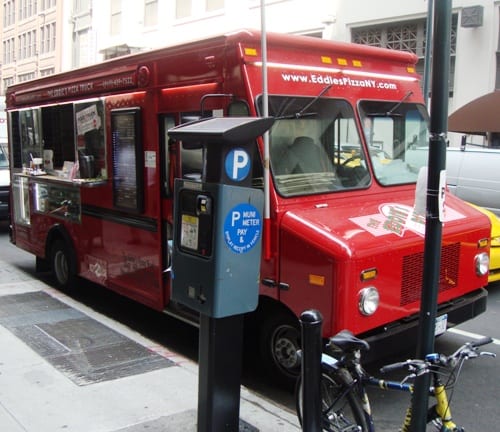 I haven't been back to Eddie's Pizza Truck since it started roaming the streets of New York in June.  The first lunch I had was a chicken cutlet and hot pepper pizza, which was pretty good.  Today they tweeted the Daily Special was Hawaiian pizza, which is a good way to start an argument in New York – is Hawaiian pizza actually pizza?
I called ahead and ordered a pizza for pickup about an hour ahead, since one of the previous criticisms of Eddie's was the long wait time between ordering at the truck and getting your lunch.  Today's Lunch is a Hawaiian (individual) bar pie for $10.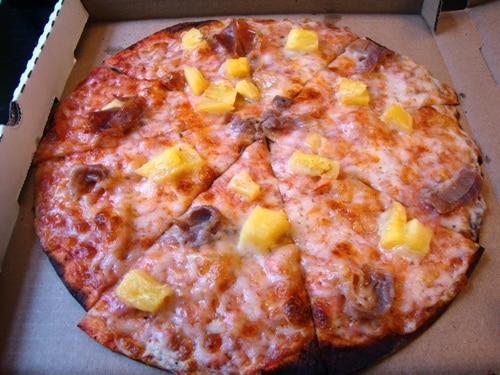 It was a little surprising when I got to Eddie's Pizza Truck and there was nobody either on line or waiting for their pizza.  When I got back to the office, I had a clue why, but we'll talk about that later.
When I opened the pizza box, the pie looked and smelled very good.  There was plenty of cheese, proscuitto on every slice with more in the center of the pie, 2 or 3 pieces of pineapple on each slice, and a nice thin crust with some charring around the edges.  Check out how thin the crust is compared to the pineapple chunk.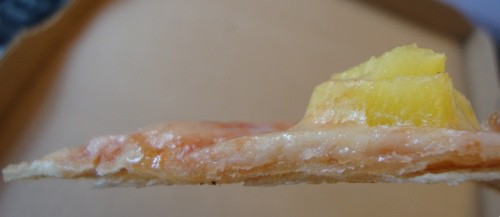 The taste was good too.  The mozzarella cheese and proscuitto were a little salty, just how they should be.  And the saltiness was countered nicely by the sweet and tangy pineapple.  Tomato sauce isn't much of a factor on Hawaiian pizza, and Eddie's tomato sauce did not get in the way of the cheese, proscuitto and pineapple.
Today's Lunch gets a 7.5 out of 10.  The pizza was good, but the value proposition isn't so great.  At $10 for an individual pizza with toppings, it's considerably more for lunch than getting 2 (thick crust) slices with toppings that generally runs $5-$6 in New York.  Eddie's is trying to compete in the gourmet pizza market, which is tough to do from a truck without table service.
When I got back to the office, I found out why business might have been so slow at Eddie's Pizza Truck.  The NYC Pizza Truck was only 2 blocks away with $1 slices.  This goes to show you just how tough it is to succeed in New York, even with a good product.
As far as whether Hawaiian pizza is actually pizza , we're of the opinion that Hawaiian pizza is delicious – but it's not pizza.  Hawaiian pizza makes a great meal, but pizza will always be crust, tomato sauce, mozzarella cheese and maybe some toppings like sausage, pepperoni, mushrooms or even proscuitto.  Once you add pineapple, it's not pizza any more, even if it is tasty.