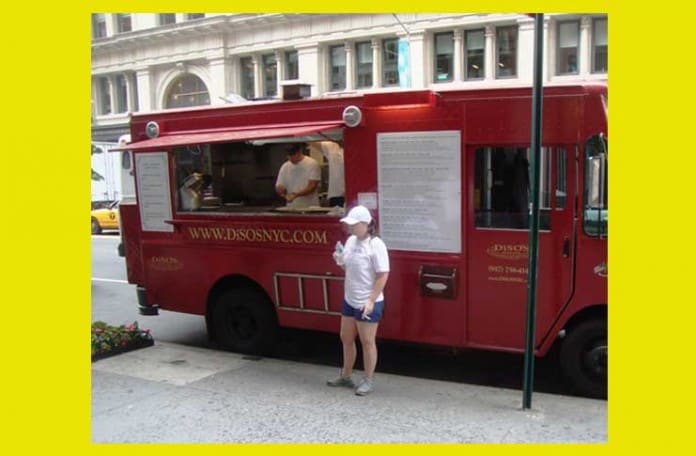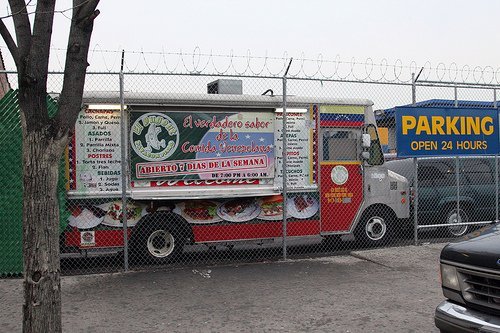 Now that the 2010 Vendy Award finalists have been announced, you have 6 weeks to try the 5 finalists before the actual event on Sept 25th.  If you're going to the Vendy Awards (which we highly recommend, being a Silver Level sponsor), you'll get to eat as much as you can from these exceptional vendors.  Tickets are expected to sell out, but for now can be purchased here.
While it's nice to be recognized, there are many other wonderful vendors serving some great New York Street Food, such as the vendors on the right and the trucks below, including all past Vendy Award nominees.
For some free ice cream, head to Mister Softee NYC (Billy Gunnz) on 42nd St & 2nd Ave from 12-1:45.
1 new tweet.
nyccravings – State St. btwn Bridge St. & Pearl St. Ready by 11:30!
steaktruck – w r@47st&park.we welcome mexicue truck.1stop,4two2 grt truck. try the our vegie burg, supr spcy chicken wing,ℜ griled steak.
fritesnmeats – Howdy FiDi! What an amazingly gorgeous day! Perfect for some Burger Lovin'. Were on Water & Broad as usual. Taking preorders 917.292.9226
quickstopkosher – All day @B&H 9ave and west 33. Any good sugestion for down town for friday pls let us know
mistersofteenyc – Free ice cream event changed to today @ 42st and 2nd ave form 12- 145

EddiesPizzaNY – Happy Weds (8/11) EPT is on 48th and 6th with our hawaiian pizza special (prosciutto/pineapple)! dont forget to… http://fb.me/xrL5KDYB
RickshawTruck – Wed: Chelsea: Starrett Lehigh 26 bet 11av + 12av as well as Columbus Circle: 57 + 8av. Chill it down with a watermelon juice.
CupcakeStop – Good Morning! CupcakeStop truck on 99th & Madison, shoppe inside the Limelight 6th & 20th, 1st fl and bakery in Montclair NJ 1 Greenwood Ave
schnitzeltruck – Morning flatiron area! We'll be @ Park ave b/w 26th & 27th sts @ 11:30… Schnitzification on park ave?? Betta believe it! Come by:) c ya!
joyridetruck – Joyride is in TriBeCa today. On Warren b/t Greenwich and West Broadway from 8:30am until 5:30pm
StreetSweetsOOOOOPS! MAJOR LOCATION MISTAKE! WE ARE AT 52ND ST & LEXINGTON AVE TODAY, ALL DAY, SORRY FOR THE CONFUSION.
biggayicecream – TONIGHT I will be taking the truck uptown for opening night of Abraham Lincoln's Big Gay Dance Party. Watch for tweets. Way west on 42nd.
qbacubankitchen – No lunch service today; service resumes mañana, Thursday! Gracias. Thur Aug 13, qba will introduce a new menu item, Ensalada Batabano, plz read about it on www.qbakitchen.com
Hoboken/Jersey City
VeganLunchTruck – Sign the petition to save jersey city food trucks! http://www.ipetitions.com/petition/save_the_jc_food_trucks/
TheTacoTruck – Have you tried our new Al Pastor or Chorizo tacos yet? Stop by the store at 62 Newark St in Hoboken and give them a try. They are DELICIOUS!