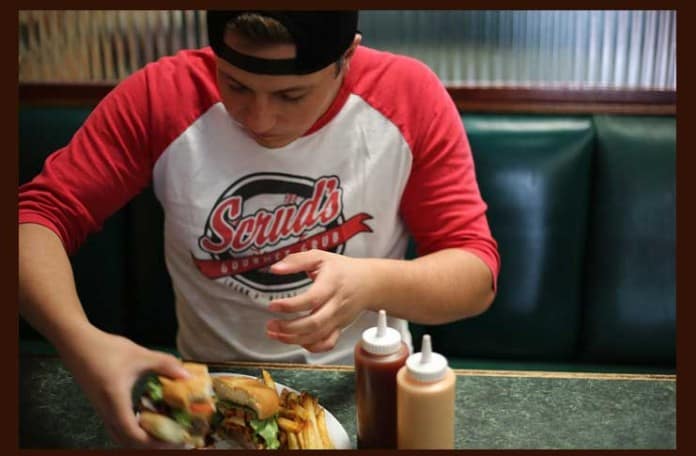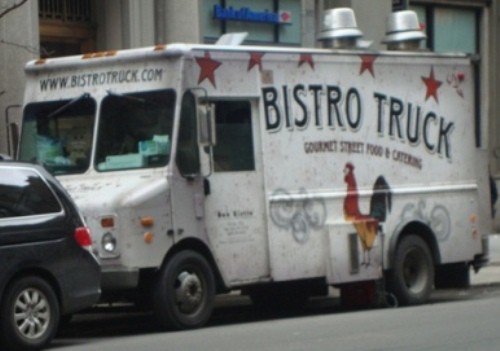 Only Bistro Truck and Wafels & Dinges were open today due to the snow, so I headed down to 5th Ave between 16th & 17th St.  Bistro Truck is one of my favorite food trucks, and they were justly rewarded with a Vendy Award nomination in 2010.
Unfortunately, Yassir had just left the truck to run an errand, leaving my lunch in only semi-capable hands, as I will explain after the jump.
I really enjoy both pineapple and BBQ sauce, so the choice of Today's Lunch was easy – a Hawaiian burger ($7) and Belgian fries ($2.50) from Bistro Truck.  A Hawaiian burger is a cheeseburger with a slice of fresh grilled pineapple and honey BBQ sauce.  It sounded great…and almost was.
When I got back to the office and dug in, the burger was cooked to medium as I requested, there was a large slice of grilled pineapple on a nice, soft sesame-seed challah bun, but there was no honey BBQ sauce on the burger!!!  I don't mean there was only a little – there was none.  I'm pretty sure Yassir would not have let a Hawaiian burger go out of his kitchen without BBQ sauce, but he was away from the truck for a little while.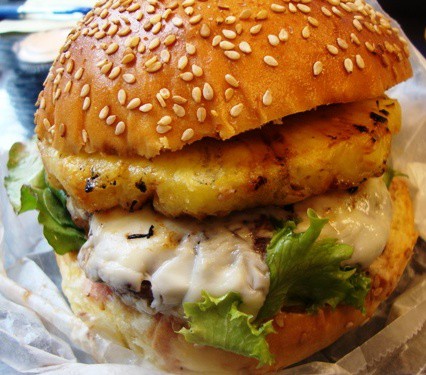 The burger itself was good, although it was not one of those huge monster burgers some places serve.  It did stand up to the cheese, pineapple and bun fine, though.  And since there was no BBQ sauce, I put some of the harissa mayo on the burger that came with the fries, which added a nice flavor.
The grilled pineapple on the burgerwas excellent, and I think it was lightly marinated, but I'm not positive.  Under the burger were some greens, chopped tomatoes and onions, with some harissa mayo.  This was a good burger, but it could have been great with the honey BBQ sauce.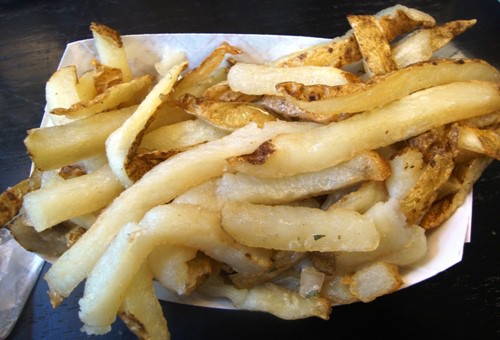 The fries were okay, but could have been better.  I like the fact that they leave the skin on one side, but the fries were too undercooked.  There was no crispiness at all.  The fries were hot and salted the right amount, but way too soft.  I've had fries at the Bistro Truck before when Yassir was cooking, and they were never this underdone.
Nearly every lunch I've had at Bistro Truck has been excellent, so I have to believe the mistakes made in Today's Lunch were an aberration.  Yassir is an excellent chef, but either he has to be there during lunch to oversee everything, or needs to train his people some more.
I know Bistro Truck has some changes in store, including serving more of their their excellent Moroccan chicken pastilla as well as a seafood pastilla, which I'm really looking forward to.  I'm sure with these dishes, and Yassir in the truck, Bistro Truck will get its groove back on.