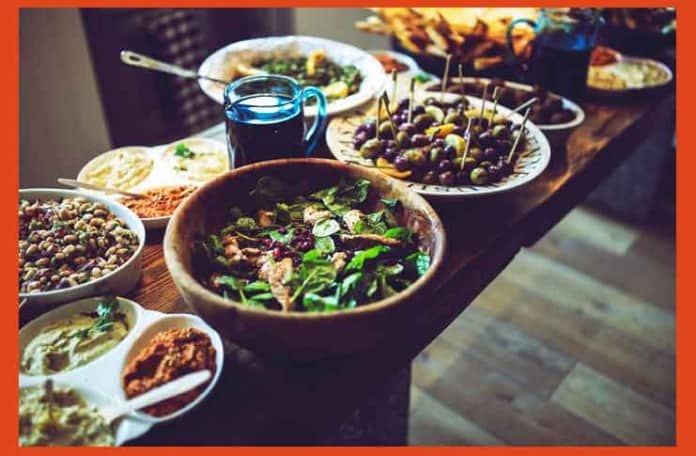 Papa Perrone's has been on 55th St between Park & Madison Ave for quite some time.  In fact, when Eddie's Pizza Truck parked on that block last week because their usual spot was not available, it almost got ugly.  Luckily, Eddie's realized they made a mistake and tried to make nice.  I doubt Eddie's will park on that block again.
I've only had Papa Perrone's once before, and it was a meatball parmigiana hero which I wasn't crazy about.  But I love calzone, and Papa Perrone's calzone got a decent review last month on Midtown Lunch.  Time to check it out myself.
Today's Lunch is the "Bensonhurst", which is what they call a calzone with ham ($8.50).  (Note: This lunch was a couple of days ago.)
They had 2 other types as well – an eggplant and pepperoni calzone and a meatball calzone – and they looked pretty good on the tray waiting to go into the oven.  The calzones had that golden brown crust on top you get from brushing the dough with egg – the same thing my wife does when making empanadas.
Heading back to my office, I noticed the weight of the calzone.  Ricotta cheese is pretty dense, and there must have been a lot of it for the calzone to be this heavy.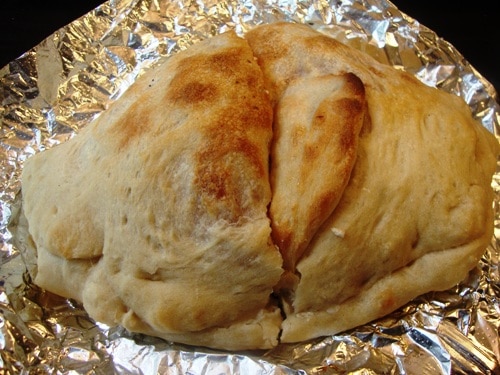 When I opened up lunch, there was a pretty thick layer of ricotta cheese, with a little mozzarella on the bottom and a nice amount of ham on top.  I wish the calzone was hotter, but it did taste good.  Large gobs of ricotta, mozzarella, ham and dough make for an enjoyable lunch, as long as the ingredients are all decent quality, which these were.
The dough was that good New York pizza dough that's tough to replicate outside the New York area.  People say it's the water that makes the difference – and being a lifelong New Yorker – I'm inclined to agree.  Unfortunately, the dough was undercooked on top of the calzone.  While the crust on top had that nice golden brown tinge, right underneath that, the dough needed to be cooked more.
Today's Lunch gets a 7.5 out of 10.  The cheese and ham were very good, but a little more time in the oven would have solved the two problems I had – the calzone not being hot enough and the dough on top being undercooked.  This calzone had a lot going for it, and I would definitely try another one.  I just have to ask him to heat it up a little longer in the oven next time.