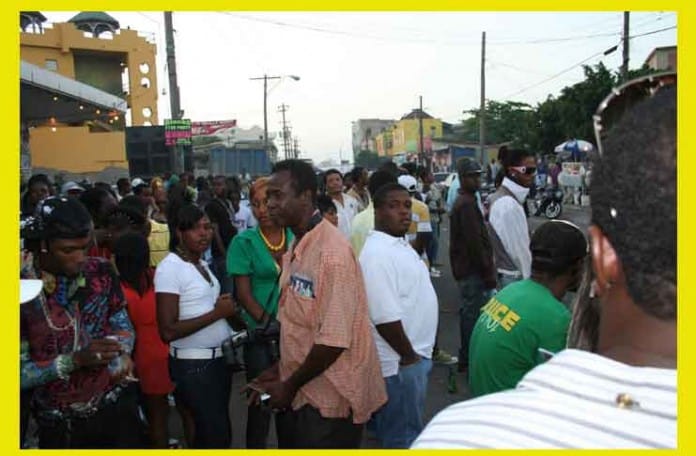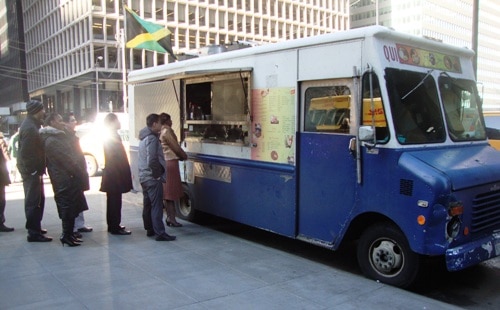 I had only been to the Jerk Pan on the SE corner of 48th St and Park Ave once before, and it was close to a year ago.  I wanted some fried chicken that day, but they were sold out by 1:15.  I ended up getting their jerk chicken, and really enjoyed it.
I was in the mood for fried chicken again today, so I got to the Jerk Pan earlier.  There was plenty of chicken left – in fact, they were just taking fresh pieces of fried chicken out of the fryer when I walked up to the window…and they were still sizzling.
Today's Lunch is a "small" fried chicken platter ($7.50) from the Jerk Pan truck , which comes with 2 side dishes.  They also have a "large" platter for $9.50.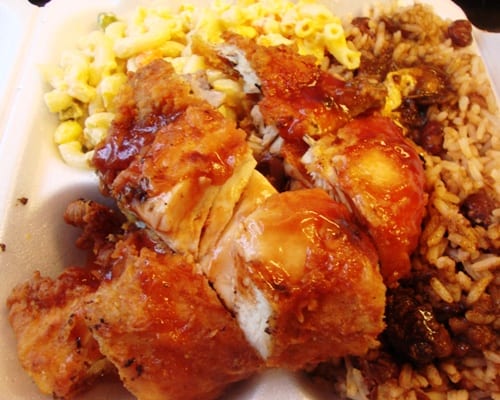 Walking back to the office, I couldn't believe how heavy the container was.  In addition to a ginormous chicken breast, the side dishes were rice & beans and macaroni salad.  I can't imagine what a large platter would be like.  Probably would need a wheelbarrow to get it back to the office.
The huge chicken breast was cut up into about 6 large, thick pieces, and Andrew asked me if I wanted "sweet sauce" on the chicken.  I said yes, which was a good decision.
The chicken was very moist and juicy and basically fell off the bone.  This was one of the juiciest fried chicken breasts that I've had.  The deep frying really sealed in the juices.  The breading was a little soft from the "sweet sauce", but was still crispy on much of the chicken.
The "sweet sauce" was a light, fruit-based sauce which I'm guessing had an orange base, and I'm pretty sure there was allspice in there and possibly nutmeg.  Sweet, light and fruity.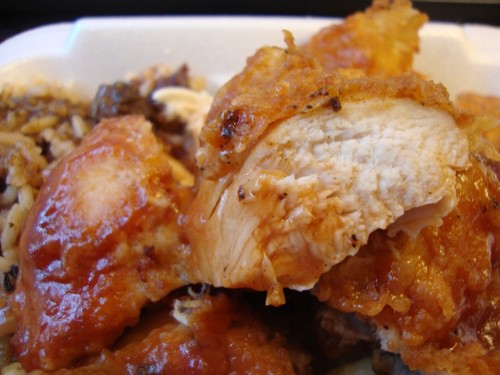 The macaroni salad was nice, with carrots, peas, corn and string beans in a light dressing.  The rice & beans were pretty heavy though.  With two starchy sides dishes, maybe I should have gotten a veggie dish for the 2nd side, but that's a minor quibble when compared to the lusciousness of the fried chicken.
Today's Lunch of fried chicken from the Jerk Pan was excellent.  The side dishes were good, but the fried chicken with "sweet sauce" was a standout!  Definitely one of the best fried chicken dishes I've had in quite a while (excluding my wife's, of course).