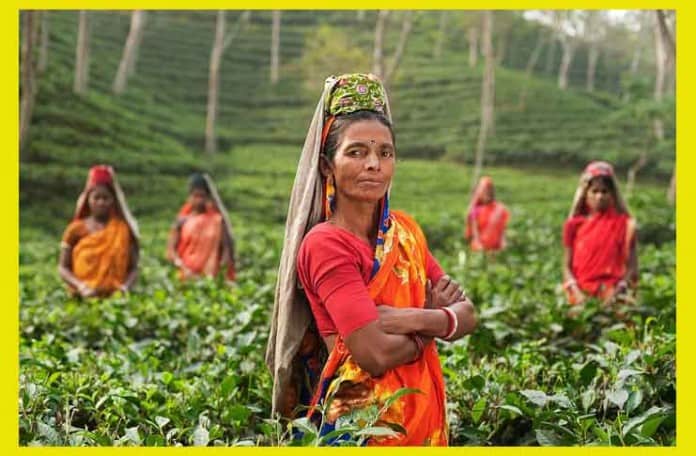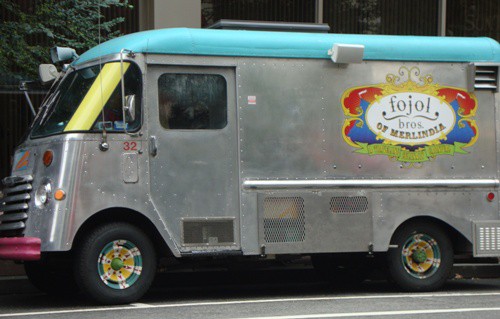 I'm down in Washington DC for a couple of days, and as I wrote about last week, Washington DC has a vibrant street food scene, with more and more trucks hitting the streets every week.  I should be able to try two of them this week for lunch.
Today's Lunch in Washington DC is from the Fojol Bros of Merlindia, one of the more popular food trucks in Washington DC.  Click through to find out more about their Traveling Culinary Carnival.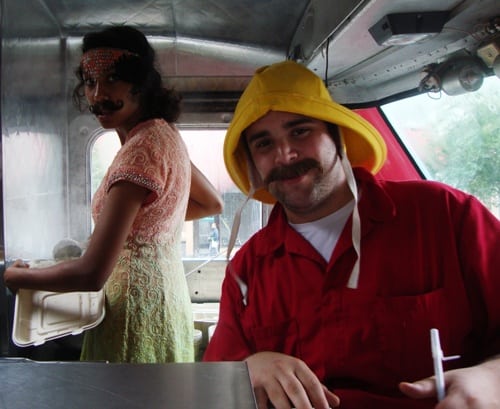 The food is Indian, but it's run by American chefs who wear silly outfits, fool around with their customers, and play eclectic music.  The menu is pretty simple – there are 4 items and you can choose a cup of one for $2, a meal of two for $6 or a feast of 3 for $9.  All sizes are served with basmati rice.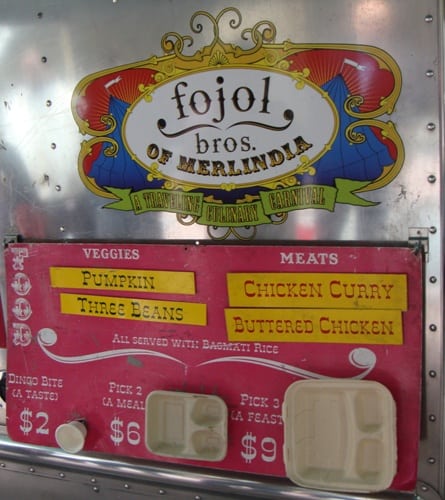 Today's choices were chicken curry, buttered chicken, three beans and pumpkin.  They also had a few flavors of lassi-pops, but I didn't have room for dessert.
I told them about New York Street Food and asked if I could try 3 different items with smaller portions for $6, since the $9 feast is way too much food.  They happily obliged, and I chose buttered chicken, chicken curry and pumpkin.
The buttered chicken (top left) was similar to a korma.  It was creamy and a little spicy with both chunks and shredded chicken.  The sauce was flecked with various spices, and it was very tasty.  This was my favorite of the three dishes.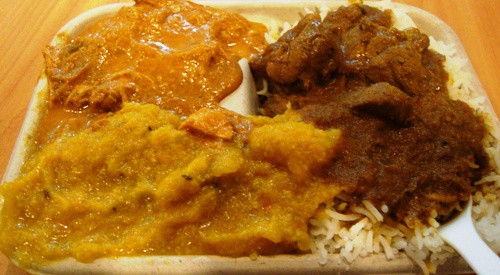 The curry chicken (right) had a darker sauce, and it was very spicy.  The chunks of chicken appeared to be both white and dark meat, but there wasn't any funky stuff like fat or gristle.  My mouth tingled for quite a while, but my system didn't seem to pay any price.  Good job bringing the heat without destroying my system!
The biggest surprise was the pumpkin (bottom left).  I'm not much of a pumpkin person, but it's in season, so I decided to try it.  The pumpkin was pureed into a creamy consistency, but there were also some soft chunks of pumpkin in the dish.  It was nicely spiced with clove, caraway seeds and other spices.  I'm glad I had it last, because it was almost like a dessert, and definitely cooled off my mouth after the fiery chicken curry.
The basmati rice was cooked just right, and was the perfect accompaniment to these dishes.  Much better than a regular white rice would have been.
The Fojol Bros of Merlindia is one of the more popular street food vendors in Washington DC, and I can see why.  The atmosphere is fun, the value is good, and the food is quite tasty.
Click here for their website and here for twitter.