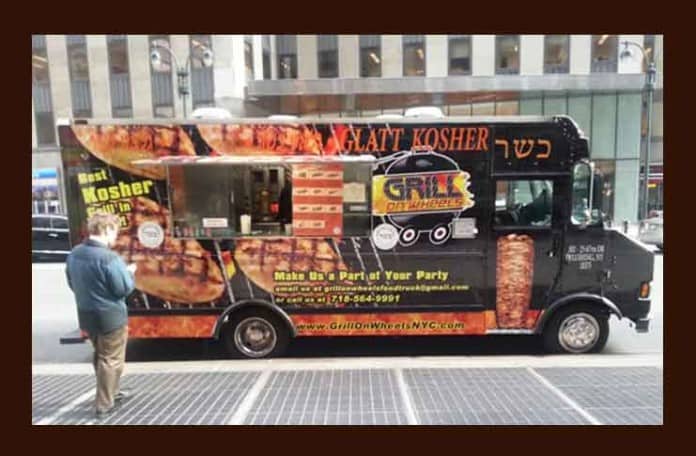 It's a beautiful early autumn day outside. Perfect for enjoying some great New York Street Food from the vendors on the right and the trucks below.
Congratulations to Street Sweets for receiving a score of 24 in the new Zagat guide, the highest score given to any NYC food truck.
As always, make sure to check the pink Mobile Munchies twitter feed on our homepage before heading out, n case anyone had to move at the last minute.
nyccravings – Coenties Slip b/w Water & Pearl…ready by 11:30!
EddiesPizzaNY – 52nd and 6th until 3pm! We've got our Vodka Sauce and Chicken Cutlet. Call ahead your orders. 917-439-7522
Mexicue – Mexicue is on 18th and 5th today – open at 10:45 am!!!
schnitzeltruck – Hi guys we're on location,but waiting for some trucks to move so we can get our usual spot. If window isn't open come by door to place order. Beautiful day 2 be schnitzified. park ave b/w 26th & 27th.. Free panna cotta with every platter purchase. 347-772-7341
StreetSweets – Hudson St. the bad news it's not Thursday, the good news is Street Sweets is here a day early for you. 52St/Lex. we r as disappointed as you r, we wont b able 2 park there today due 2 the movie shoot.
BistroTruck – Ponco crusted fillet of chicken served w/ mediterenean potato salad and a side of mix spring salad; Dessert: Creme brûlée
joyridetruck – It's Hump Day, so Joyride is on Hudson between King and Charlton from 7:00am-6:00pm.
fritesnmeats – Lunch today water and broad 11-3. We start our preorders at 9am, give us a hola! 9172929226
waffletruck – Welcome to wondrous wafel Wednesday. We are on Hanover Sq. Btwn Water and Pearl. 8:00a-4:27p. More downtown goodness at Greenwich & Murray till 5pm. What rhymes w Waffle? =1 free Dinges! YAY!
RickshawTruck – Wednesday! We will be in Chelsea at 26th + 11av as well as up at Columbus Circle at 57th + 8av from 11a-3p with reps from @donorschoose
biggayicecream – SUN? I'm scraping myself together, then scraping my truck clean. I'll be at USQ for a while this afternoon, so watch for a timing tweet.
CupcakeStop – CupcakeStop Trucks parked on 58th and 8th and 7th Avenue and 6th Street in Park Slope Brooklyn!!
JiannettosPizza – 47th bw park and mad & wall street today….email us at admin@jiannettospizza.com to inquire about the pizza truck ur next holiday party!
CalexicoCart – Today's special on Wooster & Prince is pulled pork in a roasted jalapeño sauce. Enjoy! Sorry guys, the BK Park cart remains closed today, we will be back tomorrow.
miss_softee – off to pickup the speedwagon for today's service. potato chip choc dip on the menu as well as other specials…. 44th&6th for lunch!
GOBurger – Today at seaport pier 17 come try the best veggie,and hamburger in town. YUMMY!!,!
quickstopkosher – Serving breakfast in front if bnh mega superstore!! Come one come all to the yummiest truck if all!! Or call 2126746666 for free delivery!!
LCBBurgerTruck – The La Cense Beef Burger Truck is parked at 111 Wall Street today. You've gotta try our new delicious new grass fed beef sandwiches!
Hoboken/Jersey City
TheKrave – Schedule – Hudson and Harborside, 12:00-2:00 Columbus and Marin, 5:30-9:30
qbacubankitchen – On Valley Rd for lunch now. Right at MSU/Normal Ave. First 20 guests get Free Cubano sandwich- today only!
TheTacoTruck – Come to the restaurant to try our lengua tacos, TTT's new special. Eat More (Lengua) Tacos;)