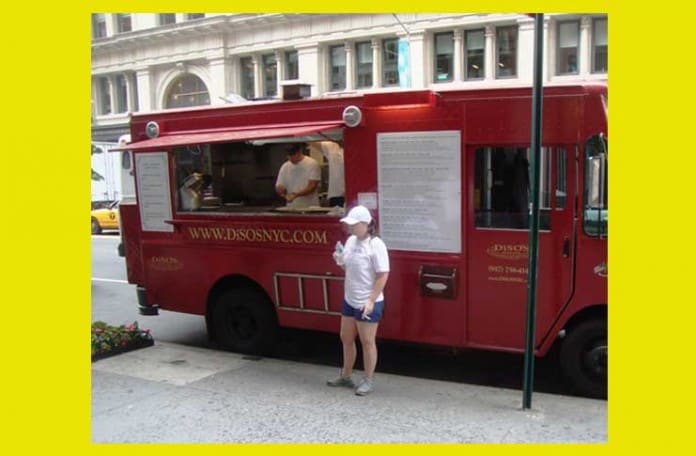 Thankfully, today is not as humid as yesterday – but it's still pretty warm and sunny out there.  A perfect day to enjoy street food from the vendors on the right and the trucks below.
We're really looking forward to the World's First Food Truck Drive-In Movie tomorrow as part of the NYC Food Film Festival.  There will be over 30 food trucks slingin' hash!  You can win 2 tickets from New York Street Food by giving us some feedback here.
Before you head out, make sure to check the pink Mobile Munchies twitter feed on our homepage.  You never know when a food truck will have to move at the last minute because of a movie shoot, water main break, police activity, or some other reason.
StreetSweets – Good morning, Street Sweets is on Murray St btw West & Greenwich all day, please stop by, we very much look forward to seeing u.
waffletruck – What better way to spend Friday then a) pretend to work b)watch soccer c) eat waffles on 52 btw 6&7 d) all of the above? For 1 free dinges.
fritesnmeats – Howdy Midtown! Were @ 48th & 6th. Start ur weeknd with big ol' helping of Burger Love! Avoid the line, taking preorders until 12. 9172929226
EddiesPizzaNY – eddies pizza truck is on park ave btwn 26th and 27th. last day to try our eggplant ricotta pie. We have gamecast of portugal brazil on our tv! call ahead your… http://fb.me/B4uh1LIh
schnitzeltruck – Mornin, we'll be on 52nd & lex @ 11:30. Preorder @ 347-772-7341. We have a bit of veal and a new pico de gallo condiment. Tell us wht u thnk
VLAIC – Panda Bear truck is at 22nd St. & 6th ave & The Tate Man is back from his superhero adventures. till 10am, then at 5th & 23rd till 6pm….
VLAIC – Kangaroo Coffee Truck! 5th & 15th St all day, cold brew, ice cream, and yummy pastries.
CupcakeStop – We're in Williamsburg on Bedford bet. N5th and 6th,on the Seaport and inside the Limelight today. Try the new Peace a la Mode cupcake!
nyccravings – Pls check your email if you have been selected for tomorrow's event! 🙂 http://fb.me/BNCinZqd
2 new tweets.
RickshawTruck – hey friday people. we are at 45th + 6av today. make sure you eat your dumplings before you put on your linen to go whereever you go 11a=3p
1 new tweet.
CalexicoCart – Both carts are on the street in soho. The special today is pollo verde. Enjoy!
ElDiabloTacos – We will be slinging tacos from our taco tent @ the Silversun Pickups show tonight, Williamsburg waterfront park! http://fb.me/C7jlqVu8
Hoboken/Jersey City
VeganLunchTruck – Parked on the corner of Sinatra and third. Come to the truck for peanutbutter chocolate cheesecake donuts today! http://fb.me/uHHykbUa Retweet
TheKrave – 6/25 – 5:30-9:30, Columbus and Marin Blvd New York Food Film Festival tomorrow! Come find The Krave in DUMBO… http://tumblr.com/xl1c58j5m
TheTacoTruck – A treat for you, Hoboken – we'll be serving both lunch AND dinner today. Lunch at Sinatra & 1st in Hoboken today 12:00-2:30. Come out and enjoy the beautiful weather on the waterfront! http://fb.me/DdWjtxvS
laspicetruck – Just one more day folks!!! Don't forget the New York food festival is tomorrow!! 5000 lucky people have tickets!!! Brooklyn bound sat…