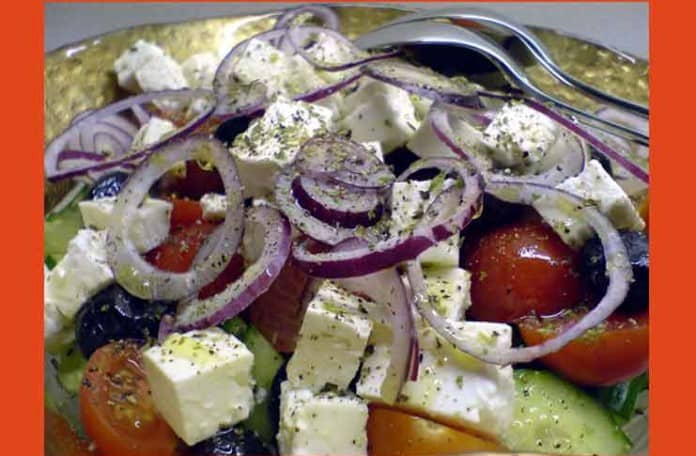 I received an email late yesterday from a segment producer of the Food Paradise program on the Travel Channel.  They are working on an episode about food trucks, and asked if I had contact info for Uncle Gussy's on the NE corner of 51st St & Park Ave.  She read about Uncle Gussy's on New York Street Food and was amazed they have been in business for nearly 40 years.
It's been a while since I went to Uncle Gussy's, so Today's Lunch is their chicken souvlaki platter.  Upon arriving at the corner of 51st & Park, I received a big surprise.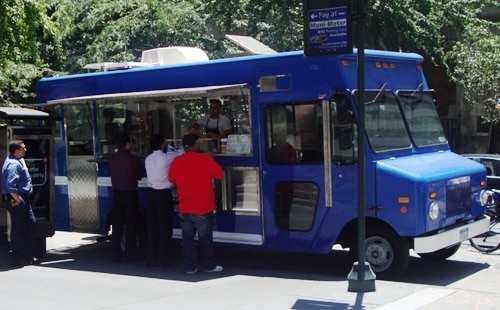 Nick and Frankie, the brothers who run Uncle Gussy's (which was started by their Uncle Gussy in 1973) told me about 2 months ago they were getting a new food truck to replace their cart.  Well, lo and behold, there was a brand-new blue food truck on the corner with Nick, Frankie and one other guy working quickly to get everyone's orders together.  I got Nick's email to send to the Food Paradise producer and ordered a chicken souvlaki platter with white sauce and hot sauce.
Upon opening the container, there were big chunks of grilled chicken and grilled onions and peppers over yellow rice with white sauce and hot sauce.  The chicken was a mix of white and dark meat, but it was freshly grilled and not dried out.  There were also no funky parts in the chicken, which is one of my biggest complaints with dark meat.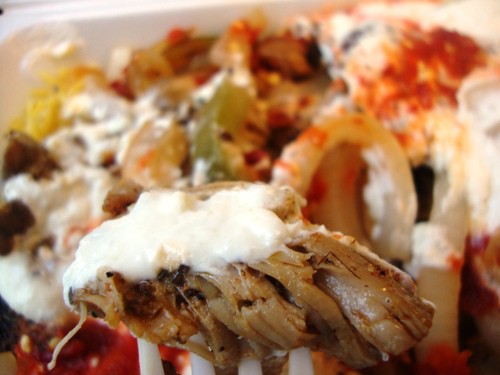 They have 2 kinds of hot sauce – mild and hot.  Nick remembered that I like it hot.  It's always appreciated when someone remembers your preferences.  This was definitely hot! Very good.
The other thing I like about Uncle Gussy's is the white sauce.  Most of the halal carts have a mayo-based white sauce, but Uncle Gussy's has a yogurt-based white sauce, which is infinitely better.  Nick told me their mother makes the white sauce from scratch every day.  All I can say is, there's nothing like mama's sauces.
The yellow rice was moist and plump. There was also a simple salad of lettuce and tomato on the side.  The veggies were fresh – but what made me eat it was the white sauce.  I really don't like salad with mayo-based white sauce as a dressing, but a yogurt-based white sauce makes a decent salad dressing.
Today's Lunch was an 8 out of 10.  I definitely like the chunks of chicken instead of shredded – it doesn't dry out as easily.  And as I've said a few times already, the yogurt-based white sauce makes all the difference for me.  A very nice lunch, indeed.