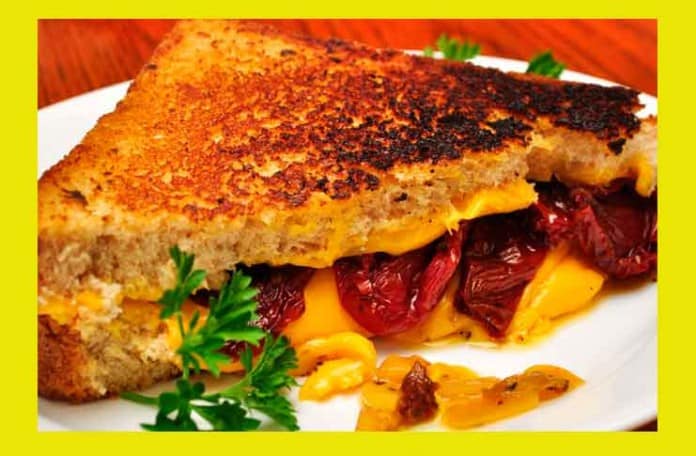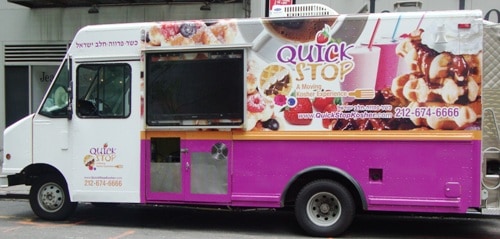 I ran across the new Quick Stop truck last week as I walking back to my office after picking up a chicken souvlaki from Uncle Gussy's brand new truck.  Definitely a bunch of new trucks around.  The Quick Stop truck was on 52nd St between Park and Lexington Ave last week, but today it was on the SE corner of 52nd St and Lexington Ave.
The Quick Stop truck is kosher and has a deep fryer for falafel and french fries, various sandwiches, omelettes, bagels, panini, caesar salad and something that caught my eye right away, cheese blintzes with sour cream – an old favorite going back to my childhood.
Being a kosher truck, they don't mix meat and dairy, and this truck was dairy – so don't expect any meat (although you can get a tuna sandwich).  Quick Stop also has desserts like milkshakes, strawberry, banana or mango slushes and waffles (although their waffles certainly won't have bbq pulled pork).
Today's Lunch is 2 cheese blintzes with sour cream for $5.
As I stepped up to the window to order lunch, there was a large illustration on the left of the truck with what can only be described as a Waffle Pimp in a purple suit and white hat saying "Now! This Is The Waffle You've Been Waiting For!"  I'm not sure if it made me hungry for a waffle, but I love the idea of a Waffle Pimp.  Sounds like something out of a Weird Al video.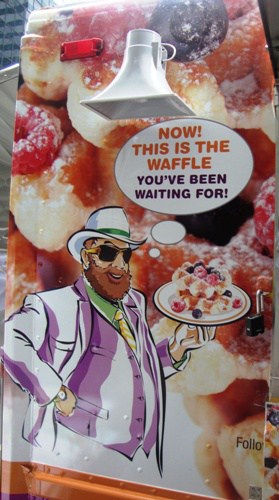 Let's leave the Waffle Pimp and get on to the cheese blintzes.  Just in case you don't know what blintzes are, imagine a crepe rolled up with cheese, fruit or potato, kind of like a blunt.  Sounds good, eh!
One thing that took me by surprise was the blintzes were kept in the sandwich case and served cold.  I'm used to blintzes being served warm, and with a deep fryer in the truck, that's what I expected.  However, the vendor told me they were made fresh by the truck that morning.  I was skeptical at first, but after eating lunch, I believed him.  The blintzes would have been pretty soggy if they were not fresh, but these were still spongy.  (I mean that in a good way.)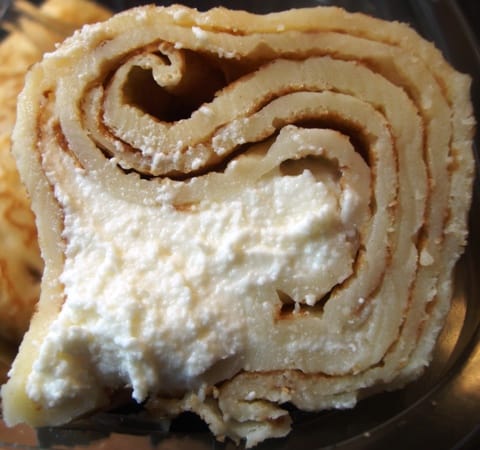 The blintz wrapper was pretty much like a crepe wrapper – only a tiny bit thicker and a little spongier, with a light hint of cinnamon.  It was rolled around what tasted like a sweetened ricotta cheese that was very nice.
This could easily have been a dessert for 2 people to share – but the sour cream made it a main course.  The sweet and sour contrast of the blintz, cheese and sour cream was a pleasant lunch – and it gave me a break from eating street meat.  This is a lighter lunch than I'm used to, but it still kept me full until dinner, which is the true test.
Today's Lunch was an 8 out of 10.  It was a little strange at first eating cold cheese blintzes, but ultimately enjoyable.  Quick Stop has a website and a page on facebook, but no twitter account yet.  Please take our advice and get a twitter account as soon as possible.  It's how New Yorkers will find you for lunch.