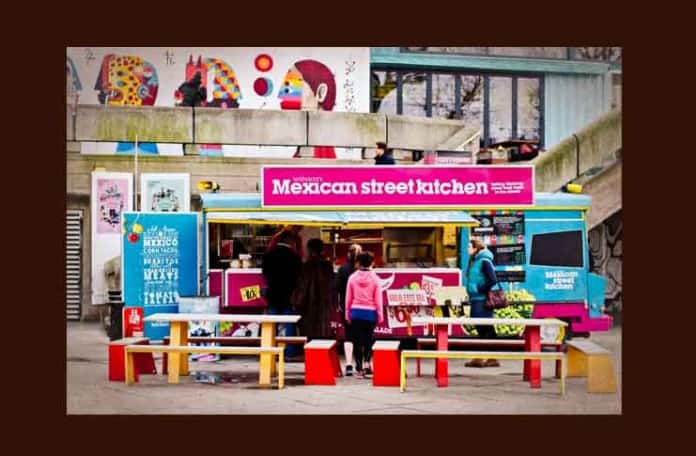 It's not often that I'm on the Upper East Side, but I had to be there around lunchtime, and will have to be there again next week.  I've heard decent things about Paty's Taco Truck – which parks on Lexington Ave just north of 86th St, right outside the 4,5,6 subway station.  This is the first chance I've had to try them.  (The sign says Patty's but the menu spells it Paty's.)
They have a pretty full Mexican menu with tacos, burritos, tortas, cemitas, huaraches, quesadillas, tostadas, sopes and a few other things.  I know my rule says that I should try the tacos since it's in the truck's name, but the campechano burrito really caught my eye, so that's what Today's Lunch is ($8.50).
The campechano burrito is filled with beef, chorizo, rice, beans, cilantro, jalapenos, cheese and a little salsa – and it was pretty stuffed and juicy.  All the ingredients were mixed around inside the burrito nicely.  I hate when the first bite of burrito has mostly one ingredient, the 2nd bite has mostly another ingredient, etc.  Not the case here.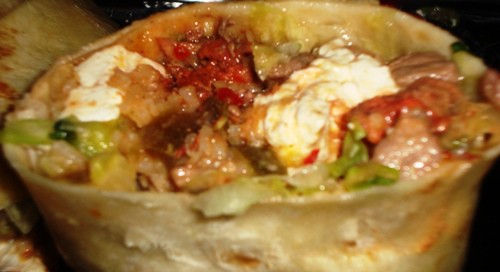 The jalapenos and chorizo gave the burrito a sweet spiciness.  This burrito definitely had some heat, but not enough to kill you.  The cheese was a little different than the usual Mexican cheese – it was more like string cheese – and the beans were white beans, which were lighter than pinto or black beans.
Today's Lunch gets a 7.5 out of 10.  The burrito was nice and juicy, tasty and plenty filling.  The ingredients weren't AAA prime, but overall this was a burrito I would recommend – and eat again.