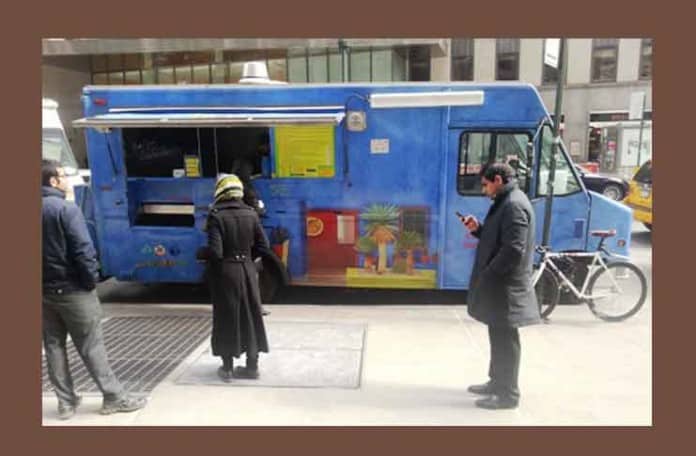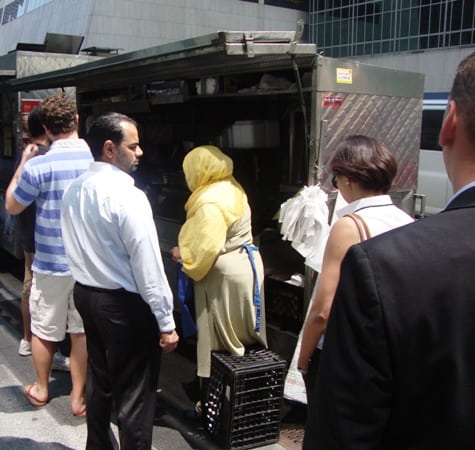 We finally have some sun shining down upon us.  Hooray!  It's perfect weather for enjoying some great New York Street Food from the vendors on the right and the trucks below.
As always, make sure to check the pink Mobile Munchies twitter feed on our homepage before heading out, in case anyone had to move at the last minute.  Mexicue already had parking issues on 52nd St.
Mexicue – Relocated to 18th and 5th! Parking issues at 52nd and Park.
souvlakitruck – West Chelsea's gonna get it! Tonite @6pm / 21st & 6th.RT @markdorison: Dying to try the @souvlakitruck. West Chelsea needs food truck love.
miss_softee – last night's baking mission was a total success!! today you get amazing crumbcake, topped with sweet yummy cream. oh my.
EddiesPizzaNY – 52nd and 6th. Its pizza day! Fire roasted red pepper pesto is this wks special. Can n e one say that 5x fast? Hit up truck phone 9174397522
schnitzeltruck – Hey park ave & 26th. Finally sunny.. Tomorrow not so much. We'll be there @ usual time 11:30-2:00.. We gots da veal for ya. Mmm, veal:) c ya
waffletruck – Wafel Wednesday on Hanover Square btwn Water & Pearl until 4:28 this afternoon. Tell us who Aretha Franklin just married for 1 free dinges!Mini-waffle truck (aka cart) downtown on Greenwich & Murray. Hopefully new Wafel Wednesday tradition…
fritesnmeats – Howdy FiDi! Sorry for the late tweet. Were on Water & Broad St. Break out the marakas,its time for the El Cubano!!! Preorders 917.292.9226
1 new tweet.
RickshawTruck – Happy Humpday! No more rain!! Chelsea: Starrett Lehigh 26th + 11av and also at Columbus Circle: 57th + 8av. Come say hi to the truckers!
joyridetruck – Come get your morning coffee on in style, with a cup of @stumptowncoffee! We're at Hudson between King and Charlton from 7:00am-6:00pm.
StreetSweets – Street Sweets is open! 52nd St just east of Lexington Ave, we apologize for the delay, see you soon.
UncleGussys – The souvlakis are Grillin baby I feel I'm on Steinway with cousin frank
LCBBurgerTruck – The La Cense Beef Burger Truck is parked at 111 Wall Street today. Coming soon, delicious new grass fed beef sandwiches! Healthy Eating!
ETRAVAGANZA – howdy lunchers tacos mexicanos ready @ 11.00
CupcakeStop – CupcakeStop Trucks parked on 58th and 8th and 99th and Madison today!
VLAIC – Hooray for the SUN! our locations are: 5th & 15th, 23rd & 5th, Greene & Prince, & Bedford & North 7th.
nyccravings – NYC Cravings & Demand Media are serving up Healthy Burritos to the MediaVest Agency today.
Hoboken/Jersey City
qbacubankitchen – On hudson and Grand – come on down! And get ur Qban on 🙂
TheKrave – Come get Krave today. Weather not looking good tomorrow – Hudson and Harborside. 12:00-2:00 Columbus and… http://tumblr.com/xl1k0krvw