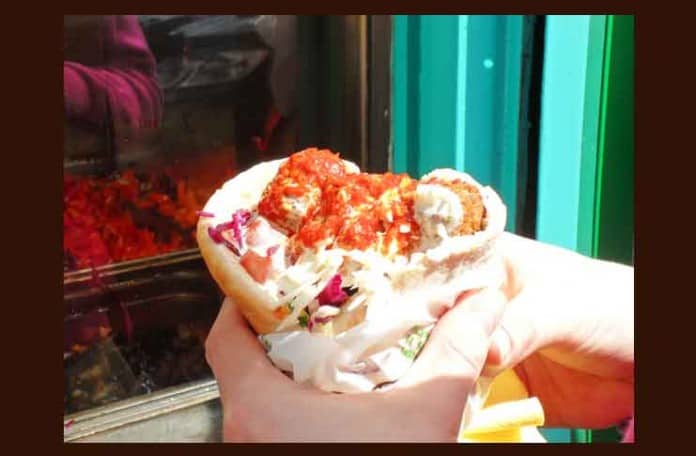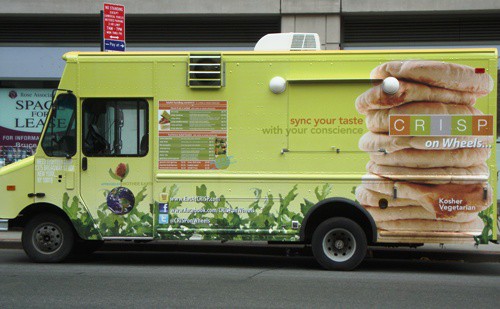 Crisp on Wheels has taken the opposite path of many food trucks.  The usual trajectory is for someone to open a food truck, then open a restaurant, as was done by Schnitzel & Things, Souvlaki GR and countless other food trucks.
Crisp on Wheels had several brick-and-mortar locations in the city, and then opened a food truck, which is not unheard of, just less common.
I've had a couple of lunches from Crisp on Wheels that were good, and wanted to try something new.
Today's Lunch is the Acropolis ($8.75) from Crisp on Wheels.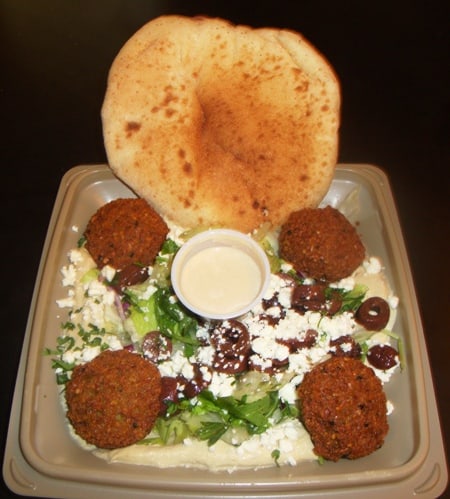 As you can infer from the name, the Acropolis is a Greek-themed lunch.  Olives, feta cheese, lettuce and vinaigrette dressing are placed atop hummus.  Four falafel balls are added in the corners of the platter, and a small container of tahini and a large pita bread are also included.
The first thing I did was to break off a piece of pita bread, which was fluffy and soft.  You get a choice of white or whole wheat, and I went for white.  I scooped up some hummus and lettuce with the pita and took a bite.
The hummus had a light lemony flavor, and was pretty creamy and smooth.  It was very nice with the pita and lettuce, and later on with some olives and feta cheese.  You can see there were plenty of olives and feta in the salad.
I picked up a falafel ball, which was pretty big, and took a bite.  It was crispy on the outside, but still moist on the inside. It has a light, herby flavor, and was even better dipped in the tahini, which was a creamy sesame sauce.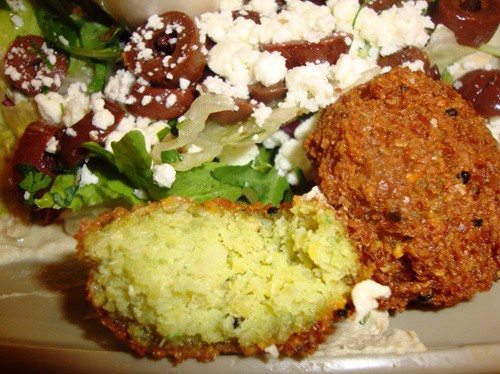 Today's Lunch from Crisp on Wheels was enjoyable.  It was a little expensive for falafel ($9.53 after tax), but the food was fresh, the quality of the ingredients was high, and the Acropolis was an interesting twist on the standard falafel platter.
You can find Crisp on Wheels on twitter here, or on our Mobile Munchies twitter feed, which has more than 80 other vendors.