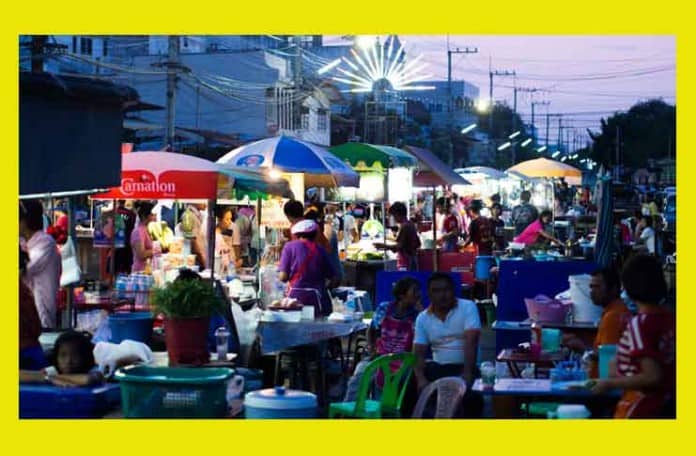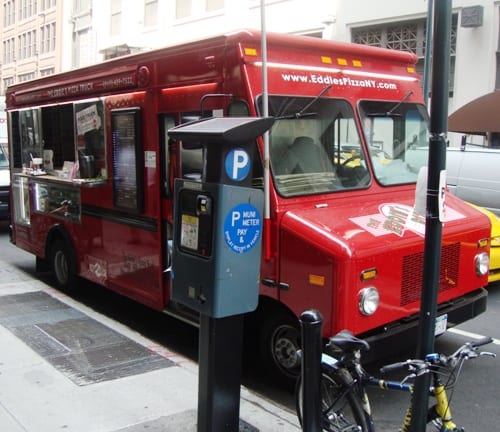 NYSF readers know that I'm a sucker for blue cheese in any guise.  The quickest way to get me down to your truck or cart  is to tweet a daily special with something in the buffalo chicken or blue cheese family.  The combination of blue cheese, breaded chicken and spicy sauce is something I just can't resist.
I've had a blue cheese burger from Frites 'N' Meats, a buffalo chicken rice ball from Papa Perrone's, and a black and blue burger from The Frying Dutchmen…but I"m not crazy about buffalo chicken wings because there's never enough meat.
Today's Lunch is a Makers Mark buffalo chicken sandwich ($9) from Eddie's Pizza Truck.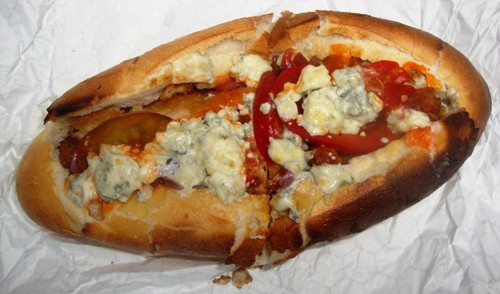 Eddie's has been expanding their menu with meatball, chicken and eggplant parmigiana sandwiches, as well as a new sandwich with porchetta that Eddie's unveiled at the Vendy Awards in October, where they were a Rookie of the Year nominee.  Hey Derek, we're still waiting for the sweet potato gnocchi.
All the sandwiches sounded good, but with buffalo chicken in the mix, I had already decided what to order before even leaving my office.
One thing about Eddie' sandwiches is they use a top-sliced roll, which I still have trouble getting used to.  I'm a side-sliced hero type of guy, but was willing to try this one "for research".
Stuffed into the middle of the roll were several pieces of breaded chicken, hot cherry peppers, blue cheese, and Makers Mark caramelized onions.
The bread was a little tricky to eat, but it had the same consistency as the side-sliced Italian hero bread I know and love.  It was crunchy on the outside from the pizza oven, but soft and warm on the inside.
The chicken was breaded white-meat cutlets, the blue cheese was real blue cheese (not dressing), and the hot cherry peppers were hot.  Now that's what I'm talkin' bout.  Delicious!
About the only mis-step was the Makers Mark caramelized onions.  They weren't good or bad – they just weren't a factor at all.
A few onions fell out of the sandwich, which I picked up and ate.  The onions were tasty by themselves, but totally buried under the blue cheese, peppers and chicken.  If a few didn't fall out of the sandwich, I would have been unaware of their existence.
The caramelized onions were good, but would have been better used in a lighter dish, where they could have shined.
Today's Lunch from Eddie's Pizza Truck was very good.  At $9, it is a bit pricey for a buffalo chicken sandwich, but the sandwich was jam-packed with chicken, blue cheese and hot peppers, and my mouth tingled for a little while after eating it.  It was very happy!