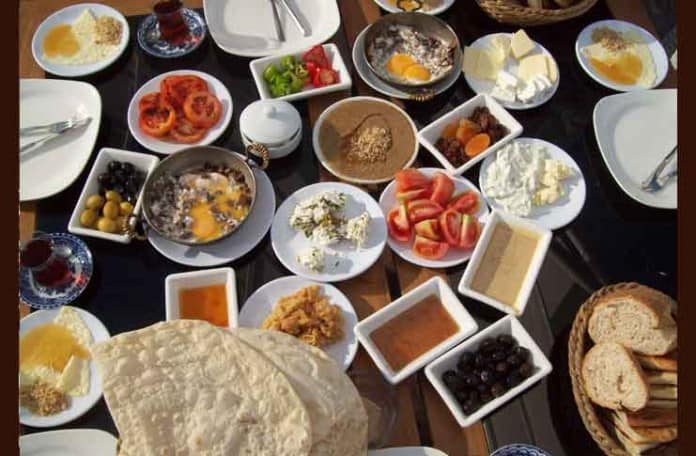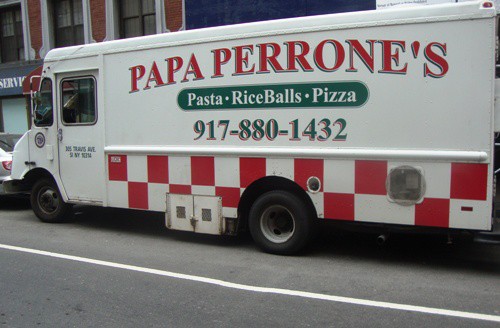 The last time Papa Perrone's had buffalo chicken rice balls, I got there too late, and they were all sold out.  I wasn't going to let that happen again, so I got there on the early side today.
Today's Lunch is a buffalo chicken rice ball ($5.50) from Papa Perrone's.
If you've never had a rice ball from Papa Perrone's, it's a softball-sized ball of rice with various goodies in the middle depending upon the type.
It's then breaded and fried, but before serving, they break open the rice ball, put cheese and/or sauce on it, and warm it up in the oven.
Besides buffalo chicken rice balls, John also had chicken parmigiana rice balls, which seemed to be pretty popular too, and the original Sicilian rice ball is with ground beef and peas in the middle.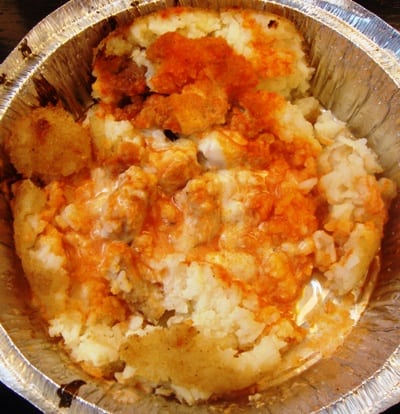 I'm a sucker for spicy food, and enjoy buffalo chicken a lot.  My rice ball was cut open, blue cheese dressing and hot "buffalo" sauce were added to the rice ball, and it was put into the oven for a few minutes.
The extra time in the oven made everything nice and soft and gooey.  The combination of blue cheese and buffalo sauce is one of my favorites, but I hate dealing with chicken wings, which have barely any meat on them.  This was a much better way to enjoy the blue cheese and buffalo sauce combo, on top of some rice and  pieces of breaded chicken cutlet.
Today's Lunch from Papa Perrone's was very enjoyable.  While this is a fairly new addition to the menu, I have a feeling it will become a regular item.  It's certainly good enough to be!