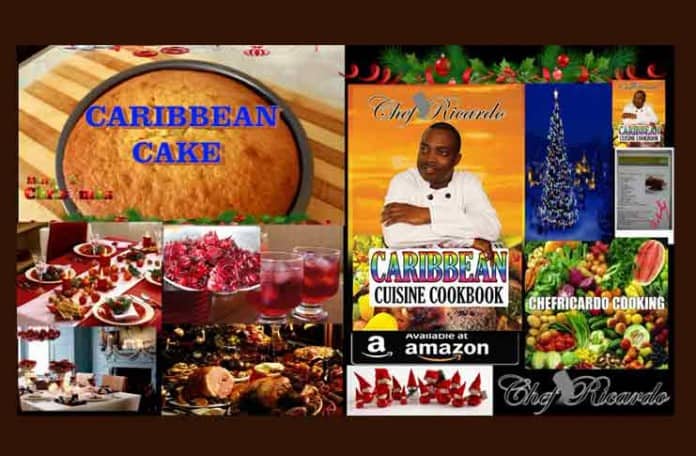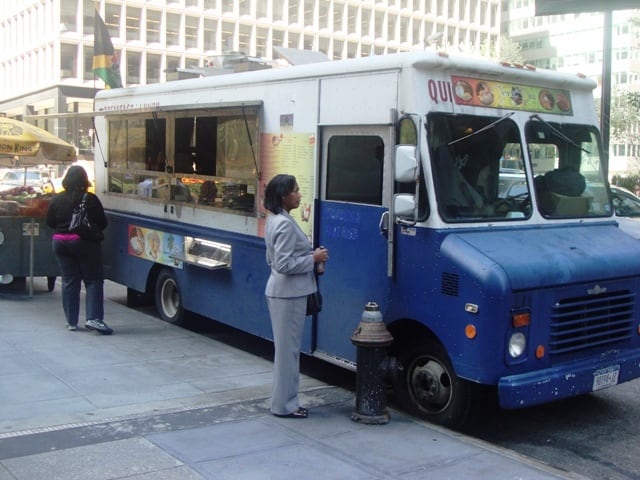 I was over by Grand Central for a late morning meeting, and when I got out, I had a hankering for some Jamaican food.  The Jerk Pan truck is only a few blocks north of Grand Central, on the SE corner of 48th St & Park Ave, and I really enjoyed their fried chicken earlier this year.
Perusing the main courses on their menu, the brown stew chicken looked interesting.  I got a medium size ($8) for Today's Lunch.  They also have a large size for $10.50, but judging from past experience, I knew the medium size to be plenty.
When I got back to the office and opened the container, it smelled great.  There was a lot of chicken stew served over a bed of brown rice that you couldn't even see under the stew.  There were some bell peppers and carrots in the stew, and I took out the fork in the bag and dug in.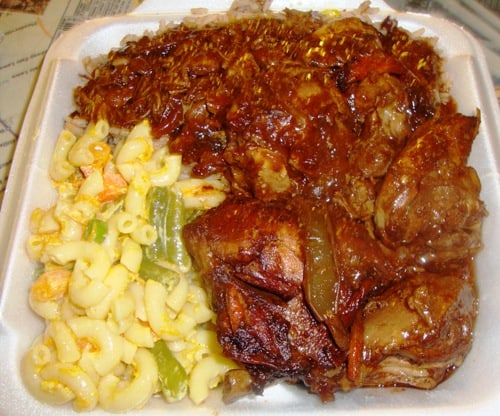 There wasn't a knife in the bag, but it didn't matter because the chicken was fall-off-the-bone tender.  A plastic fork was all I needed to eat lunch.
There were several larger pieces of chicken, and a bunch of smaller pieces that started as larger pieces, but ended up as stew.  There was a nice mix of white and dark meat, and it was all really tender and delicious.
The brown sauce was not like the brown sauce you get with mashed potatoes at Thanksgiving.  It had stewed tomatoes, was a little sweeter, and seemed to contain some Jamaican spices like allspice and nutmeg.  This was a tasty lunch.
As I got down into the lunch, some of the bites were combined with the rice, which made for an even better bite.  The rice was nicely spiced too, and had a few beans mixed in for good measure.
One problem with chicken falling off the bone was the presence of bones.  I had to be a little careful not to get any small pieces of bone in my bites – but that was a small price to pay.
The macaroni salad was a decent side dish, with some string beans, carrots and peas mixed in with warm macaroni and light mayo.  It was a good palate cleaner after eating some of the chicken stew and rice.
Today's Lunch from the Jerk Pan was very good.  While they seem to have a good following after being in the same spot for the past 3 years, they don't tweet or move around from day to day.  The Jerk Pan may not get the same media or press attention as some of the other food trucks, but they serve hearty, tasty Jamaican food to people who know about them.
With all the police problems in midtown, I asked Andrew, the owner, if they had any problems.  I don't want to jinx anyone, but he said they haven't had any problems.  Maybe it's because they don't tweet.
If you haven't tried the Jerk Pan but are curious, we would suggest starting with their fried chicken.  It took me a few trips to the Jerk Pan to get some, because the fried chicken usually sells out first.  As with many of the better food trucks items, get there early or end up with your second choice.  In this case, second choice is really good too.