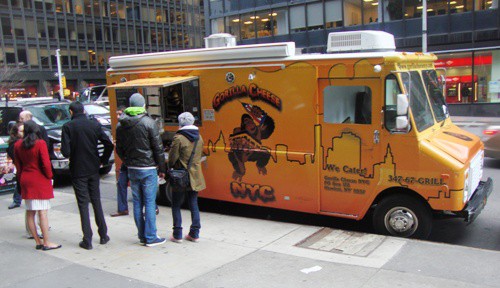 We haven't been over to Gorilla Cheese New York in a while. There's nothing better than a grilled cheese sandwich for lunch on a cold, winter day.
Being in the mood for something with stronger tastes, we ordered the prosciutto, asiago and aioli sandwich for $8.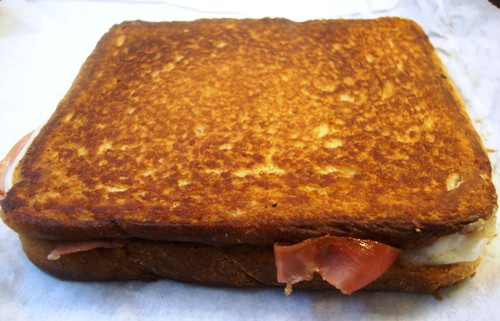 The grilled cheese sandwich came out of the truck a nice, golden brown.
Most sandwiches that include prosciutto use it sparingly, but in this case, there was plenty of meat in the middle.
Proscuitto tends to be on the salty side, so with a lot of it on the sandwich, things did get saltier than we're used to on a grilled cheese sandwich.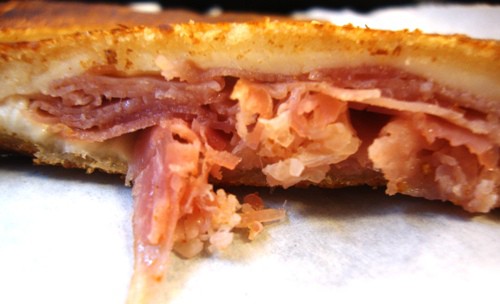 Asiago cheese is a relatively sharp cheese, which was a good complement for the salty prosciutto. Anything milder would have been buried.
The menu said there was aioli on the sandwich, but it was not readily apparent. Too bad, because a garlicky sauce like aioli was the right condiment for this sandwich.
Overall, we enjoyed this sandwich, as we usually do with lunch from Gorilla Cheese New York.
You can enjoy one too by finding out where Gorilla Cheese is parked on either their twitter account here. You can also check our Mobile Munchies twitter feed for locations and weekly specials.