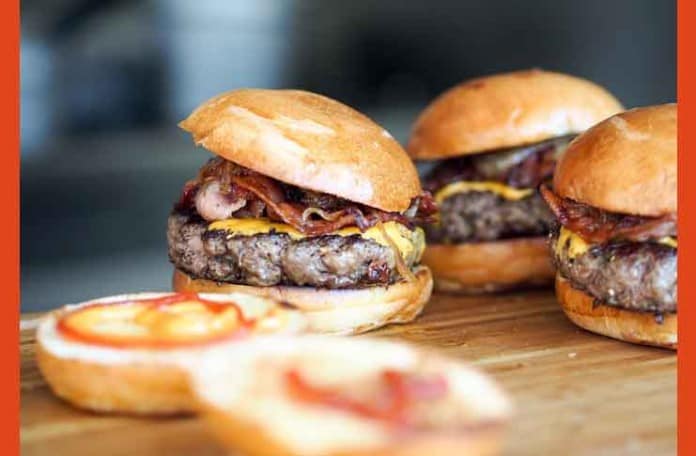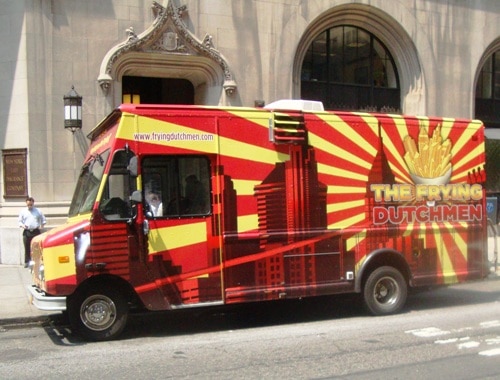 With The Frying Dutchmen installing a new grill in their truck last week, they are now serving burgers and grilled chicken sandwiches in addition to french fries, chicken tenders and chicken wings.
As I usually do with new menus or trucks, I asked what they recommended, and the answer was the interestingly-named Black & Blue Burger ($7).  I love blue cheese, but the connotation of black and blue is a little odd when eating lunch.  You can see The Frying Dutchmen's new burger menu here and new chicken menu here.
The Frying Dutchmen also lets you upgrade any burger to a combo for $4 more, which includes a medium-sized cone of regular or sweet potato fries, a dipping sauce and a drink.  That's what I did for Today's Lunch, which cost $11.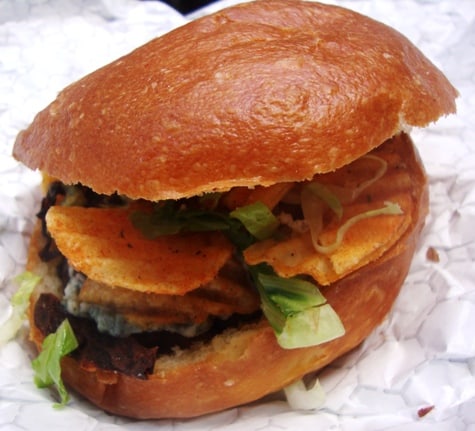 In addition to black Angus beef and blue cheese, the Black & Blue burger had lettuce, onions, buffalo sauce and buffalo chips (buffalo flavored potato chips, not these.)
I unwrapped the burger, and there was a large bun inside.  I opened up the bun to take a look under the hood, and the burger was on the small side.  I don't know if the burger seemed small because the bun was so big, but they need to coordinate the bun and burger size better.  There was too much bread left over at the end of eating the burger.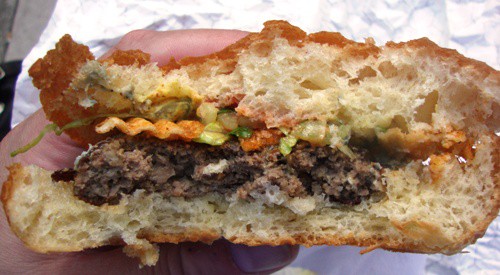 The blue cheese came through immediately on the first bite, and it was a good one.  None of this blue cheese sauce or dressing nonsense. It was crumbled blue cheese, and they weren't shy about putting on a decent amount. Very nice!
I also liked having the buffalo chips on the burger. They added some crunch, which sounds strange for a burger, but it worked.  The chips also added a little more buffalo flavor, but their primary effect was textural.  It was a good idea adding the chips.
The burger itself was a bit well done, but I realize the grill is brand new, and they are still working out the kinks.
I got sweet potato fries and the Southern Style BBQ dipping sauce.  The sweet potato fries were delicious overall, although a few were overdone, and there were a huge amount of fries in the cone.  I enjoyed the Southern style BBQ dipping sauce, which was smoky and had a small vinegary kick to it.  I think the bbq sauce would have been better on regular fries, but that was my doing, not theirs.  Sweet potato fries need more of a sweet of fruity sauce.
Today's Lunch from The Frying Dutchmen was good, but they still have a few things to work out with the new menu.  Ben told me he wanted some feedback because they want to get things right.  Here it is.
I will definitely be back to check out some of the other new menu items in a week or two.  The breakfast burger sounds interesting, and I want to check out the bbq chicken sandwich too.