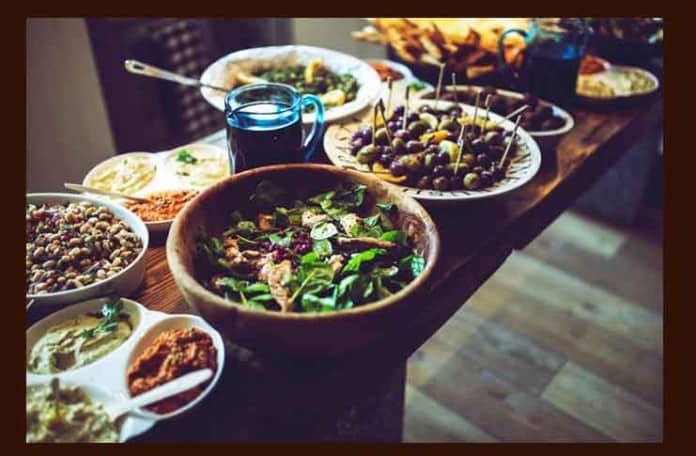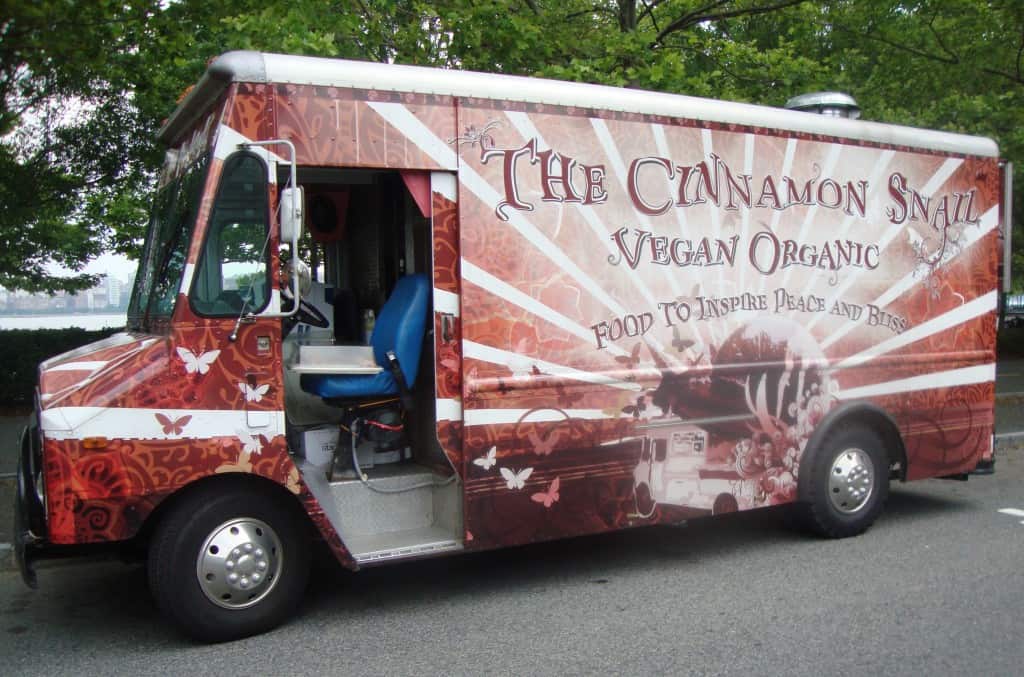 A couple of months ago, Adam from The Cinnamon Snail told us he was working on bringing the NJ-based truck to NYC, but asked us not to announce anything it until it was a done deal.
We got word over the weekend from the 2010 Vendy Rookie Finalist and 2011 Vendy Best of NJ Finalist that all the i's are dotted and the t's are crossed – The Cinnamon Snail is coming to NYC!
I'm not usually one to rave about vegan food, but the wrap Adam put together for the 2011 Vendy Awards was delicious, and his vanilla bourbon creme brûlée donuts won the 2011 Maker's Mark Vendy Award Challenge for best use of Maker's Mark bourbon in a recipe.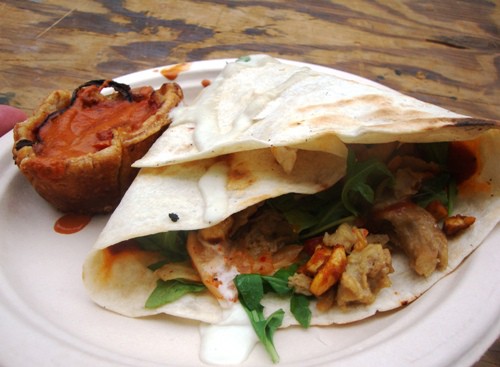 The Cinnamon Snail is the country's first organic vegan food truck, started by chef Adam Sobel on Valentines Day 2010 (his wife must have loved that).  Since the truck's opening, it has been serving Hoboken, Jersey City, Newark and Red Bank, NJ. It has taken almost 2 years, but now the truck is licensed to operate in NYC.
According to Chef Sobel, he plans on serving Manhattan and Brooklyn 4-5 days a week, as well as remaining loyal to his fans in New Jersey a couple days a week too.  What we don't know is when he plans to sleep!
Service in NYC will start in the 2nd or 3rd week of November 2011.  Find the truck on twitter here or on facebook here.  The Cinnamon Snail has been included in our Mobile Munchies twitter feed for a long time now.
They will be experimenting with serving different NYC neighborhoods throughout the week, but the first places you can expect to see the truck are the Flatiron District, Lower East Side, Williamsburg and Greenpoint.  Some  locations will be for brunch and lunch, and other locations will be dinner and late night.  If you want to suggest a neighborhood or location, please contact thecinnamonsnail@gmail.com
From The Cinnamon Snail press release:
The cinnamon snail features a menu of  breakfast items, gourmet sandwiches, raw food, and fresh vegan donuts and pastries. The award winning donuts are made daily, and like the rest of the menu, are made with 100% organic ingredients.  Even the oil used for frying the donuts is certified organic.
The breakfast and sandwich menu change seasonally and rely on locally sourced ingredients on flakey, perfect French baguettes and organic Spelt bread.
A couple of the most popular breakfast items on the truck are
-fresh fig pancakes with chamomile blood orange syrup and pine nut butter
-chipotle seitan breakfast burritos (smoked chili grilled seitan with fresh jalapeños, marinated kale, scrambled tofu, and chipotle aioli)
A couple of the most popular lunch items are:
– lemongrass five spice seitan with curried cashews, wasabi mayonnaise, arugula, and Szechuan chili sauce on a grilled baguette.
– Provencal white wine grilled tofu, with white truffles cashew cheese, kalamata olive tapenade, arugula onion and fried sage leaves on a grilled baguette.
Did we mention they have a pretty good sense of humor, too?