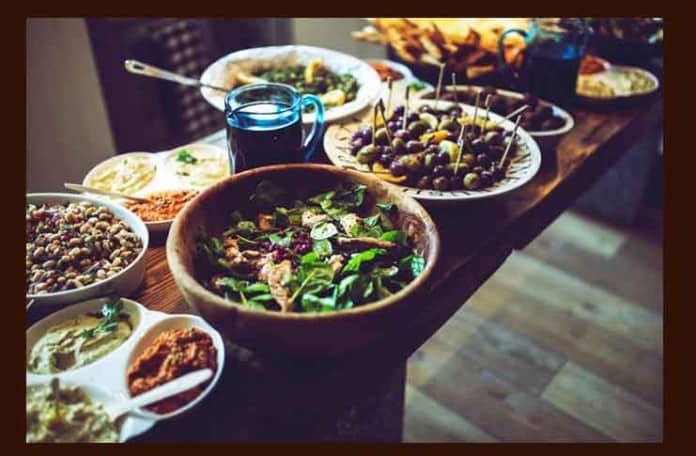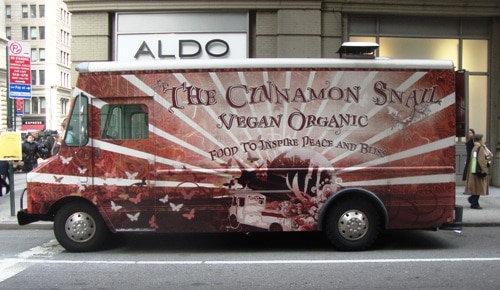 If you are not familiar with the Cinnamon Snail and it's chef/owner/visionary Adam Sobel, they are based out of NJ and are one of the top vegan food trucks in the country.  In fact, they were just nominated for a Libby Award for Best East Coast Food Truck.  You can (and should) vote for them here.
We know the Cinnamon Snail from attending the Vendy Awards for the past two years, where they were a Rookie of the Year nominee in 2010 and a Best of NJ nominee in 2011.  Even though we have tried the Cinnamon Snail before, it was always at the Vendys, where they created special dishes just for the occasion.
Adam has obtained the necessary permits to operate in New York City, and the truck has started coming into the city on a regular basis. While this isn't the first time we have tried their food, it is the first time we have ordered something off their regular menu.  That qualifies as a First Look in our book.
The first time going to a new truck, I usually ask for their recommendation.  For Today's Lunch, Adam suggested Korean Barbecue Seitan ($8).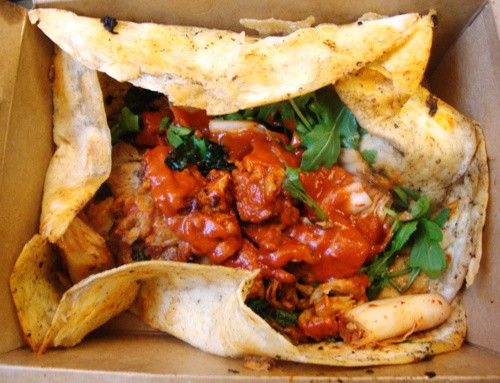 If you read NYSF, you'll know we are open-minded carnivores.  We don't seek out vegetarian or vegan food, but if we run across a vegetarian or vegan food truck with a good reputation, we will certainly give it a try.
I've had a bunch of Korean food lately such as the new Seoul Food truck and Big D's Grub Truck, an old favorite.  I was curious to see what Adam did with this cuisine, as he is obviously not Korean.
I wasn't too familiar with seitan, but found out it is derived from the protein portion of wheat.  I hope vegetarians forgive me for saying this, but it had a fairly "meaty" texture, and the consistency was kind of like large pieces of scrambled eggs.
I know meat and eggs are taboo for vegans, but I'm just trying to describe what seitan is like to someone who has never had it before.  It was my first time eating seitan too.
The seitan was served in an open-faced tortilla that had been grilled.  There was also kimchi, some greens, and a slathering of chili butter in the dish.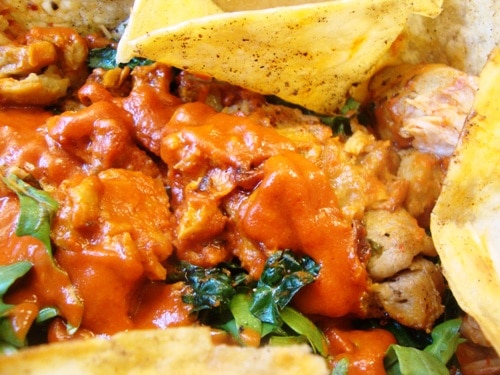 Even though the dish is described as barbecue, the chili butter was not like a traditional barbecue sauce.  It wasn't sweet or tomatoey, but it did have a nice, spicy kick.  My tongue was tingling quite a bit afterwards (which is a good thing).
The kimchi was tart and vinegary, and spicy too.  For a non-Korean food truck, I was a little surprised at how good the kimchi was.  The greens were also a good addition to the dish.
Today's Lunch from the Cinnamon Snail was very good.  The seitan was satisfying, filling, and tasty, especially with all the other ingredients.
Now that the Cinnamon Snail is coming into Manhattan regularly, I look forward to trying more of their interesting creations.  You can see their menu here, although there are constantly changing daily specials too.
One thing we haven't mentioned is how great a baker Adam is.  At this year's Vendy Awards, the Cinnamon Snail won the Makers Mark Challenge, which is given to the chef who best uses Makers Mark bourbon in a recipe.  They won the Makers Mark Challenge, which is voted on by everyone attending (not judges), for their vanilla bourbon creme brulee donuts.  It was a true crowd pleaser.
When you walk up to the truck, there are about 8-10 trays of different pastries and donuts that look amazing.  We promise to review the Cinnamon's Snail's desserts very, very soon, so keep an eye out.