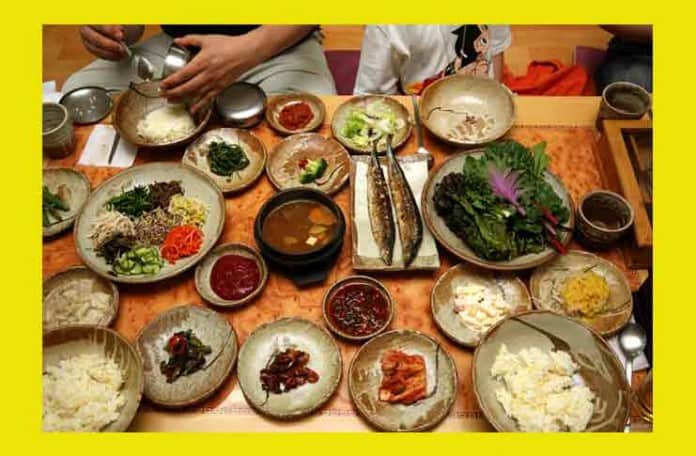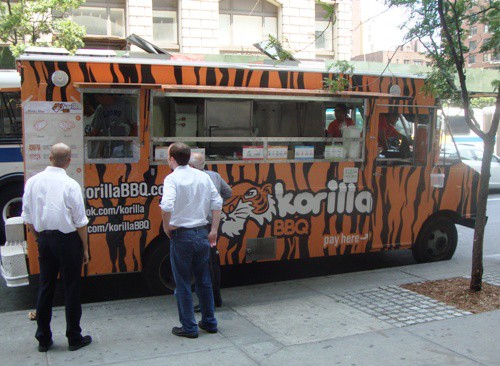 It's been a while since I went to Korilla BBQ for lunch, and when I looked over past reviews, I realized that I haven't tried their burritos yet.  That solves the problem of what to have for lunch, but not the issue of which meat or tofu.
After speaking with one of the guys in the truck, I went with a beef bulgogi burrito ($7) for Today's Lunch, and boy was it a big one!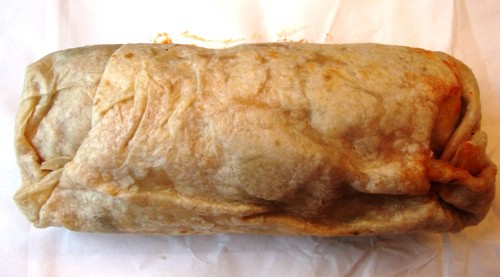 There are lots of options when ordering anything from Korilla, so take a minute before ordering to figure out what you want.  I went with beef bulgogi, sticky rice, and k'illa sauce, which is their special blend made with 5 types of peppers!  They have other sauces if you don't like spicy food.
When they rolled up the burrito and handed it to me, this was a heavy somnabitch.  It was loaded with beef, rice, kimchi, tomato salsa and lettuce, but the tortilla wrapper held up just fine.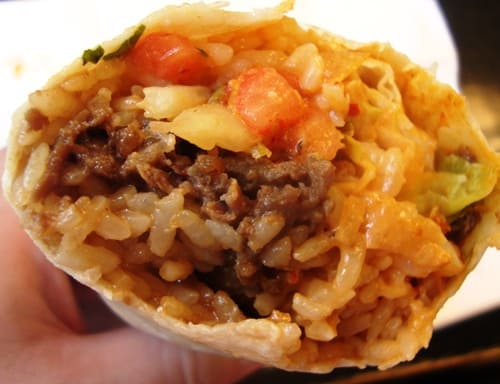 When I started taking bites, it was delicious!  The beef bulgogi was marinated in a sweet mirin-type marinade, and it was tender and tasty just by itself – but in concert with the vinegary, tart kimchi and the spicy k'illa sauce, it was awesome.  This was a spicy burrito,and the heat was tempered a little by the sticky rice – but only a little.  I asked for it spicy and that's how I got it!
Today's Lunch from Korilla BBQ was excellent.  There were a lot of different flavors and tastes going on in this burrito, and it was huge, too.  For $7, you get a lot of tasty food.
If you want to check out Korilla BBQ, and I recommend that you do, you might want to do it within the next couple of weeks.  On August 14th, Korilla will be on the Food Network competing in The Great Food Truck Race, and the lines are probably going to be significantly longer once that show starts airing.
You can find Korilla on twitter here, on facebook here and their website is here.