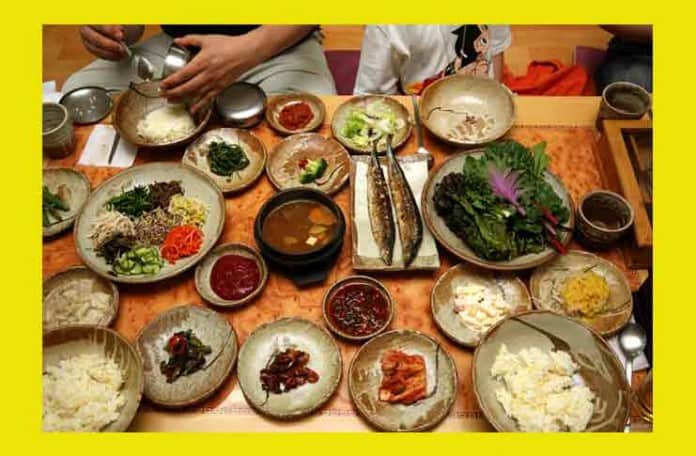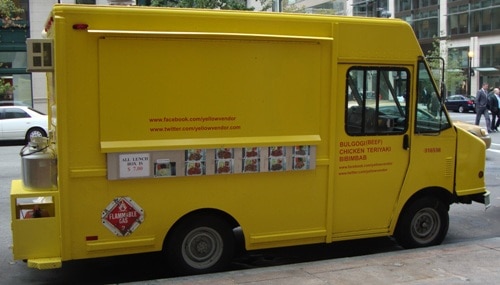 Yesterday for my 1st street food lunch in Washington DC, I had a very nice lunch from the Fojol Bros of Merlindia, who I had heard about and looked up on Twitter.
Today in DC was more fortuitous.  I just happened to spot a yellow truck and noticed "bulgogi", bibimbap" and a few other Korean dishes printed on the side of the truck.  The weather was still crappy, and the side window was closed, but as I approached the truck, someone else peeked their head into the passenger seat window and asked if they were open.  They said yes and opened the side window.
How would this lunch compare to Korean street food in NYC, such as Bapcha, as well as the Fojol Bros lunch yesterday?  Find out after the jump.
The Yellow Vendor sells "lunch boxes" for $7, which includes a main dish and white rice, a generous portion of kimchi, and a small salad.  I did the same thing as yesterday, telling them about New York Street Food and asking if I could try smaller portions of several different items.  They said no problem.
The variety turned out to be 4 types of bulgogi: left to right above – spicy beef bulgogi, spicy chicken bulgogi, beef bulgogi and chicken bulgogi.
The spicy beef was thinly sliced and marinated beef with a red chili sauce that was pretty hot.  Not quite as spicy as the chicken curry yesterday from Fojol Bros, but close.  The beef was medium quality beef, not amazing but decent, and there wasn't any fat or chewiness, which was nice.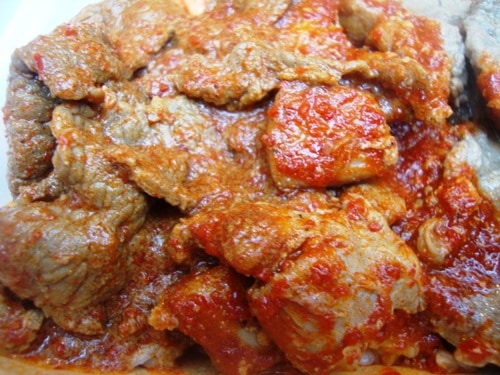 The spicy chicken was even better.  You would expect beef to be a better match with a red chili sauce than chicken, but the spicy chicken sauce had a slight sweetness to it that either wasn't present, or didn't come through the beef.  The chicken wasn't initially as hot as the beef, but the heat did grow over time.
The non-spicy beef bulgogi had a very light sauce, almost a glaze.  It was pretty good, and with such a light sauce, it was even more important that the beef wasn't fatty or chewy.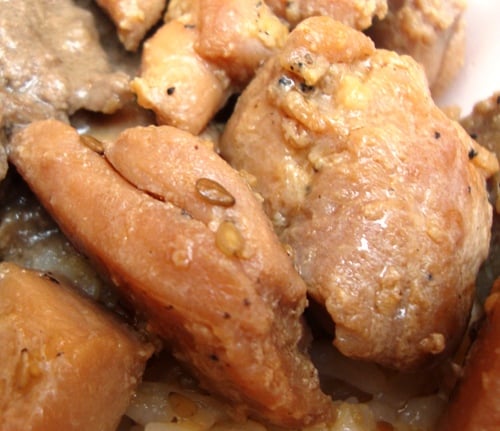 As with the spicy dishes, I thought the non-spicy chicken bulgogi was better than the beef.  You could see some of the spices in the marinated chicken, and it had more of a mirin taste going on.  Maybe I just like chicken better than beef 🙂
The kimchi was cold, spicy cabbage.  I'm not a kimchi expert by any means, but this seemed to be pretty good if it's your thing.  It's not really mine.  The salad was just lettuce, but the dressing was a bit better than usual, consisting of vinegar, sesame and a little honey.
Today's Lunch from Yellow Vendor was good.  I enjoyed the Fojol Bros lunch a little more yesterday, possibly because the vendors were more personable.  These guys weren't rude, but they weren't really friendly either.
However, this bulgogi stood up just fine to Bapcha, the New York street food bulgogi standard-bearer.  I would have been happier if Yellow Vendor had the cold glass noodles that Bapcha serves as a side dish instead of kimchi, but that's more my personal taste.
Click here to follow Yellow Vendor on twitter and here for facebook.
I'm heading home tonight and will be back on the New York streets tomorrow for lunch.  Please email perry@newyorkstreetfood if there is any place in particular in New York that you would like me to try, preferably in midtown.