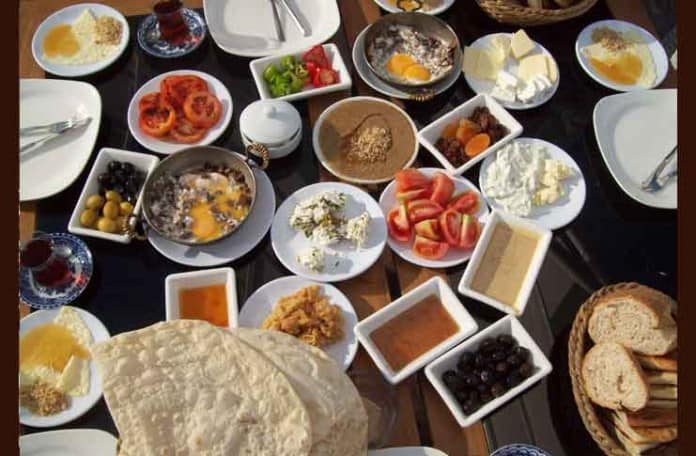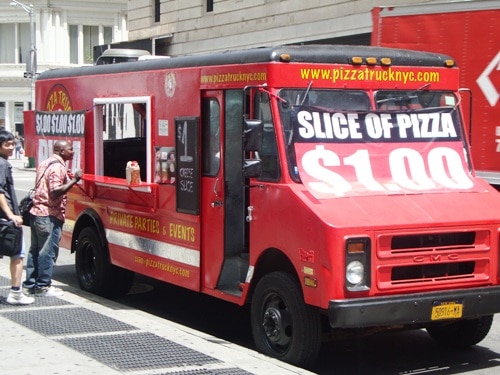 I was thinking of trying the Mexicue truck again (yesterday), but the lines were too long for a working stiff like me.  However, just up the block was the NYC Pizza Truck with $1 slices, which was a good backup plan for Today's Lunch.
I happened to stumble upon the NYC Pizza Truck in mid-July, only a couple of days after they opened, and was quite happy with the quality of their $1 slices.  It was much better than the $1 slice I had at the store on 6th Ave in the Village just below 8th St.
Were they still keeping up the quality, and how did the pizza change after the first month of business on the NYC streets.  Let's find out.  Today's Lunch is two $1 slices from the NYC Pizza Truck – one corner slice and one middle slice.
I found out last time this truck is affiliated with Maffei's on 6th Ave & 22nd St.  Last time they only had Grandma slices, which are square like Sicilian, but not quite as thick, with mozzarella cheese and no tomato sauce – just some pieces of tomato and oregano.
I was hoping for a different type of slice today, but they only had Grandma slices again.  Was it any different from last time, you ask.
Well, they definitely increased the amount of ingredients.  There were a lot more tomatoes and cheese on these slices.  Last time, I only has corner pieces, but today I had one corner and one middle piece.  The middle piece had less crust but more cheese than the corner – and the corner had more cheese than last time I had lunch there.
Today's Lunch gets an 8.5 out of 10.  Their rating has been upped by 1/2 point because of the increased amount of tomatoes and cheese since last time.  The owner Adam said they needed a little time to work out the kinks, and it seems they have.
Now all they have to do is to expand their offerings.