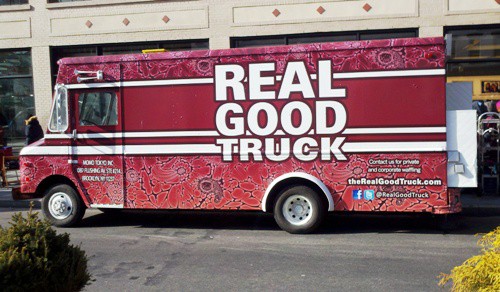 I recently went to the Real Good Truck with a friend, which gave us each the opportunity to try two different wafflewiches.  If you don't know what a wafflewich is, it's a sandwich served on a waffle instead of bread.  And the fillings are pretty good too.
The owner and chef, Matthew Maichel, told me his family has a ranch in Montana that is over 100 years old called the Maichel Angus Ranch.  All the meats used on the truck come from his family's ranch, which they package and sell under the name Big Sky Black Angus.  He showed me the packages of bbq beef brisket, jalapeño cheddar bratwurst and andouille beef sausages that are served on the truck.
The menu changes a little from day to day, and when I saw karaage, Japanese fried chicken, that was my choice.  My friend went with the andouille beef sausage, and we decided to cut them in half so we could try both ($6 each).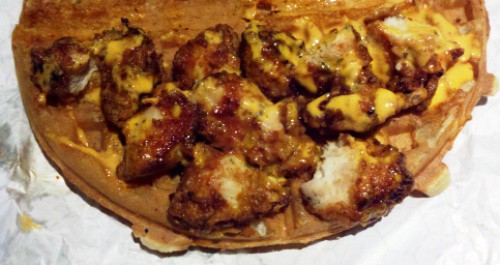 I unfolded the waffle to take a picture, and there was a bunch of fried white meat chicken that had been marinated in soy sauce and sake.  I tasted a piece and it had the subtle flavor of the marinade.  The breading was very light, not at all like Southern fried chicken.  Matthew suggested getting the ranch sauce, but it wasn't like ranch salad dressing.  It was a little more of a light, creamy, sauce without the edge a ranch dressing.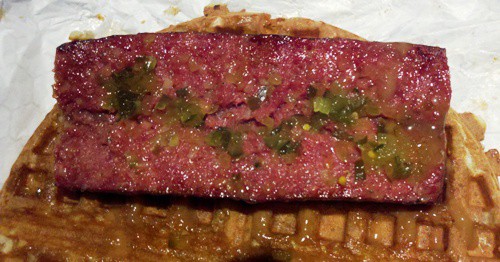 Next up was the andouille sausage, which was split in half and grilled.  It was then put on the waffle with relish and a honey mustard sauce.  The sausage was nice and beefy, but I did expect it to be a bit spicier.  It went well with honey mustard and relish.
Waffle make for an interesting bread choice.  It definitely stood up to the fillings and didn't fall apart, like tortillas can.  It was a little sweeter and less yeasty than bread, but did not come across as a dessert.  That has more to do with the dessert toppings usually put on waffles.
If you're in the mood for dessert, the Real Good Truck has plenty of dessert waffles to choose from.  Y0u can get maple syrup, nutella, peanut butter, sliced fruit, ice cream, whipped cream and more.  These range from $4-$6.
The Real Good Truck makes the rounds to various neighborhoods such as the Meatpacking District, Flatiron, FiDi and more, so find them on twitter here or on our Mobile Munchies twitter feed.