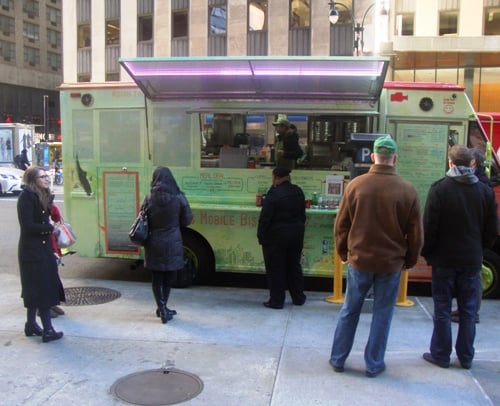 It was freezing earlier this week, and we were looking for something to warm up our insides without standing outside too long.
Shanghai Sogo was back by our office, and they had an off-menu vegan mushroom soup special for $3. Great way to start, but we needed something else besides just soup for lunch. Shouldn't be too difficult with a food truck known for serving "Asian tapas".
They also offer salads with a choice of 3 dressings for $5, which you can add meat to. We ordered the salad with hibachi chicken for an extra $3. Total lunch was $11.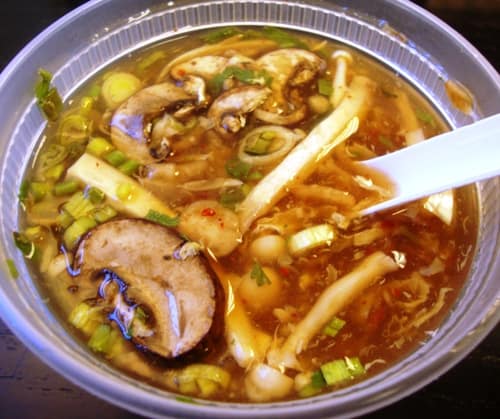 Somehow we ended up with no spoon in the bag, but that wasn't a problem once we were back in the office.
There were 3 different types of mushrooms in the soup: enoki, shimeji and king oyster. The soup base was hot and sour, just like a Thai restaurant.
You could see chili flakes, scallions and cilantro in the soup, and after a few spoonfuls, the emphasis was on the "hot" part of the equation. Man, this was spicy! Can't think of a better way to warm up on this 35 degree day.
With a lot of street food vendors, salads are afterthoughts, but here it was the main course…and looked the part.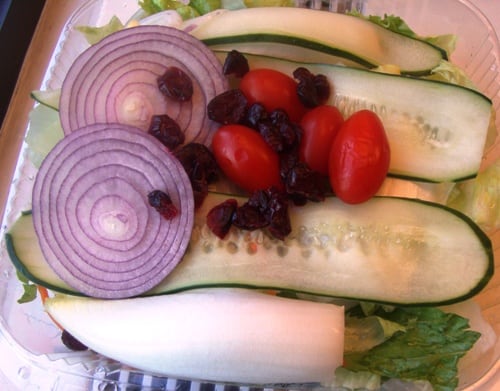 In the salad there was the usual lettuce, tomatoes, cucumbers and red onion slices, but there was also endives, radish slices, carrots, and dried cherries on top.
Don't think we've ever seen endives or dried cherries on a street salad, and even the basics were done well (like thin slices of cucumber lengthwise).
We got peanut cilantro dressing, which was a good choice. It was fairly thick, and the cilantro lightened up the peanut flavor.
The other options were lemon orange or creamy ginger dressing.
Pouring dressing over the salad, then adding the teriyaki chicken on top was the way to go. If we thought about the chicken earlier, we probably would have gone for the ginger dressing, but peanut cilantro dressing was good too.
Shanghai Sogo can be found on twitter here or on our Mobile Munchies twitter feed, and their facebook is here.  You can view the menu here.
They even gave us (and everyone else ordering) a small package of hawberry flakes for free for dessert. They were fuity little chews, and ended the meal nicely.