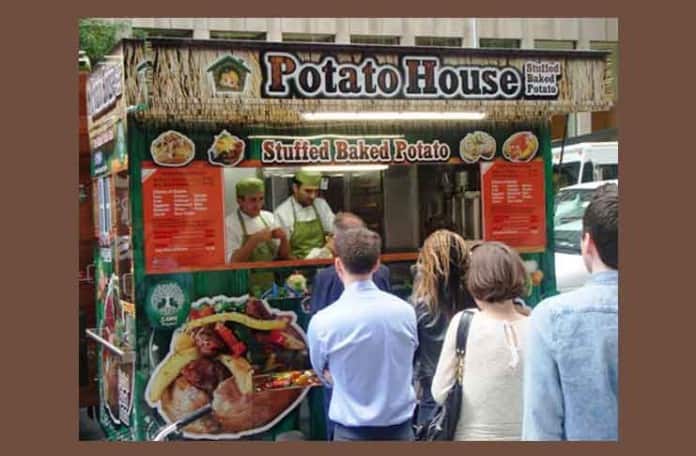 If you want to open a street food business, it takes a lot less money to open a cart than a truck. With the city cracking down on food trucks in certain locations, we're seeing more adventurous food carts.
We've recently told you about the Mtblls Cart and the Katz & Dogz cart. Last week we stopped at the Potato House cart, which serves stuffed baked potatoes on 50th St between 6th & 7th Ave.
You can get any two salads and a sauce in a baked potato for $7. Additional salads are $1 each.
There are 14 different salads to choose from (!) and close to a dozen sauces. We got tuna salad and zucchini salad with blue cheese dressing on top.
What's not listed on the menu are the freebies, which come with any stuffed baked potato. We like freebies! Click through to see what they were.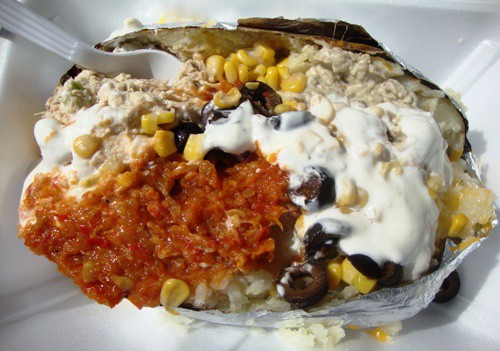 When you order, they take out a large baked potato, cut it in half lengthwise, and cut the potato inside into a coarse mash. They add butter and mash it a little more before adding the salads.
They use ice cream scoops to serve the salad, which makes for large portions, especially when you get two plus a sauce.
We almost forgot to tell you about the freebies. You can get corn and olives on any stuffed potato for free!
Remember, after eating the salads, there's still buttery mashed baked potato underneath. If you're particularly ravenous, baked potato skins are good too.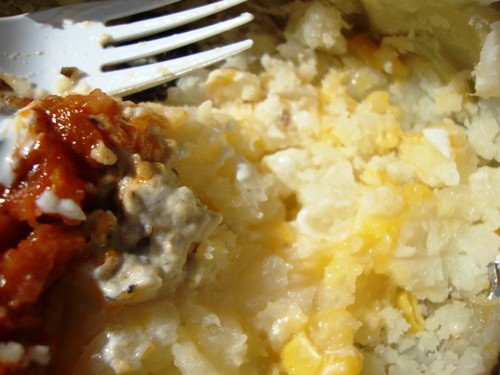 The salads at Potato House are pre-made, but looked and tasted fresh. They had not been sitting around for a while.
The tuna salad and salmon salad come from of Acme Smoked Fish, a local purveyor in Brooklyn, and the zucchini salad was enjoyable too.
Judging from the line, they appear to have filled a niche that was underserved in the marketplace. A new baked potato store called Potatopia recently opened near where we live on 6th Ave in the Village. Maybe there's a stuffed baked potato renaissance happening that we didn't know about.
Potato House has Twitter and Facebook addresses on their cart, but darned if we can find them. It really doesn't matter though, because, they are in the same spot by Rockefeller Center every weekday – 50th St between 6th & 7th Ave.