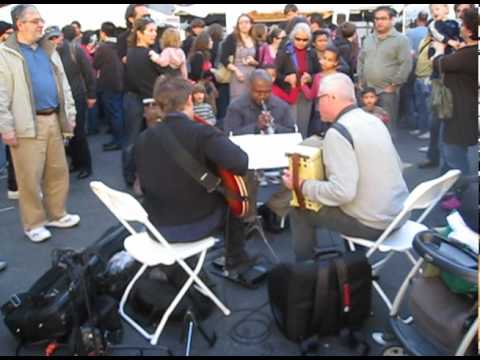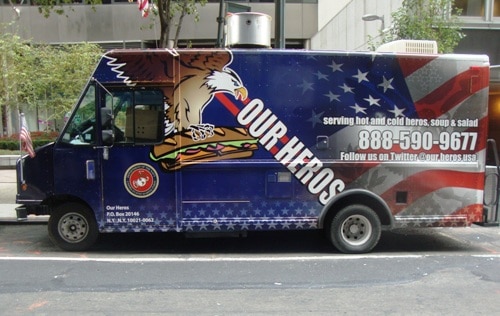 A couple of months ago, we told you about Our Heros opening a slider cart downtown. Unfortunately, downtown is tough for us to get to during lunch hour. Fortunately, the Our Heros truck, who comes up to midtown a couple of days a week, is now serving the same sliders as their sister cart.
There are 4 choices available at the Our Heros Truck: Buffalo chicken, meatball and pulled pork for $2 each and crabcake for $3. We got three different ones to try.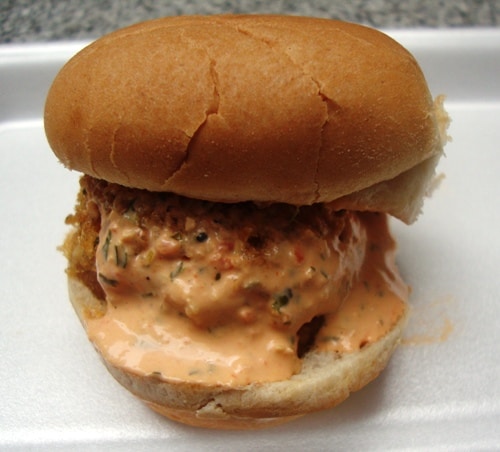 I started with the crabcake slider, which was a thick patty about 4 inches across. The slider had a remoulade sauce on it, which is kind of like a spicy tartar sauce. The remoulade had a two-pronged bite; one from cayenne pepper and one from vinegar.
As for the crabcake, the first bite was a little gummy, but the second bite was the one I was hoping for.  The crab meat came through the roll and the sauce nicely, and each remaining bite was very good.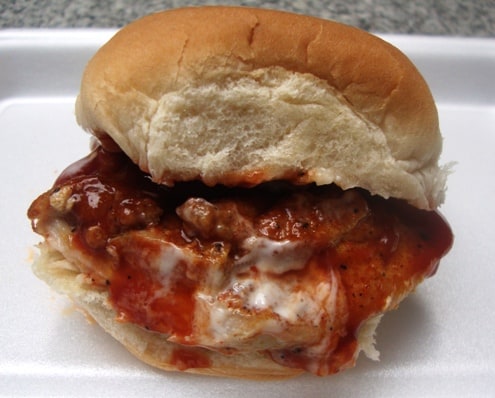 The sauce on the buffalo chicken slider had quite a lot of heat, just how I like it. The hot sauce was tempered by the blue cheese, which is the theory behind buffalo chicken, and it's done well here.  One thing that was a little different was the chicken wasn't breaded, but I liked that. This would have been a great sandwich as a full-size entree.
The pulled pork on the last slider was very tender, with a sweet and slightly spicy bbq sauce. If you don't like sweet bbq sauces, this may not be for you, but I like sweet bbq sauces, so this was right in my comfort zone.
The pulled pork did a little bit of a number on the bottom part of the slider, which got soggy before I got to it. If you order the pulled pork slider, be aware that it won't travel far, but it will be enjoyable if you eat it right away.
The Our Heros truck alternates between midtown and downtown so check their Twitter here or our Mobile Munchies Twitter feed. For our downtown readers, the Our Heros slider cart is on Hanover Square by Pearl St, right next to the Banh Mi Cart.